The Wufoo Blog
By Johan Lieu
· November 19th, 2015
Doing everything manually by hand is hard and can take up a ton of time. Of course you know that though since you're already using Wufoo to make running your business a breeze and save time. But, just in case…if you're indeed still following up with leads by hand, manually tracking to whom you've sent an email to and when you did so, you might be interested in our latest integration—LeadMachine. LeadMachine allows you to setup automated email response flows. If a potential customer fills out your Contact Us Wufoo form on your company site, it'll automatically trigger automated emails you've setup within LeadMachine so you don't have to do it yourself! We'll get Dan Dobos from LeadMachine to take it from here.
The Wufoo/LeadMachine integration grows your business by automatically following up with everyone who fills in your Wufoo form
You've created an awesome Wufoo form. It was easy. It's beautiful and it just works. You're happy. People start filling in your form. You capture their details. But then what?
What if in just a few clicks you could have these same people receiving a series of emails educating them about your industry, and positioning yourself as the ultimate solution?
What if you could also get notified if they click a link in these emails so that you can call those hot prospects and bring in some sales? And if they don't click a link in your emails, perhaps you might want to wait a bit and then send them a different series of emails to ensure that they are consuming your content.
Automate your seminar/webinar follow-up emails
How about if you run a seminar or webinar? You can use Wufoo to have people register for the seminar and then automatically send email reminders prior to the seminar to ensure that they show up. Set it up once and it's done forever.
Recommend new products after someone purchases through a Wufoo payment form
Maybe you sell a product online. Wufoo can take the payment via a payment form. Then LeadMachine can store all the purchases for your customers and send appropriate emails that recommend new products based on their purchases.
Create a task to follow-up all Contact Us form submissions
Or perhaps you have a simple Contact Us form. You can automatically create a task in LeadMachine to ensure that every Contact Us enquiry is followed up within, say 2 days, and then see all overdue tasks in LeadMachine.
Take surveys to the next level of personalization
Or maybe you want to get fancy and survey people using a series of multiple choice questions. Then, you send a hyper-personalized email so that each paragraphs of the email varies based on the response to the questions. This can be used to create customized reports on auto-pilot.
Use Wufoo to create beautiful forms that deliver you contacts, and then follow up with them on LeadMachine.
To Use This Integration
To set up this integration literally only takes minutes.
Head over to LeadMachine.com and get a free trial account

Click on the 'Forms' section and then enter your Wufoo Account Name and Wufoo API Key.

Decide whether the form should create a new Contact in LeadMachine or update a Contact.
Select your Wufoo form.
Match fields from Wufoo to LeadMachine.
Tag the people from the form, and then you may wish to assign them to someone.
Now when someone fills in a form in Wufoo, the data will automatically be added to LeadMachine, tagged appropriately, and assigned to the right person—that's all there is to it.
Awesome shoutout to the Dan Dobos and the crew at LeadMachine for such a fantastic integration with Wufoo! Got comments or notes? Go for it below.
---
By Nicola Plate
· November 2nd, 2015
Hello again form-friends! Now that Halloween is over, let's focus on the next big holiday at hand…THANKSGIVING. Loosen your pants and get ready for a filling how-to on, well, how exactly to take advantage of Wufoo's most recently added feature to aid your Thanksgiving festivities: Max Quantities.
What are Max Quantities?
Through all the feedback you've given us over the years, one thing in particular stood out: many of the Wufoo users wanted a way to limit the amount of times a particular field can be selected.
The Max Quantities feature allows you do to exactly that; you can limit the number of times a specific option can be selected for checkboxes, multiple choice fields, and dropdown fields.
Johan's blog post gave you a use case example involving clothing but of course, T-shirts aren't the only thing you can use this fab feature for. Let's get our brains back on the holiday at hand, shall we? FOOD.
Forks up, people.
Max Quantities and the Thanksgiving feast
Thanksgiving obviously wouldn't be the same without turkey, stuffing, mashed potatoes and of course, pie pie, all the pies. But if you're the cook, food can also be the most stressful part of the holiday. You don't want to get stuck cooking everything, so how's about a potluck?
But then, Who's going to bring what?
This is where Max Quantities comes in. First you have to decide how many appetizers, entrees and desserts you want and then you can create a form for people to volunteer what they would like to bring.
Let's make sure we have enough options:
ONE Turkey, because turkey deserves its own category.
FIVE Appetizers
FOUR Entrees (other than turkey)
UNLIMITED Desserts. You can never have too much dessert.
Now, let's create a multiple choice questions with these choices, but we won't add the numbers in just yet. Here's what the form looks like:
This is a perfectly fine form as it is. But without Max Quantities enabled, people can click whatever they want. We might end up with 10 turkeys. Or worse…no desserts.
But when you select the Max Quantities under Option from Field Settings, you can input a number. This limits the amount of total times that someone can select this option.
But add those Max Quantities in and your form looks like this:
Once someone selects the "Turkey" option, no one else will be able to select it. Once five people select the "Appetizer" options, no one else will be able to select that. And then anyone can select desserts because that does not have a max quantity associated with it.
Add in a fall-inspired theme, and you'll end up with the Thanksgiving Potluck form:
Happy Thanksgiving from everyone on the Wufoo team and as always, let us know if you have questions or comments below!
---
By Johan Lieu
· October 29th, 2015
There are a ton of ways you can use Wufoo to help make your life easier. And of course with the holiday season coming up, we know your inbox (or even, gasp, your mailbox) is about to fill up with party invites and thrilling events to come. You're probably even planning one or three events yourself.
Now when it comes to party time, we're more than equipped to manage invitations and registrations for your events. From handling registrations for your organization's event to wrangling RSVPs for your wedding, Wufoo is the perfect solution for really any kind of event or party you have in mind.
We want you to head into the peak season for parties feeling totally prepared and with these quick and useful tips for your invitation and event registration forms—you will be. Here's how to show off who's coming to your party after your guests have RSVPed.
Things You'll Need
You need an invitation or event registration form! You can make one from scratch or take advantage of our invitations form gallery, or our registrations form gallery.
Your invitation form needs to have a name field. Otherwise, how will you know who is coming?!
A report for your form with the datagrid on it.
???
RSVP awesomeness!
Since probably only #3 is something you don't already do every day in Wufoo, let's walk you through on how to set that up.
Setup Your Report with a Datagrid
After you've created your form and ensured there's a name field on it (probably best to make it required too), head on over to the Report Manager. You can get there by clicking the Reports tab.

Once there, click New Report and you'll be greeted with the Report Builder. In the first panel, labeled "Report Settings", enter in a title for your report. We chose the wholly original title of, "Who's coming to my party?" but you can do whatever you please.

Next, click on the second panel labeled, "Select Data". This is where you'll select what data the report is pulling its data from. This is also where you'll want to select your invitation form. Ours was titled, "Party Invitation".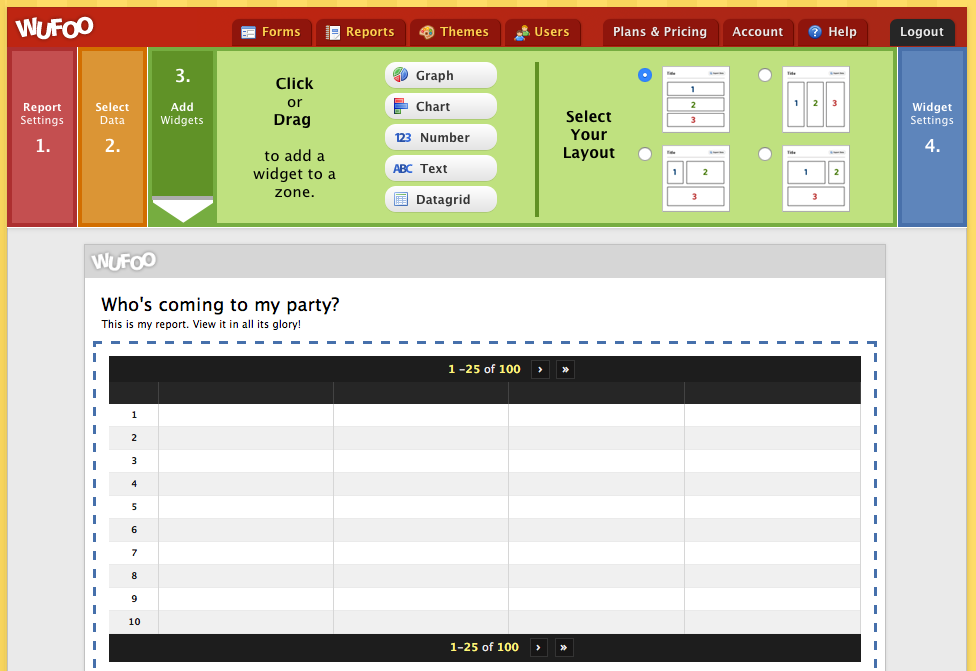 Thirdly, move onto the third (heh—see what we did there?) panel labeled, "Add Widgets". This is where we'll add a data grid widget. You do this by clicking the "Datagrid" button. Do so and a datagrid shall appear on your report.

Finally, click on your new datagrid and then head on over to the last panel labeled, "Widget Settings". This is where we'll customize the data that is presented in the datagrid itself. We've chosen to show data from the field, "Can you make it?", the first and last name of each person, along with their RSVP response.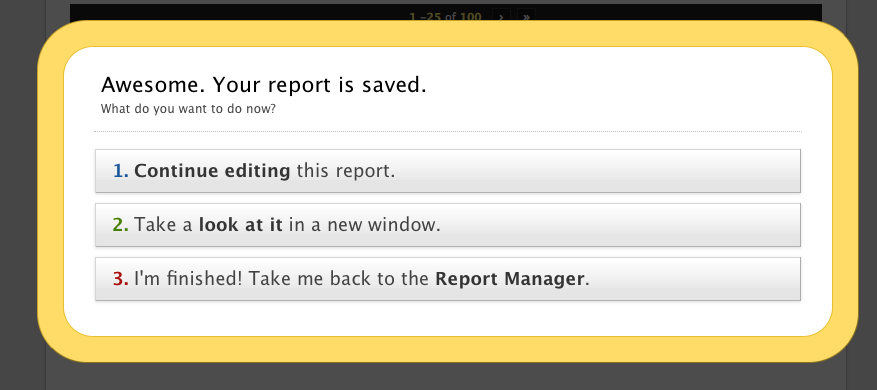 After you've done this, click the Save button and then let's head on back to the Report Manager.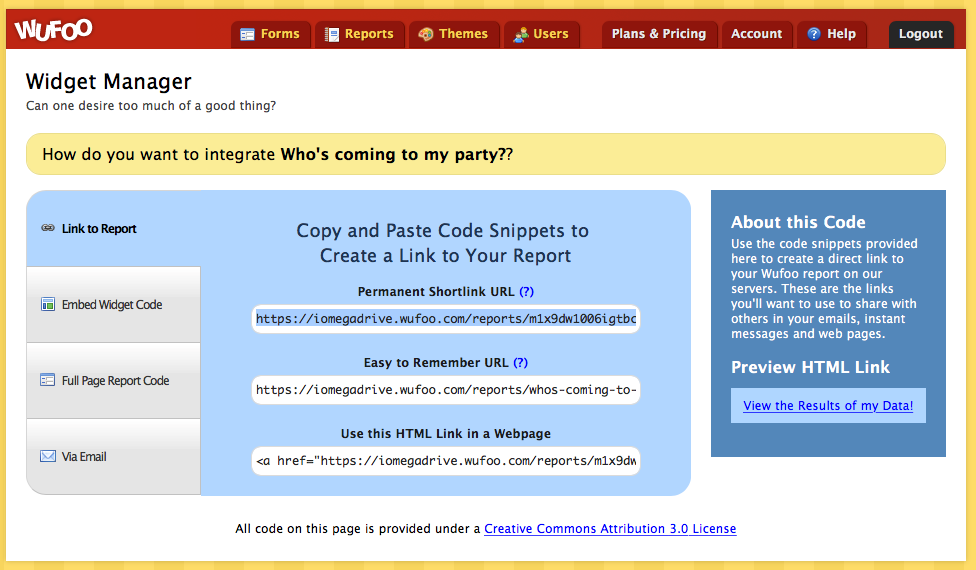 At the Report Manager, find your newly made report. First, click the option that says, "Public". This makes sure your report is viewable by everyone. Next, click on the button labeled, "Widgets". You'll be taken to the Widget Manager for your report. From here, find the "Permanent Shortlink URL" for your report which is located in the "Link to Report" section. Copy this link!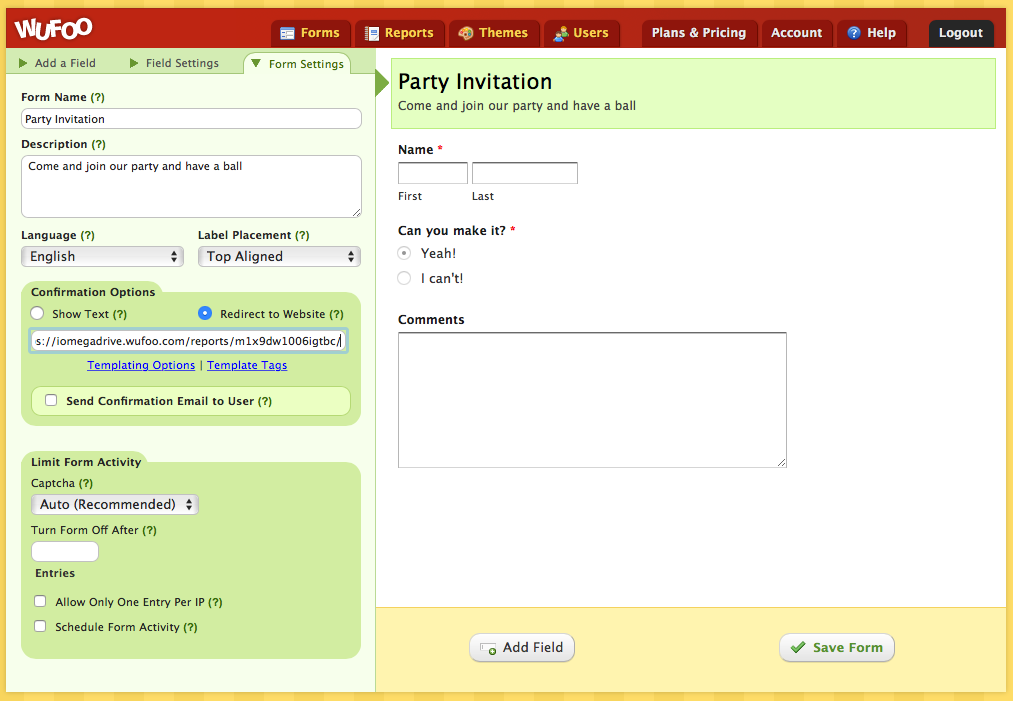 Now, head back to the Form Builder for your invitation form. In the Form Builder, go to the Form Settings tab and find the "Redirect to Website" option. In here, paste in the URL for your report and then click Save Form.
Voila! Now whenever one of your guests RSVPs to your event, they'll be redirected to your report which lists everyone who is coming to your party.
Got comments or feedback? Let us know in the Comments section below.
In the meantime? Get to partying, people!
---
By Johan Lieu
· October 9th, 2015
Today we're excited (can you tell - check out all the !!) to announce the official release of our latest feature, Max Quantities! This feature involved a lot of in depth work from the entire Wufoo team and touched nearly every nook and cranny of Wufoo itself. We're super proud of the work and we'd love to share what Max Quantities can do for you.
Max Quantities is a new powerful feature that allows form owners the ability to limit the number of times a specific field choice can be selected. Where previously you could limit the number of times someone could fill out your form as a whole, now with Max Quantities form owners can limit and restrict the number of times your form users can select individual field choices. This is perfect if you have a max number of a certain item and want to make sure you don't run out and have to inform disappointed customers you're out of stock.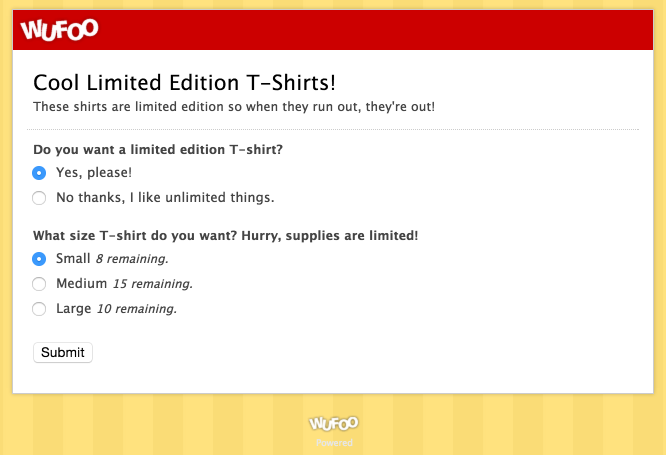 Max Quantities can be used for any number of circumstances and use cases where you have a certain limited number of items and want to make sure you don't commit to more than you have on hand. Let's say for example you've got your mitts on a limited run of t-shirts and want to offer them to your fans in a first-come, first-serve fashion. But you only have 10 smalls, 15 mediums, and 10 larges. And you want to make sure that if you're out of a particular size, subsequent fans are unable to select the size that's out of stock. Lucky for you, Wufoo and Max Quantities is here to save the day.
Within the Wufoo Form Builder for certain field types (Checkboxes, Multiple Choice, and Dropdown), you'll find a new option named, coincidentally, Max Quantities. Choose this option and you'll see a new option appear for all of your individual field choices. This field is where you're specify how many times your form users can select that option before it is no longer selectable on your form. Put in a number for the max number of entries you'd like to receive for a specific field choice and then click Save.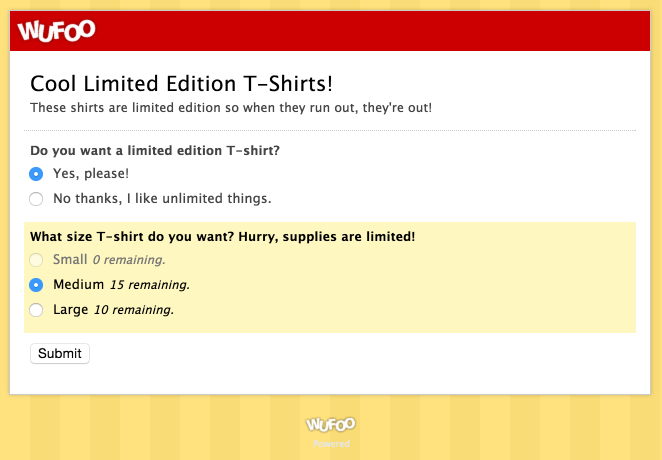 And magically, when say your surprisingly tiny fan base has taken all of your small t-shirts, your Wufoo form will display the small t-shirt size as disabled and your future form users will no longer be able to select the option as part of their form submission.
Voila, Max Quantities! The possibilities for Max Quantities are endless; limited ticket sales, limited reservation time slots, any situation where you've got a limited inventory of items, time, seats, or passes, etc, and want to make sure you don't overbook or oversell, Max Quantities is right there for you.
We'd love to hear how you'd use or are using Max Quantities. And of course, leave us your comments or feedback below.
---
By Nicola Plate
· October 7th, 2015
We love adding more newbies to the Wufoo family. Join us in giving a high-five to Nicola. Nicola's joined our team of Support experts in lovely Portland and is here on the blog to whip our special edition Newbie series back into blog gear.
So if you're new to Wufoo like she is—this blog's for you!
Being new at Wufoo, I've been able to drill into tons of different features and use cases but I found myself spending more time in certain areas of the Form Builder than in others. Enter Field Rules.
Let's explore Field Rules together, fellow newbies.
What's a Field Rule?
Rules take a form from being static to totally dynamic. They are built with two main parts: the condition and the action. Field Rules, specifically, lets you do two things: SHOW or HIDE fields based on conditions.
For example, let's ask people about dinosaurs. Your first question might be, "Do you like dinosaurs?" with Yes or No choices. Your second question might be, "Which dinosaur is your favorite?"
But if the person doesn't like dinosaurs, why show them question 2? You'll only want the people who answer Yes see the question 2.
You can do this with Field Rules. Here's how that would be set up:
Multiple Conditions - Say what?
One of the best parts about our Rule Builder is that you can have more than one condition per rule. Let's add another answer choice to our "Do you like dinosaurs?" question—Maybe. If someone answers Yes or Maybe to question 1, let's ask them question 2.
Your rule set up for this will be:
Since you want either option to enact the rule, you'll use an OR operator.
And that's just one of many ways that Multiple Conditions can enhance your form experience. Get even more solid info on the magic of Multiple Conditions in our Guides page.
How do Multiple Field Rules work?
Let's invite people to an event. Now if we want people to bring their friends—the more the merrier we always say—we'll need multiple registrations. As we've covered before with regards to Multiple Registrations, this requires a wee bit more attention than your average registration form.
Let's ask: "How many people would you like to register?" They can select 1-5 from a drop down menu.
If they're inviting 1, 2, 3, 4, or 5 people to their event, they'll need to see the Registration 1 name field. If they're inviting 2, 3, 4, or 5 people, they need to see the Registration 2 name field. Repeat this pattern, and you've mastered multiple registrations!
Here's an example of what your first 3 rules for this registration will look like:
Add a payment integration and you're good to go.
Oops! Common Rule Mistakes
Let's explore one of the most common Field Rule mistakes: to SHOW or to HIDE?
Back to our first scenario: if someone selects No for the question on whether or not they like dinosaurs, you don't want them to see the question that asks for their favorite dinosaur.
You should hide this field, right?
Wrong. You want a SHOW rule for someone who clicks Yes or Maybe. With a SHOW rule, the field hides itself automatically if the rule is not satisfied.
In general, SHOW rules are easier for everyone to understand (including the Wufoo Rule builder). If you plan on using field rules on your form, you might want to check out our common mistakes blog to avoid any field-rule-headaches.
Once you get to know them, Field Rules are a snap to set up and they take your form-building experience from just great to absolutely amazing. who doesn't want that?
Thanks for sticking with me through this rule-building fun. Leave your questions for me below and I promise to answer 'em.
Was this post helpful, dear newbies? Let us know what else you'd like us to blog about and stay tuned for more!
---
By Carl Sutherland
· September 10th, 2015
Pun intended, you beautiful form people. Pun definitely intended.
Losing sleep over the eternal question, "Why did the chicken cross the road?" The chicken, dear friends, crossed the road to get its chickeny feet on the new Acuity Scheduling and Wufoo integration. (And also to beat Dolly Parton in a cut-throat game of checkers, but that's another story for another day.)
With our newest integration with Acuity—a seamless online appointment scheduler that effortlessly handles all of your client scheduling needs without inducing any sort of stress sweats—we're now set up to set you up for the most success.
From collecting the need to know info before a client's appointment (like their preferred flavor of ice cream*) to getting that heart-fluttering feedback after each session, the ability to have all your clients' info in one place places you at the top of the pack.
When you can automate your client bookings, cancellations, reminders & even payments with one click (and zero frustration), you can get back to building the business you love—instead of loving the idea of chucking your laptop out a 17th-story window.
And here at Wufoo? We're all about saving computers from an early grave, all while giving you the tools you need to knock it out of the park.
Mint chocolate chip is, as always, the correct answer in this scenario.
To Use This Integration
In Acuity Scheduling, head to the Import/Export/Syncing section of your account on the left-hand menu.
Scroll down until you find Wufoo, and give it a little clickeroo.
Enter your Wufoo log in details, and connect.
Select the form you want to show up in Acuity, and click Next.
Select the field that has the client's email address, and save your settings.
Bask in the glory of the Acuity + Wufoo matrimony, and see all of your Wufoo forms from clients inside of Acuity.
Want to take a closer look? Check out this handy dandy visual how-to.
Enthusiastic hip bumps to the entire Acuity crew for an outstanding integration. We just know their mad scientist levels of genius will jumpstart your scheduling.
As always, leave us any questions on any of our integrations in the Comments section below!
---
By Johan Lieu
· September 4th, 2015
Giving back has always been important to us here at Wufoo and SurveyMonkey so we're super proud and excited to talk about some changes we've made specifically to make Wufoo even better for nonprofit organizations. Many have used Wufoo for a long time now to help streamline day to day tasks, organize and run events, manage volunteers, and even raise money to help keep the lights on, all with the singular purpose of making the world, yes, a better place.
We spoke to quite a few nonprofits who use Wufoo daily and asked what we could do to make Wufoo an even better and more powerful tool for their specific needs. What'd we hear the most? Make it easier to organize forms as well as see entry and submission data at a glance. So, that's what we worked on!
For new nonprofit organizations, we're rolling out some tweaks to the old standby, the Form Manager. For these organizations, special forms will be categorized under three headings of Volunteer Registration, Event Registration, and Fundraising. As you can see, these categories will allow nonprofit organizations the ability to sort their forms by type. And perhaps more importantly, each category heading will have a quick-at-a-glance dashboard displaying the most important numbers. It makes it even easier for nonprofit organizations to keep their forms orderly as well as makes it easier to see just how well their forms are performing. All of this is crucial for super important fundraising efforts.
We're slowly rolling out these new features to the Form Manager for nonprofit organizations and you can read more about what we've built for nonprofits in our new dedicated section. If you're an existing nonprofit Wufoo user, hold on tight! We've not forgotten you! We'll announce plans shortly about expanding these new features to all accounts but we're not quite ready for that news just yet.
Feedback, notes, comments, or general salutations, please leave it below! We'd love to hear what you think about these new features to help nonprofits change the world for better.
---
By Michael Lim
· September 2nd, 2015
Our Analytics tool is full of interesting statistics and percentages for your form, that you won't find anywhere else. Ensure sure you're making the most of these tools with this breakdown of the major pieces:
Pageviews
This records the number of times your form is loaded. Whether that's directly through one of our provided links or an embedded form, we help you track the total number of views your form has. This comes in handy when comparing some of the other Analytics data. You can also adjust the timeframe for the view count. The available options allow you to look at the number of views in a single day, month, year, or the last 12 trailing months.
Entries
As one might expect, this is the amount of successful completed entries. Like Pageviews, you can also use different units of time to examine your collected entries. With Entries, we also provide some additional stats, beyond just the total number received in a given timeframe. You can also look at the number of entries received from various countries/regions (and cities), as well as by operating system and browser type. This gives you invaluable insight into where your users are coming from, and what sort of technology they use to access your forms. Additionally, we track some basic referrals, to give you a glimpse at which sources are providing the most completed entries. This can be particularly helpful if you have the same form (such as a signup or contact form) embedded on multiple pages, and you want to see which page is the most successful.
Conversion Rate
Since the whole point of making a form is to collect data, why not track how efficient your forms are? The conversion rate we calculate is simply the number of submitted entries, divided by the total number of page views. This gives you an idea of how effective your form is at getting users to view, fill out, and complete an entry. A low conversion rate can be a good indication that you need to make some tweaks
Error Score
Error score is probably the most advanced of the analytics options. When an error, such as for field validation or blank Required fields, is triggered, these are counted towards the form's error score. The total number of errors is divided by the number of successful submissions, to give the score for that particular timeframe. Similar to conversion rate, this measurement can be a signal that you might want to make some changes to your form. It can also lead to additional insights when you examine how error score changes over time. Maybe you find that your users tend to make more errors late at night, or on Friday afternoons, and you can use that information to adjust how and when you distribute or promote your forms.
Average Time
Average time is pretty simple, just tracking the amount of time each entry takes from page load to submission, and then computing the average for all collected entries. Depending on your goals, you may want users to fill out the form as quickly as possible (to avoid them getting distracted, and hurting conversion) or it may be better for users to take their time (if you have particularly complex question, and you want to avoid mistakes). Average entry time can help you to address any misalignment, and apply some quick fixes, like adjusting your field alignment
Don't be shy. Let Michael know if you have questions below and check out our Guides page for even more handy tips and tricks!
---
By Kane Stanley
· September 1st, 2015
We've no problem being blunt. The Running Total is such a beautiful feature of Wufoo. The user can fill out the form and see exactly how much they owe as they fill it out. Everything seems clear and well, perfect—right? What could ever go wrong with such a lovely feature? Not much.
However! It is possible that users may run into one tiny issue. Let's say you have a longer form with a Running Total, fields next to each other and a long section break in it. When the running total scrolls down with the form, it can get in the way of those other fields.
Check this out:
It may not be the prettiest sight you've ever seen. Sure, there's pizza in the background—brightens up anyone's day of course—but that running total is obscuring the view of some of the fields. The user could scroll back up to see it all again, but it can be a bit of a pain. Luckily, you can use custom CSS to fix that running total to the top of your page so it doesn't get in the way. It's proper easy CSS as well:
That CSS will tell the running total to stick to the top of the page rather than moving with the form as the user scrolls up and down. As a result, it won't get in the way of any fields or section breaks in the form. Let's check out the same form after adding that CSS:
Since the CSS has been applied the running total isn't budging from the top of the page. Now all fields are clearly visible, but the running total remains in the form. Just another way that some simple CSS can improve your form!
As always, share your burning questions or comments with Kane in the Comments section below!
---
By Johan Lieu
· August 18th, 2015
Note: Beginning September 3rd, 2015, Wufoo will be upgrading our server infrastructure to enhance system performance and security. Wufoo will upgrade our security certificates so that they are signed with Security Hash Algorithm 2 (SHA-2). Please read on if you use the Wufoo API, Webhooks, or access Wufoo via older technology and browsers.
In our ongoing effort to increase the security of Wufoo and keep up with best practices, Wufoo will be upgrading our security certificates so that they will now be signed with the more secure and industry accepted Security Hash Algorithm 2 (SHA-2). This change will occur and go live on September 3, 2015.
Almost all Wufoo customers and users will be totally unaffected by the change and service will continue as normal. Generally, if you or your users use any of the OS's or browsers or higher in the following list, you will be unaffected by this change:
Operating Systems
Android 2.3+
Apple iOS 3.0+
Blackberry 5.0+
ChromeOS
Linux distributions newer than 2008
Mac OS X 10.5+
Windows XP with Service Pack 3
Windows Vista
Windows 7
Windows 8
Windows 10
Windows Server 2003 with KB938397
Browsers
Chrome 26+
Firefox 1.5+
Internet Explorer 8+ (Windows XP with Service Pack 3)
Konqueror 3.5.6+
Mozilla 1.4+
Netscape 7.1+
Opera 9.0+
Safari 3+
There are some users who are using older technologies and software and may be affected by increasing the security of our certificates. We strongly advise you to update your technologies to meet the above list to ensure continued and uninterrupted Wufoo service. If you or your users are using the following technologies, access to secure Wufoo forms, the Wufoo API, and even Webhooks will be affected.
Operating Systems
Windows XP without Service Pack 3
Windows Server 2003 without KB938397
Linux distributions older than 2008
Browsers
Any browser version that is older than listed above.
If you or your users are using these older technologies, your access to secure Wufoo forms, the Wufoo API, and even Webhooks will be affected. In order to keep communications between Wufoo and its customers as secure as possible, we need to update our certificates to be signed by Security Hash Algorithm 2 (SHA-2) which means users on these older technologies will need to update to newer, more modern, and more secure versions to continue to use Wufoo.
You can reference this document for further detailed information about which browsers and operating systems support SHA-2 and which do not support it. If you have further questions or need support, please contact us at Wufoo Support and we'll do our best to help you out.
---