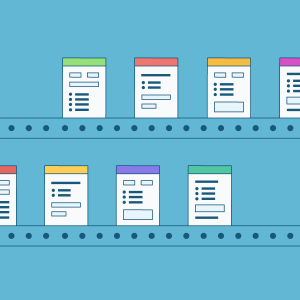 As much as it pains us to admit, we know you don't have all the time in the world to dedicate towards creating forms.
Maybe you've got your hands full at work. Maybe you're buried in personal tasks. Or maybe you've become an ultra-marathon runner who barely has the time—let alone the energy—to build forms, regardless of how easy Wufoo makes it.
In the spirit of expediting your form-building, while helping you collect the data you need, we've put together a list of our 10 most popular form templates. You can use any straight away—or edit it to meet your needs!
From collecting info from interested buyers to gathering feedback on your product/service, your site is only as valuable as the insights it gives you. 
To ensure your site collects key information, embed this form. You'll be joining the company of tens of thousands of other form builders who use it on theirs! 
Wufans love this form because it gives them a chance to collect comprehensive feedback from several customers over a short period of time. 
Keep in mind that you can filter your responses in the Report Builder to see how different groups of customers feel. For example, are customers who've worked with you for less than 6 months happy? How about customers who've worked with you for several years? 
Want to expand the reach of your company's newsletter? Increase the list of contacts you can engage for personal reasons? Wherever your motivation lies, our mailing list form is a great way to grow the audience you want to contact. 
You can join thousands of Wufans who use this template to: educate attendees on your event, register them, and get a sense for how they'd like to participate. The completions can then help you plan the event accordingly!
Forms are an awesome way to collect payments. And a tried and true payment form that's ready-to-go is even awesomer. 
Once you integrate Wufoo with one of our 3rd-party payment processors, you can use this form to sell glasses, leather-bound books, beets, and everything in-between!
Want to sign people up for your book club? Religious group? Newspaper?
Our membership form can be invaluable for supporting whatever type of group, service, or product you care about.
Our health can be unpredictable. Prep for any situation proactively by gathering the medical records and emergency contact information from those around you. Knowing certain types of medical information, like people's allergies, can also help you provide a safer day-to-day environment. 
Use our 8th most popular form template on your site or in an email to gather new leads and/or to update existing lead information. 
Wufans get even more value from this form when they integrate us with their customer relationship management (CRM) platform. Using the integration, your form completions can either automatically create a new contact page or update a pre-existing page if that contact already lives in your CRM.
HR folks love using this form to understand how managers feel about each member of their team. Why? The feedback helps HR identify common strengths and weaknesses across their employees, while also helping them evaluate individual team members. These insights can then empower HR to make decisions around topics like employee trainings and promotions. 
Rounding out the top 10 is our highly coveted donation form template. 
Customize it to meet the needs of whatever cause you want it to support. And use it as an opportunity to not only collect funds, but to also to see if anyone is interested in giving their time and expertise to the cause.
Now that you have our most popular templates, you're in a great position to skip ahead on your next form and start collecting responses faster!