What would you like to do once someone completes your form? 
Email form takers a copy of their responses? Thank them for their time? Provide colleagues with the entries so they can respond to them quickly? 
With Form Rules, you can automatically do any of the above!
Simply put, Form Rules consist of any number of conditions that, if met, trigger a particular response(s) once someone completes your form. These responses can be a follow-up email, a customizable message, or a redirect to a particular webpage.
We'll show you when to use one type of rule over another and when to use multiple rules. And to prevent us from ruling out any info you need, we'll also walk through how you can set up rules in your Wufoo account.
Follow-up emails: An easy way to access form entries 
Decide who receives the form responses with our email form rule. 
For context, you can either set up a notification email (to send the entries to anyone you want) or a confirmation email (to send an entry to the email address the form taker puts in the form). 
Either type of email rule can be effective, depending on what you're hoping to accomplish.
A notification email can be key for keeping colleagues up-to-speed on the responses they care about.
Say you work at a university and ask students for feedback on their education using a form. If you ask for their major, you can set up multiple Form Rules—we'll walk through how you can do this later in the article—that allow each department head to receive emails of their students' responses.
Pro tip: Looking for additional ways to help your team see value from the form responses? Learn how Wufoo complements the tools your team already uses.
Meanwhile, a confirmation email works great as a resource for form takers to later reference. For example, if you use a form to register people for your event, attendees can refer back to your email to remember the date of the event, who they're bringing, how much they paid, etc. Even better, also add a an email notification rule that allows your event host to receive all of the responses!
Website redirect: A seamless approach to keep the conversation flowing
This option works well when there's a particular page that complements your form.
Let's revisit the example of hosting an event. If you have a specific webpage around the event, you can send form takers to it to help them get more information.
Now imagine that your event has different tracks for the following professions: finance, human resources, and sales. If your form asks for their role, you can use multiple Form Rules to take each group of professionals to the event webpage that's specific to their function.
Custom message: A simple, classy gesture
Your 3rd and final option is to give form takers a specific message once they complete your form. 
Choose this option when you already send form takers a high volume of emails and when you don't have a relevant webpage you can send them to. Also, if your form is relatively straightforward, a simple message—like "Thanks for completing this form!"—can be all you need.
Ready to get your Form Rules up and running?
To use Form Rules, follow these 5 steps:
Visit your Form Manager page.

Hover over the specific form you want to apply Form Rules to, and click on the three periods. You'll see Form Rules appear in the dropdown.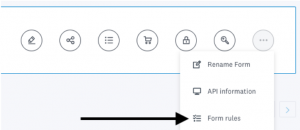 Click on the purple Form Rules tab.

You should now be able to set conditions for any rule and add rules by clicking on the green plus button on the right-hand side. 

Once you've set up your rules you can go ahead and test them by

previewing your form

! 
Note: Learn more about setting up form rules by visiting our help center article.
Now that you know how to set up multiple Form Rules, let's revisit our earlier examples and review how their rules would look.
For collecting student feedback (we want to send each entry to the appropriate department head):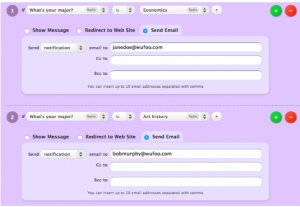 And for registering attendees (we want to send attendees to the webpage that's relevant to their role):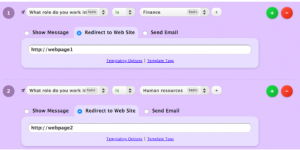 Note: When you use multiple Form Rules, keep in mind that you can't redirect the form taker to a web page and show them a custom message—as these two actions can't happen at the same time.
Now that you know how to use Form Rules, you have full control over how you engage with respondents—and others who care about the responses—after they complete your form.