There's no doubt that forms are a powerful tool to collect valuable data. But the data you collect is only as good as the insights you can derive from it. Ryan Farley, co-founder of LawnStarter Lawn Care, is here to share some great tips on how you can use forms to collect valuable data that can inform better A/B tests. 
Take it away, Ryan!
If your website gets a sizable amount of traffic, you should consider running A/B tests on  it.
A/B tests, in the context of a website, compare the performance of two web pages when only a single variable, like the copy in the title, differs between them. The results allow you to gauge the impact any one factor has on visitors, and help you determine whether or not to make any changes.
To pick out the tests that can make the biggest impact on your organization and on your customer experience, you'll need to build quality surveys.
Surveys allow us to collect qualitative and quantitative data that can help form, refine and test hypotheses before doing the hard work of implementing and running an A/B test. Of course, surveys don't guarantee that you'll run a five-star test, but they can ensure that each test you run has a higher likelihood of winning.
Here are a few types of surveys that can help you identify and run better A/B tests.
The core value survey
The lack of a clear value proposition is a big reason why users don't sign up. They visit your website, don't understand what your product/service is or how it will benefit them, and so they decide to leave.
Understand how you can speak in your audience's language by asking customers how they describe your product/service, and the key benefits they receive from using it. To take it a step further, you can make sure you are surveying your most passionate users.
Sean Ellis recommends identifying your "power users" with a simple question:

Then, you can ask your users the following open-ended questions: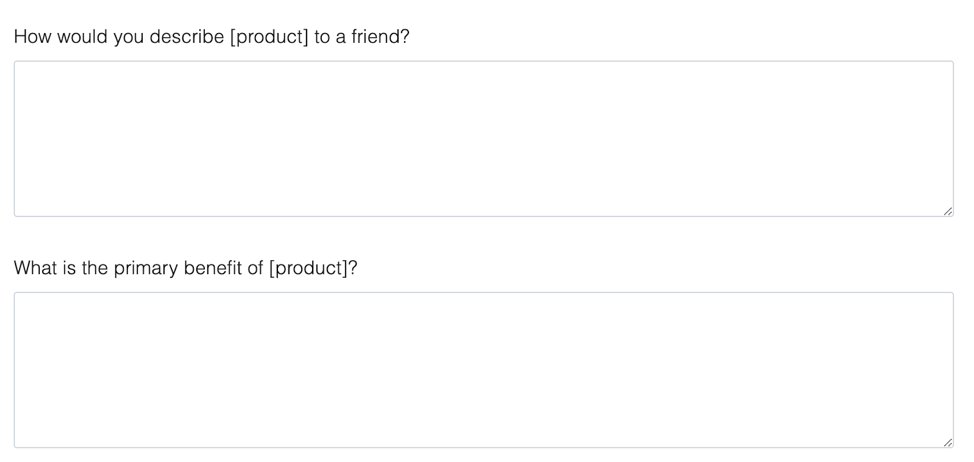 It's worth asking all of your customers the questions, but pay special attention to what your power users say. You should start to see themes and patterns emerge around how your customers talk about your product, which you can then test on your landing page.
If you're seeing multiple themes, you can include them as answer options in a multiple choice question, and ask respondents to rank the various benefits.
Note: You would have to run a follow-up survey in order to ask this question.

Once you know the specific benefits that align with customers the most, you can adjust the copy on your page to match your core customers' language.
You may find there are different segments of customers who are looking for different benefits. That was the case with Proof. Here's what Proof CEO, Dave Rogenmoser, had to say about his experience in using surveys to improve conversion:
"We surveyed our customers to get a better sense of their own wording that they use. From our collected data, we were able to identify our top customer buckets that helped us create more relevant pages for our visitors, and the personalized content increased demo registrations by 54%."
Proof even takes this method a step further by using an on-page personalization tool to adjust the landing page content, depending on which segment the website visitor falls into—SaaS, E-commerce, Agency, and Coaching. 

The post-purchase survey
The best time to ask customers to fill out your survey is right after they buy from you. That way, you can gain insight into their buying process.  
Brendan Hufford is the founder of Photo MBA, an online course that helps photographers start and run their businesses. Immediately after purchase, he surveys his new customers and one of the questions he has found most helpful is "What's one question you're hoping this course will help you answer?"
"This led to improvements in our on-page copy and increased conversion," says Hufford.  "People who visit think, 'Wow, I was thinking that exact same thing,' and the conversion rate shows it."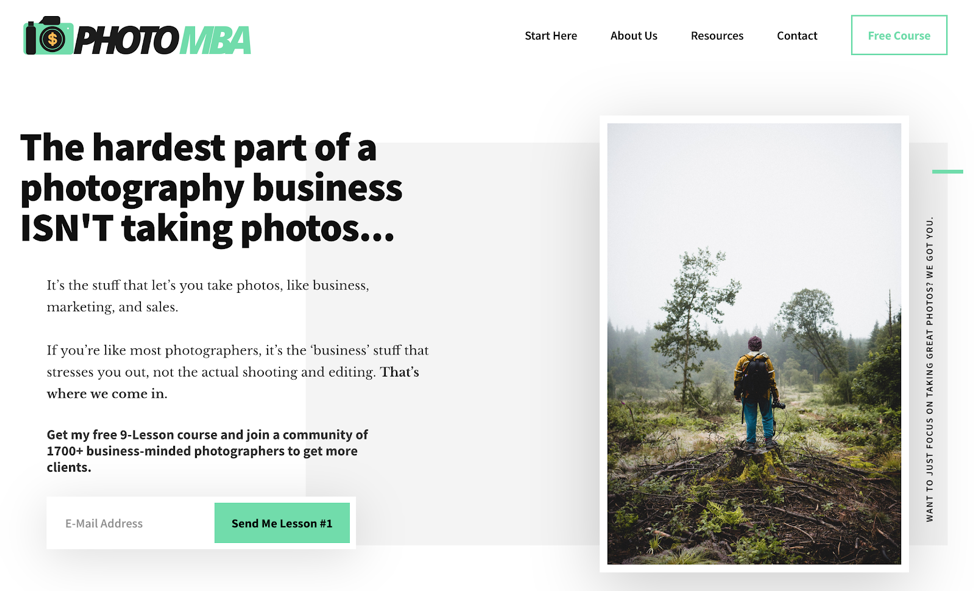 Here are a few additional questions ConversionXL recommends for post-sale surveys:
Why did you decide to sign up/purchase from us today?

What almost stopped you from signing up/buying from us today?

What are the top 3 things that persuaded you to use us?

What are the top 3 things that nearly stopped you from using us?

What could we have done to make your decision easier?
The non-converter survey
Equally as important as understanding your buyers in the moment is understanding those who don't convert. In order to survey these non-converters, you'll have to capture some sort of information upfront, typically an email address.  
Noah Kagan used a survey to help improve sales of his course Monthly1k, after having a dismal initial conversion rate. According to this post, he sent out a survey to all non-converters asking the following questions:
Were you at least interested in buying? (Yes or No)

What's holding you back from starting your business?

Should we make our support sumo do a dance video?
Take note of the first question; there are always going to be people who never had any intention to buy in the first place. However, that doesn't mean they won't take a survey. Asking a qualifying question, such as 'Were you at least interested in buying?' allows you to filter out non-serious prospects.
After filtering out those who said no to the first question, Kagan found that there were four key reasons why people weren't signing up:
They were afraid.

Concerned that it wouldn't work in their country.

Unsure of whether or not they can measure its impact.

They've failed before, and they didn't understand what would be different next time.
He then changed the copy on the landing page to address these questions—which increased the sign-ups for his course.
If you aren't able to capture an email address, you can use an exit-intent popup to try and capture information from non-converters. Here's how Devon Cox, Sr. CRO Advisor at Inflow uses exit polls:
"At Inflow, we use exit polls, typically on the checkout page or a category page trying to capture pre-purchase objections, or missing information by asking, 'Why are you leaving now and how can we improve this page?' In terms of responses, we often get great direction on missing content and information, that we can then immediately add to the page or to previous pages in the user's path."
It's worth noting that you will likely get low response rates, "often less than 2%" according to Cox.  "There needs to be significant traffic on the pages it's installed."
Here are a few additional questions you can ask non-converters:
What stopped you from signing up with us today?

Is there any information you were missing when you visited our website?

What are the top 3 reasons you aren't interested in [product]?
The 5-second test
One common user-research survey is the "five-second test." Data36 defines the five-second test follows:
"Five-second testing is a qualitative research method in which you show a test-user a screenshot of your website or product – for five seconds only. Then you take away this picture and ask different questions about what she has seen– or thinks she has seen–in the image!"
The five-second test is a great way to test a landing page's clarity, the idea being that if a user can't recall what a landing page was about after five seconds, the landing page could use some work.  
There are two scenarios where it's great to run this test:  
Showing people your

current

landing page. The five-second test will help you gauge if it's clear enough, and identify any misconceptions people may have.  

Prior to testing a new landing page variation. Before you spend all the time and effort required to launch an A/B test, you can collect qualitative feedback on what can be improved with your test variation.
As for what questions to ask, Data36 recommends the following:
What do you think this page was about?

What product do you think this company sells?

What's your first impression of the site?

What grabbed your attention?

What words or sentences can you recall?
A/B tests are essential for improving your web experience. To ensure you run the right A/B tests, collect and leverage survey data. Once you do, both you and your web visitors will benefit. 
Ryan Farley is co-founder and Chief Marketing Officer of LawnStarter Lawn Care, an on-demand platform that allows homeowners to book, manage and pay for professional lawn care services.