We love hearing how worldwide Wufans are using our online forms. And that got us thinking—why not offer some reciprocal form building inspiration? We've gathered up a collection of ways that SurveyMonkey uses Wufoo forms to power our business, nurture company culture, and have fun. We hope these ideas spark some "aha" moments and that you'll steal and adapt them for your own business! 
Forms for navigating COVID-19
When COVID-19 hit, many organizations struggled to understand and address the needs of their workforce. SurveyMonkey created coronavirus resources to help, including survey templates designed to simplify communication and discounts for nonprofits and charities in the US and UK. Those discounts are managed through a Wufoo application form, which makes it easy for us to manage the approval process.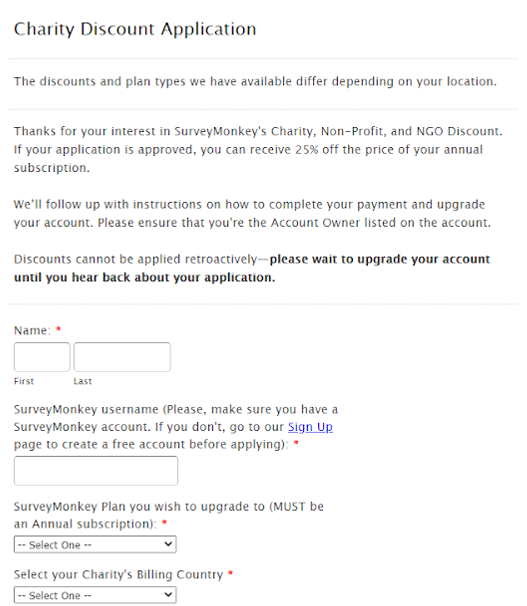 But Wufoo didn't just allow us to serve other companies during the pandemic. We also used it for our Return to Work Request form. In response to COVID-19, SurveyMonkey employees have switched to remote work. However, if they need to come into one of our offices, they can make that request with this form. That way, we can ensure that we're following safety protocols to limit the number of people present and keep up with who is coming and going. 
Steal our ideas: 
Forms for getting to work
SurveyMonkey also uses Wufoo forms for internal processes and everyday work. We onboard contractors using Wufoo forms, which are used to kick off the process and also get things set up in Upwork. We also have a Wufoo form to handle requests for employment letters, including transfers, promotions, and proof of employment.
When an employee plans to visit another office (outside of pandemic times, of course) all they need to do is fill out our Office Visit Form a week in advance, so the right people can plan for their arrival. The same goes for the resources people need to succeed at work. With our Facilities Request Form, employees can request things like desk equipment, office supplies, or ergonomic evaluations. 
Getting to work also includes impactful learning experiences. We strive to connect employees with the training that will help them grow. If an employee wants to request a new learning opportunity, we have a Wufoo form to collect information on their idea, the desired date of implementation, as well as other details that will help our team make it happen.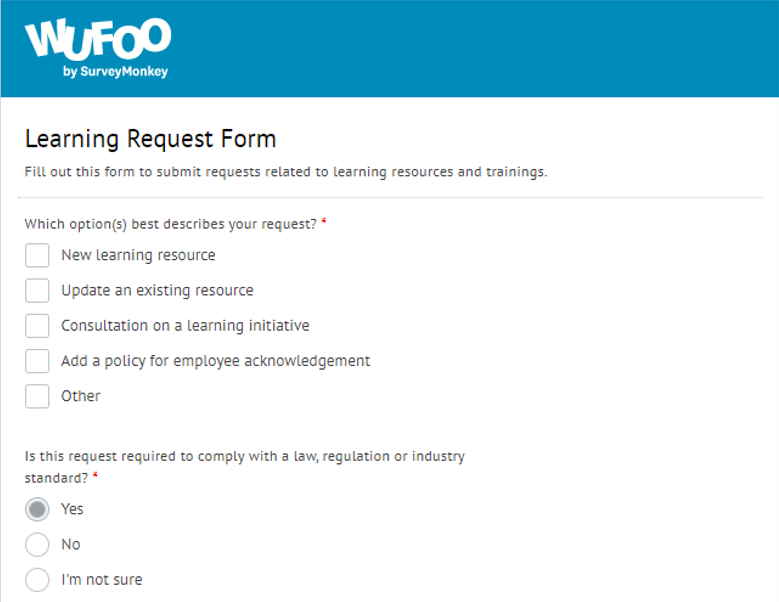 Steal our ideas: 
Forms for having fun & building company culture
Who says you can't have fun with online forms? Our Events Team has used Wufoo for things like organizing our end-of-the-year holiday party and collecting votes for Best Halloween Costume of All time. (The competition was scary but the form-building was simple!) They also use Wufoo forms when we're lucky enough to have thought leaders come and speak to us as part of our Goldie Speaker Series. Oftentimes, these inspiring speakers have written books—and our employees can request a copy of their own by filling out a Wufoo form. 
SurveyMonkey also uses Wufoo forms to help solidify our company's values and support SurveyMonkey for Good. As part of our commitment to fostering career growth, employees can sign up for Curiosity Chats, or small group conversations facilitated by senior leaders in our organization. The sign-up form for these events is, of course, made possible by Wufoo.  
For our annual Week of Service, dedicated to our late CEO, Dave Goldberg, we use Wufoo to collect sign-ups for volunteering. Employees can sign up for activities like collecting food donations or helping adults on the autism spectrum practice their interview skills. The form helps us track the number of volunteers and provide the information they'll need to take part.  
Steal our ideas: 
We hope this roundup shows how SurveyMonkey walks the walk of Wufoo, using online forms throughout our business. There are endless Wufoo possibilities and 400+ form templates you can try out with your organization. Want to share your own Wufoo uses? Drop us a comment below!