Hey, hey hustlers and go-getters! We've got some exciting news for those of you making money through Wufoo [payment forms](http://www.wufoo.com/gallery/templates/online-orders/). To date, we've already helped our users collect over $100 million through our [payment integrations](http://www.wufoo.com/payments/). And in an effort to keep that money mojo flowing, we're delighted to announce a new partnership with the smart people at [Stripe](https://stripe.com), who are building one of the simplest developer-friendly ways to accept credit card payments on the web.
Before this new integration with Stripe, if you wanted to use the best version of our payment forms with our [integrated payment checkout interface](http://www.wufoo.com/2009/10/08/say-hello-to-paypal-payments-pro-and-usa-epay/), which allowed you to process credit cards without having to redirect people off your website, you had to use a merchant provider that was going to put you through the paces in regards to paperwork, documentation and time.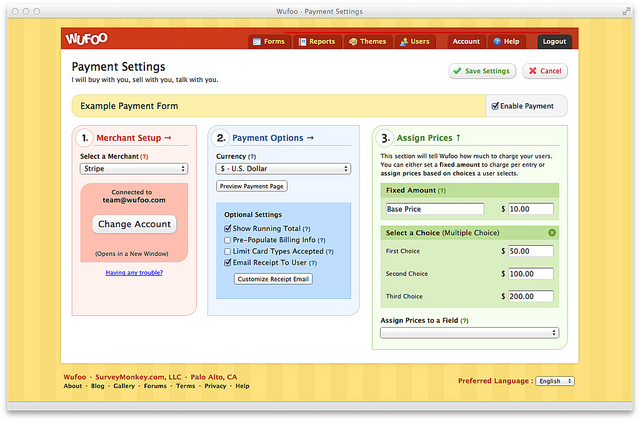 Thanks to Stripe's elegant APIs, instant underwriting and next generation infrastructure, our team got to focus on what we do best and offer the most streamlined way to leverage online payments through our beautifully designed web forms. Now, you can start collecting payments almost immmediately from inside Wufoo. If you don't have a Stripe account, we can help you create a temporary one and guide you through the process of getting it activated without having to leave the comfort of our app. With just a few clicks, Wufoo + Stripe will put fund collection at your fingertips, help you avoid the hidden fees associated with page redirects, and provide complete pricing transparency.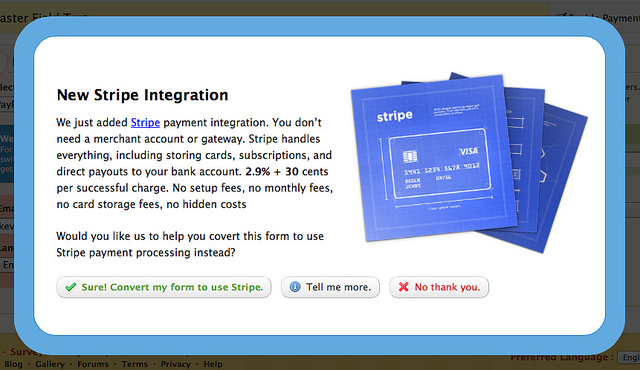 Our new integration with Stripe, along with our growing arsenal of existing plug-ins for websites and CMS tools, makes collecting funds faster and easier than ever. Once you've enabled Stripe payments on your Wufoo form, simply embed it into any website, and watch the Benjamins roll in. We think this is going to be a game changer and we're really proud to be a part of it.
Many thanks go out to the entire Stripe team for inviting us to participate in their new [Stripe Connect](https://stripe.com/connect) program. Those guys know how to write an API. Specific shout outs go out to Patrick Collison, Ross Boucher, Billy Alvarado, Richard Burton and Ludwig Pettersson. Props for making the magic happen on our end should be given to our own Chris Campbell and Kate Brennan. Wufoo and Stripe – Semper Innovatus!
—–
Keep up to date and get the most out of Wufoo. [Sign up](https://master.wufoo.com/forms/wufoo-newsletter-sign-up/) for the Wufoo newsletter.