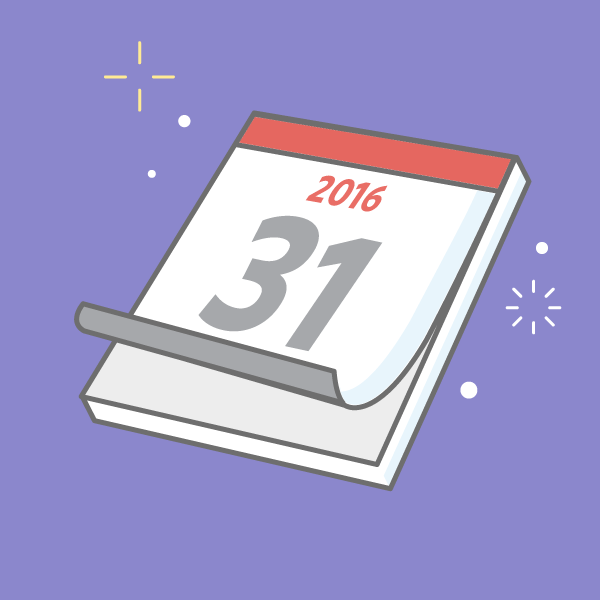 'Tis the season for highlight reels and nog. Lots of nog. In addition to partaking in holiday cheer, we're thinking about how grateful we are to customers like you. For 10 years, you've inspired us to do our best work. And this year was no different–from product and design improvements to celebrating our partners. So without further ado, here's a roundup of our 2016, dedicated to you!
1. Celebrating 10 years of Wufoo – Did you know that Wufoo's 10 years old? After millions of customers, forms and entries, we're going stronger than ever, thanks to the overwhelming support from amazing customers like you. We looked back at the top 10 critical moments that defined our journey, and, of course, celebrated the only way we know–with crazy fun events.
2. A new template gallery to usher in a new era of forms – Who wants to build an online form template from scratch? If you're like most, you probably just want to start using your form right away. So we added a bunch of new templates our popular Form Template Gallery, improved the search function, and gave our design a complete facelift.
3. Website design refresh – "Enough with the yellow stripes already!" you told us. And we listened. Whether you'd like to learn about Wufoo's fantastic features, look at examples, compare payment providers before you integrate one with Wufoo to accept payments, or look at how we serve the education industry, we made it easier to find information through our design and content refresh.
4. A new form manager – In any given day, you're most likely to use Wufoo's Form Manager and Form Builder. So we chose to make these more user-friendly by updating their look and feel and make the most used options like Themes and Share Form more easily accessible.
5. New themes to make your forms look awesome – Some of you let us know that you didn't have time to design new themes and apply to forms–and that the themes we had weren't exactly what you wanted. So we launched six new themes that'll make your forms look fantastic.
6. Redesigned share page – We chose to give a long overdue design refresh to the Share Page to make the various share options more easily accessible.  We also added new options, like the ability to share your forms on LinkedIn and Google+ to help you collect more entries for your form.
7. We are serious about security – Our customers love us for being a fun brand with cute little dinosaurs and all. However, we're very serious about the security of our customer accounts and data. So we've updated our password and security rules to help keep your account safe and ease your mind.
8. Celebrating partners – Our partners are integral to serving our customers well through integrations with commonly used applications. So, we revamped our partners page so that you can find relevant partner integrations easily. As always, we kept you informed throughout the year on how you can make these integrations work for you–use automate.io to support data exports, move data to Google sheets, or learn different ways in which you can benefit from Zapier workflows.
9. Completely revamped our help center – We reorganized and added lots of new articles to our Help Center so it's even easier to search and get answers faster. Check it for great tips on using Wufoo.
10. TrustRadius 2016 top rated survey tool of the year award – Thanks to your support, TrustRadius gave Wufoo the top rated survey tool of the year award for 2016.  The award reinforced our values that if we continue to do good things for our customers, they will continue to support us forever.
As we enter 2017 and begin our journey towards another decade of Wufoo, we vow to keep making Wufoo better every day for you. We've got a ton of exciting features and updates planned for 2017. Watch our blog for more updates from us in the next few months–and follow us on Facebook, Twitter, LinkedIn and Instagram to stay on top of everything happening in the world of Wufoo.