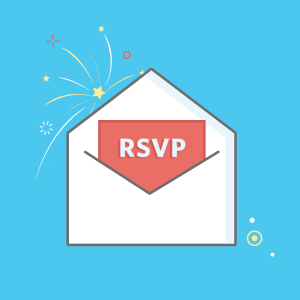 Hey there form fans and HAPPY HOLIDAYS! It's the most wonderful time of the year again, where the days get shorter (in the northern hemisphere at least) so it's dark at 4PM, but that's okay because the lights from Christmas trees and menorahs light up the world! Whatever holiday fits your fancy, the world smiles just a little brighter this time of year.
And of course the best parts of the season are all the holiday parties you'll be having! If you're like me, you'll throw a small family holiday party and then a gigantic New Year's bash complete with the three C's: champagne, confetti, and the karaoke (I know… just go with it).
Are you now thinking, "Sure, that sounds great! But how will I organize it all?" Have no fear – that's the real best part… Wufoo's here to meet all your holiday party needs.
First & foremost: The holiday event invitations
You better get these out soon! People need to time to plan their outfit! Fortunately, we've got a pre-made party invitation form template so you can send them out ASAP: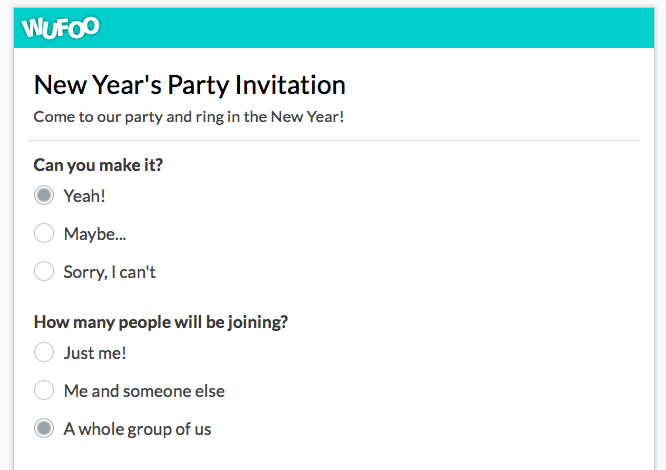 Not only will this give you all the information you need to plan your party, but you can also include a map to your party venue right on the form! We've even got a great blog post on how to embed that map.
Now we have to admit it… that template's a little plain. Think of it as a blank canvas if you will; but fear not: our trusty Theme Designer will be there to provide all the features you need to snaz it up with colors and images and fonts and graphics–the list is endless. You can create something to fit YOUR party's theme.
… You do have a theme, right? What's a party without a theme! My New Year's Party Theme is black tie casual (it's a thing, trust me) and we're serving hot dogs with caviar.
It's a potluck celebration!
Now that you've got everything in order for your New Year's Party, let's back up just a tiny bit – what about a HOLIDAY PARTY?! Well Wufooers, we've got a great holiday party template, too!
Whether you celebrate Christmas, Hanukkah, Kwanza, another holiday, or just want to throw a family party, everyone needs to contribute. You can't thoroughly enjoy your holiday and open presents if you have to cook all the classic holiday food. After all, food is basically what the holidays are for, right? No worries! Have a pot luck! And yep, you guessed it! We've got a template just for potlucks, too.
Get even more creative by specifying maximum quantities on your form so you don't get five salads and no mashed potatoes (remember our Thanksgiving example?) and you'll have the perfect holiday feast.
New year, new you!
Now pretend it's January 2nd: Ah, that was a fun holiday season, wasn't it? After all the partying is said and done, it's time to get your head back in the game. It's a new year and Wufoo's here to help keep your New Year's resolutions on track. Set a resolution, give it  a goal date, and then get ready to make 2017 the best year ever. Check out our New Year's resolution template to get started on your new path!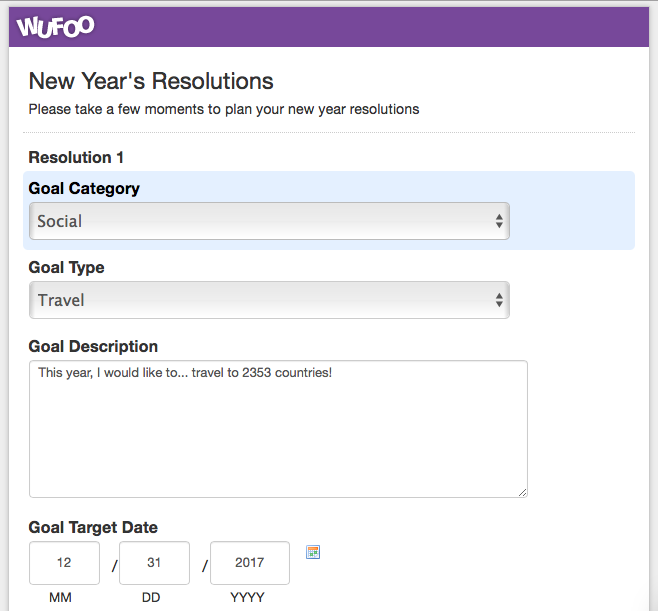 Then set up a notification email so you have email proof of your resolutions and keep yourself accountable!
There you have it–Wufoo forms for all your holiday needs! While we're making things easier for you, you have more time to spend with friends and family. Happy Holidays from the Wufoo Team!