> It's been a bit since we've featured one of our rad (do people still say that?) customers on the blog here. Sharing use case stories are not only the best ways for us to spotlight your rad-ness but we believe it's also just a great way to get tips from your fellow form fun people.
> You're not alone out there. And no matter what industry or field you work in, online forms can help. So why not help each other out? Read up on how a market research firm relied on us to streamline and smooth out some projects with a pretty specific focus.
> Then send us your story. Leave a comment or tweet at us. We'd love to hear from you.
> And now–give a warm welcome to Joanna Jones of InterQ Research.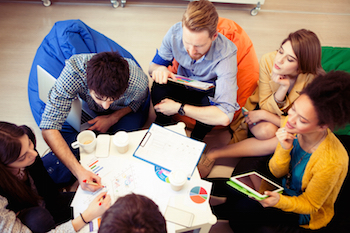 Here at InterQ, we're in the business of doing qualitative and quantitative research.
Qual-what? Ah, excuse our jargon.
Basically, we conduct focus groups, interview customers/potential customers, and even do a little UX work that includes biometrics and customer journey mapping.
Essentially, we're in the business of people-to-people research. We help companies refine their products before they launch them, and we work with existing companies to improve their brands, marketing, and products.
Focus groups are an especially popular methodology that we use, and recently, we had a project that required an upfront questionnaire before we could assemble the focus groups. Naturally, we turned to Wufoo to help us out. Here's how their super-easy-to-use forms totally enhanced our project and made it much more awesome.
Web Site Visitor Survey
We were going to be discussing a website for a focus group project in order to help our client enhance all sorts of things–content, flow, navigation and so on. We ran into a bit of a sticky issue however: We needed to make sure that all of the focus group participants (64 of them, broken into 8 groups of 8) were familiar with the site before we had our group discussion. How to do this? How to do this??
We thought and thought about it. And then we settled on a brilliant plan.
Brilliant plan below
Long story short–we decided to launch a brief survey that we'd send to the focus group participants prior to the actual groups. By asking the participants to answer specific questions about the website, we'd be able to ensure that they were familiar with the content before we assembled everyone and got their feedback. We called it homework. But, like, the fun kind.
So full disclosure: Here at InterQ, we're pretty rad (yes, people do still use rad) at doing qualitative research, but we're not so rad at writing code. Actually, it's downright intimidating. But no worries. Wufoo has pre-made templates that we could choose from for our homework exercise.
The Web Site Visitor Survey was perfect for our purposes. Check it out.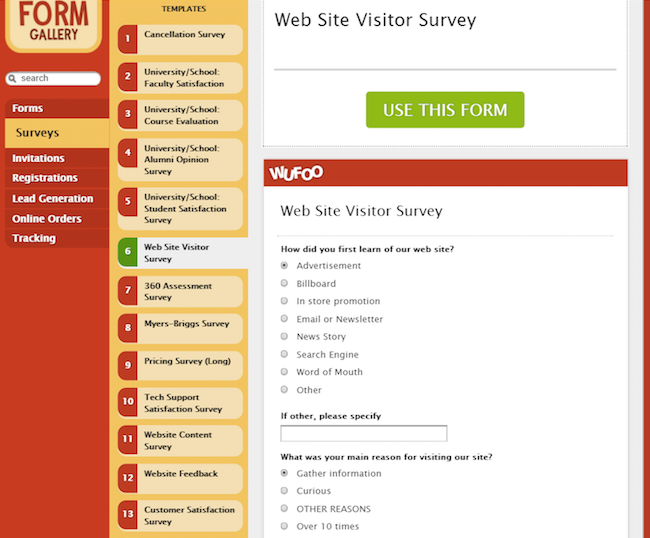 As mentioned, we're not savvy when it comes to writing code or programming. Fortunately, Wufoo's forms make it super easy with their drag 'n drop functionality. We chose the form, and then we were able to easily customize it based on our specific survey needs. We asked people to go to the website, and then we had them fill in specific questions (both multiple choice and open-ended) to ensure that they actually spent time poking around the site. At the end, we dropped in an Email and Name section to help us track who had filled out the form: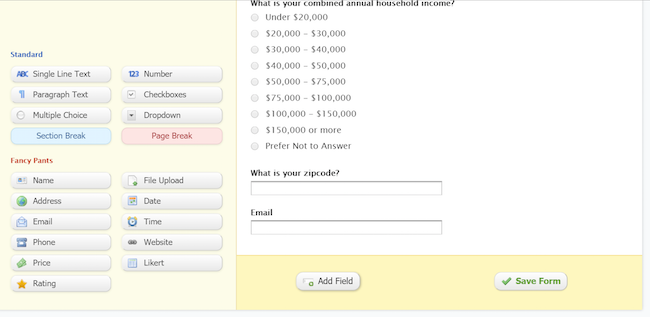 Putting it all together: Analyzing the results
Prior to conducting the focus groups, we needed to keep track of who had filled out the homework assignment, and, as a bonus, we were able to learn a bit more about each participant by reading through their responses. Wufoo's Reporting Manager feature made this super handy:
In the Report Manager, we could go in and get detailed views of not only the answers to the survey questions, but we could also see where people lived by region, what kinds of software they used to fill it out, and how many responses we were getting by day. We then exported the data to a spreadsheet to make it easy to share and analyze amongst our team.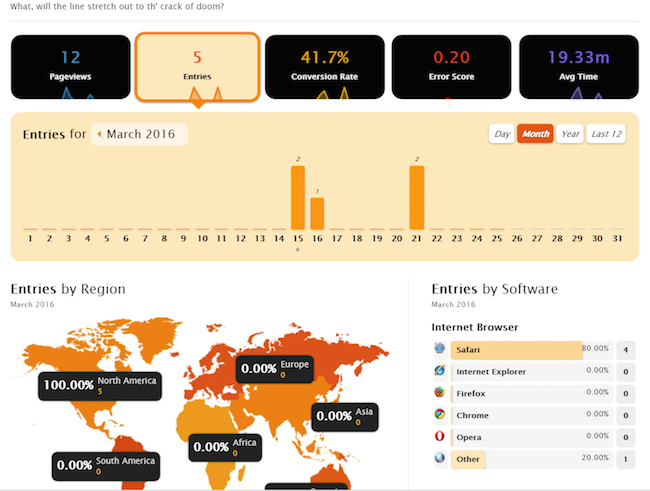 So easy. SO easy.
Wufoo's Form Gallery, Drag 'n Drop functionality, and Report features took a huge burden off of our project management logistics. We were able to develop our focus group homework assignment surveys in a short period of time, direct participants to the survey through a link, and analyze the results with just a few clicks.
By setting up the survey process through Wufoo, we ensured that all 64 of our focus group participants visited the website we were discussing for the project. All this enabled us to have a fruitful, productive set of focus groups that yielded transformative insights for our client.
Need qualitative research done? Check out InterQ's website page to learn more about their work and process.