Hey there, form fans! Have you ever wanted to know about all the ways you can share your Wufoo form? Good, you're in luck.
There are tons of ways to share your Wufoo form with the world. Today, I'm going to walk you through sharing your form on LinkedIn, because we're cool and professional like that. The possibilities of using LinkedIn to share your form are endless—generating leads, collecting customer feedback, polling connections, and more.
Let's get started, shall we?
Choosing the right form link for you
Before you can share your form on LinkedIn, you're gonna need a URL to link to your form (crazy, right?). On our Share page, you'll find 2 types of links you can use to share your form directly. One is the title URL which is based on your form title and WILL change if you tweak your form title, so be careful.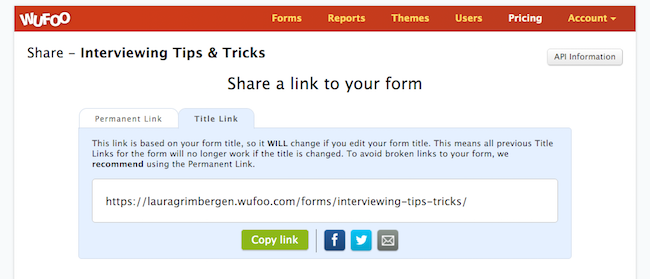 The other is the permanent URL – this is a unique URL that stays the same even if you change the form title.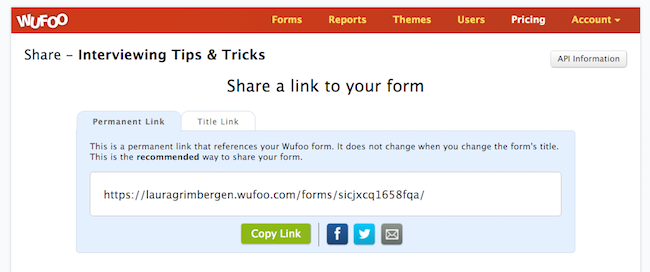 We recommend using the permanent URL to give you the most flexibility in case you feel like changing up your title. Any URLs you add to a LinkedIn update get shortened anyway, so we think a permanent URL is the way to go. To use either a permanent or title URL, click on the green Copy link button below the URL, and paste away.
Linking to your form on LinkedIn
Let's say you're hiring for a new position and you want to poll your connections for their best interviewing tips n' tricks. One way to do that is to post a LinkedIn update with your form link. Head over to your LinkedIn homepage and click on Update status in the upper left.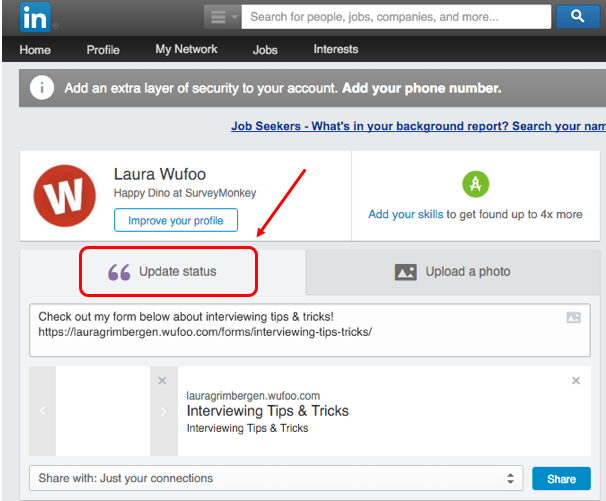 Paste in your form link, add a witty caption, and let those responses come rolling in.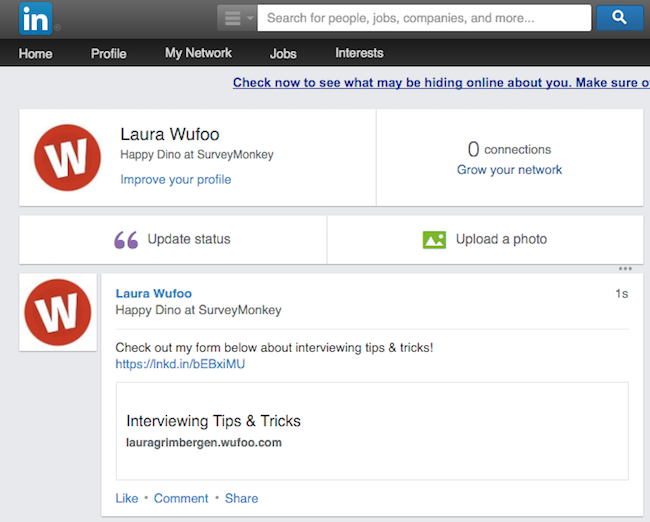 You can also share a form directly from your LinkedIn profile. Under the Summary tab, you can easily add a link to your form by clicking on the square icon in the upper right-hand corner.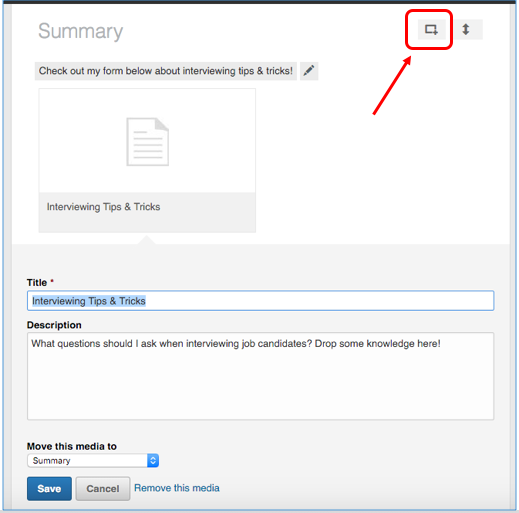 Paste in your form URL, write a catchy description so people know what they're looking at and boom—you've got a form on your LinkedIn profile. You can also link to your form directly from one of your job descriptions using the same steps. Cool, eh?
Congrats, Newbies–you now you have one more social media channel in your form-sharing toolkit.
For more social media forms goodness, check out how to share your forms on Facebook and Twitter here. Form on!