Form Manager is one of the core parts of Wufoo with which you interact every day. When you logged into your Wufoo account today, you may have noticed a few significant changes in the Form Manager. Trust us–that's intentional!
We chose to give a long overdue refresh (or makeover if you will) to the Form Manager. Doing this also set the stage for a series of additional changes and new features in the Form Manager still to come. Keep us honest with that and keep an eye on your Form Manager or here on the blog in the next few months for update tidbits.
So you may be saying to yourself–if it ain't broke, don't fix it. Don't worry, we're a fan of that motto too. You've let us serve you with fantastic form service for the past 10 (eep!) years so as a big fat Thank You–we're helping you get to your most favorite form functions even faster. Faster is better.
Now let's dive into all this change, shall we? Hit it.
1. Bigger everything
Over the last 10 years, the dinosaurs at Wufoo have grown bigger and so have the size of your monitors. However, Form Manager has always remained small leaving plenty of prime real estate un-used. That changes now. We chose to expand the size of the Form Manager. Along the way, we also made the fonts bigger so that you don't have to go searching for a magnifying glass when looking at our Form Manager.
2. Reminders on form status
You have a business to run, customers to focus on and other important things to take care of. We get it. So, to help you be more productive without remembering the little details, we added noticeable reminders to forms that have not been shared yet. These reminders will help get your forms in front of your customers and start collecting data on your end even sooner.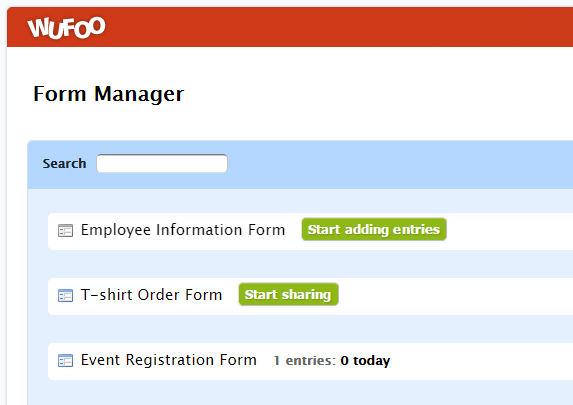 3. Visual indicators
As you're scanning through the list of forms, in the past, it was hard to differentiate between public and private forms. Hello to today! Now you have two visual indicators to scan and pick out private forms much faster.
1. The form icon will be grayed out for private forms.
2. The share option will be grayed out and will not be clickable for private forms.
Fast and furious indeed!
4. No more "hover over"
Some of you have said that it's distracting to have the form options pop-up even when you casually hover over form name. Additionally, the need to hover over to view form options made the experience cumbersome in tablets. We got rid of the requirement to hover over and instead display the menu options right next to the form name. Boom–faster navigation when on desktop and using tablets.
5. All your favorites grouped under "Edit"
Edit, view, rules, notifications and integrations are the options most accessed by our users. Grouping them together under Edit menu would help you get to these most-used options much more quickly.

6. "More" really does give you more value
In the past, you had to get to the share page in order to access API information. In other words, the access to API was tricky. Come on, this is not a treasure hunt. The API information and other important features like duplicate, delete, make a form private or public and add password (only for public forms) now live under the More menu.

7. Get to your entries faster
You do all the hard work creating, designing and deploying your forms to collect data. Shouldn't you be able to get to this data quickly? The Entries menu is here to serve all your data and analytics needs. With the options in this menu, you should be able to get to form analytics and view all the form entries.

We also display the total number of entries and number of entries today right next to the form name. Yep, one less click to get to stats on entries.

8. Future changes
These changes are just the beginning, form fans. They're meant to be stepping stones towards adding important features like organizing forms into folders, taking bulk actions on forms and more. Again, keep an eye out.
Our goal is to make creation and deployment of form with Wufoo fast, fun and easy. We believe these changes and the updates planned in the near future will help accomplish this objective. We definitely like to hear your thoughts on these changes. Please share your thoughts, comments and suggestions with us!