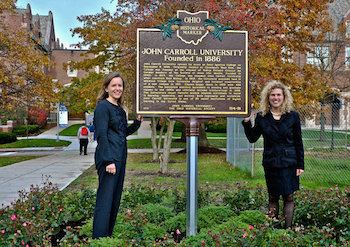 It's no surprise that we love you, dear customers and form fans. Yep, that's right: L-O-V-E. And we really love the opportunity to showcase the important work that you do.
We're here to make your lives easier and the more we get to learn about all of the different ways that Wufoo can be used, the more we get to do just that.
So we want you to have your blog moment in the sun. Have an awesome use case of your own you'd like to share with our readers? Fill out our form here and we'll reach out.
Now back to our regular programming. Let's put our school pants on, shall we? Please welcome Mike Richwalsky, Executive Director of John Carroll University. JCU is a private, coed, Jesuit Catholic university in Ohio. Mike's here to share how JCU uses Wufoo on their campus.
Take it away, Mike!
I first came across Wufoo at my previous institution and fell in love with the features and their awesome support. I'm now at John Carroll University and we use Wufoo for just about every area on campus. From fundraising, to event registration, to surveys…you name it, we do it.
Here's an example of just one of our forms in action.
One of the biggest advantages for us is how easy the form-building system is to use. Because of the simplicity, we've given accounts to our campus users and basically sent them off on their own to build, build, build their own forms. Our employees have also used the Wufoo embed feature where they can copy/paste their forms directly into their websites. This ability cuts down on the amount of forms that need to be made and reduces our own support calls. Great stuff!
The API is awesome and we're in there quite a lot. And, in the spirit of customer feedback, we offer this suggestion up for you Wufoo wizards–we have a LOT of forms that we create and sometimes the initial loading/searching abilities can take a little time to catch up.
For you readers out there looking for ways to utilize Wufoo on their campus, let me know in the Comments below. Pretty much every department from JCU's Athletics, Admissions, Academics, (on a roll with the A's), Marketing and Student Life has a Wufoo form in action. We're 3+ years in and counting and would love to hear about how you use forms on your campus.
Same here! Don't forget to submit your own story into our interview form and visit John Carroll University's webpage for more information.