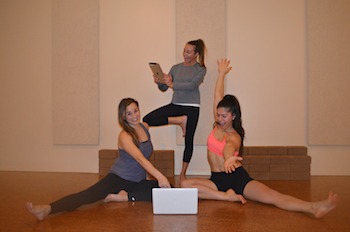 We gave out a shout and you listened. Featuring your fine work in forms has been a goal of ours recently and with a little tweet help, we've gotten to learn even more about the many different (and cool!) ways you guys use Wufoo.
Without further ado, let us introduce you to Amy Ballinger, owner of Moksha Yoga Hamilton in Ontario, Canada. Amy's business goal is centered around de-stressing, strengthening and calming the minds and bodies of her clients. And you know what, we can relate. Our forms are designed to do the same for our customer base as well–with less sweat on our ends though.
The floor's all yours, Amy.
Having the right systems in place
As the owner of a yoga studio that is part of a collective of hot yoga studios called Moksha Yoga in Canada and Modo Yoga in the United States, I used to think that owning a studio meant that you could do yoga all day. Now I know that creating a space for people to let go of their stress means that the behind-the-scenes things need to run really smoothly. Over the four years that this studio has been open, Moksha Yoga Hamilton has developed into a space that welcomes more than 200 people every day, a vibrant community of people all working to reduce stress and create more peace in their lives. The studio space, and all the admin and operations work it takes to run it, need to run smoothly and with ease to create the sense of peace and relaxation people get the minute that they walk through our doors.

I'm a big believer that being organized for your staff and having systems in place for them to use reduces work stress while also fulfilling the needs of the studio. When people can follow a clear list of steps or a checklist, they know exactly what they need to do and how to do it, and this allows for them to be a lot more peaceful and present with our clients. They are never scrambling around or feeling panicked trying to figure out what to do.
Streamlining operations, setting expectations
I use Wufoo mainly to streamline the studio's operations, set expectations, provide access to more detailed information, collect orders and gather feedback. Pretty much anything I can turn into a Wufoo form, I do. I would say that I am known for my Wufoo obsession! A few examples for you:
Checklists: Step-by-step lists of things that need to be done (ie. what to do when you open the studio in the morning: turn off the alarm, adjust the heat settings, fold the towels in the dryer, etc, etc)
Feedback: We use feedback forms that we have created in Wufoo to give clients the opportunity to give feedback about their experience in the studio, Teachers to give feedback to one another on how to improve their classes, and front desk staff to give feedback about their shift (ie. if they had any issues with the cash out, the highlight of their shift, any questions, etc). Not only that, all of my other forms (like checklists) include space for people to share their feedback, ideas for improvement, any challenges encountered, etc. This is helpful for me to continuously improve the way we do things and to address any difficulties.
Reports: We use the forms as incidents reports to keep track of notable situations at the studio or things that require client follow-up.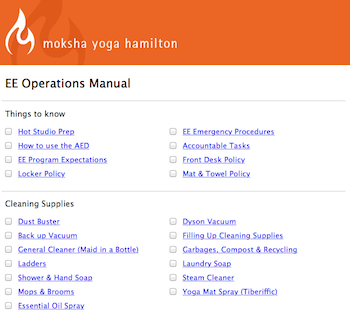 Manuals/Guidelines: This is a big one for me and where my love for Wufoo really deepened. I learned how to make hyperlinks in forms and I use them to connect to specific notes in Google docs or Evernote with more information.
For example, I can have something in a form that says 'adjust the heat settings' as a hyperlink, and if the person isn't sure how to do this, they can click and the step-by-step instructions of how exactly to adjust the heat pops up. This way I can streamline the Wufoo form (so that it isn't information overload), but any time the person using the form needs more info, it's right there without them having to search. This is also great to link to troubleshooting steps.
Inventory: We use Wufoo forms for things like cleaning supply checklists to run through and make note of anything we need more of. Then I can access the email from my phone when I'm out picking up more supplies.
Order Forms: My latest addition to my roster of forms was a food order form for an event we did with a local juice bar. I took advantage of the awesome reporting features and created not only a form for people to fill out to submit their food order, but a report that tracked the exact total of each item that the juice bar needed to make. I provided them with direct access to the reports with the totals for each day and they delivered the food. It worked really well.
Forms as rite of passage
EVERYONE uses Wufoo here. Haha…But seriously. Everyone. From every teacher, desk staff, volunteer cleaner to client. It's almost like a rite of passage to Savasana at MYH. I'm a big believer that good systems lead to a relaxed environment. I used to worry that things like systems and checklists would make the studio seem 'corporate', but now I realize that that is what makes the studio feel so good. Staff and teachers have the ability to be really calm, present and engaged with clients when they're not feeling frantic over figuring out what to do and how to do it. Having information and clear steps at their fingertips also helps to ensure that everything gets done that the studio needs to look, feel and operate at its best.
Don't forget to Zapify!
I'm appreciative that this business exists, that it's affordable and that it has the same fun and silly vibe that we have at the studio. It shows me that offering a great service doesn't necessarily mean that it's dry and corporate, or come at the cost of the vibe. I mean, how can anything be super 'corporate' when the profile avatars look like they do and when you go to login and it says "RAWRR". Even the bottom of this form says "Zapify!!" when it could just say "submit". Man, I love you guys.
Amy–we feel the love too, right back at ya. And namaste, everyone.
For more information on Moksha Yoga Hamilton, please visit their super chill site here.