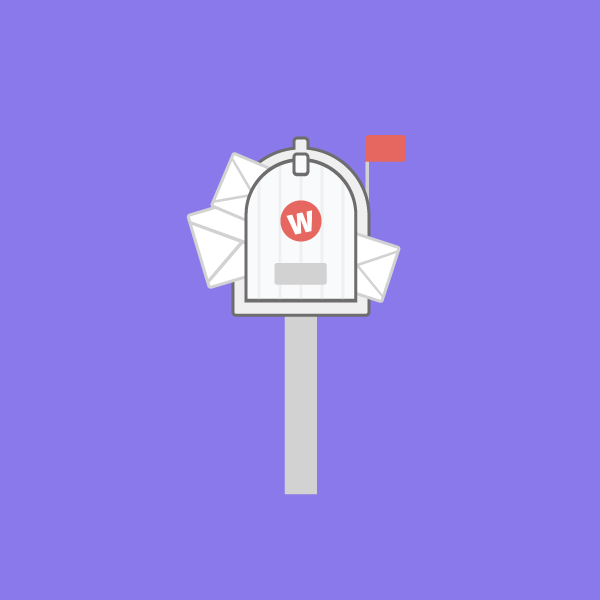 One of the many things our customers love about Wufoo is that we offer more than 400 templates to build their online forms. Still, the templates are just a launch platform and Wufans always surprise us with the creative ways in which they use our web forms to grow their business.
That's why recently we asked you for interesting examples of how you put Wufoo forms to work for your business… and we received some great ones!
Thanks to all that filled our form and keep those examples coming.
Parlez vous Wufoo?
Our first interesting use case comes from Norway, where our Wufriend Lisa is a French language instructor. She decided to simplify her work and that of her students by making them fill Wufoo forms with their answers to each class exercise.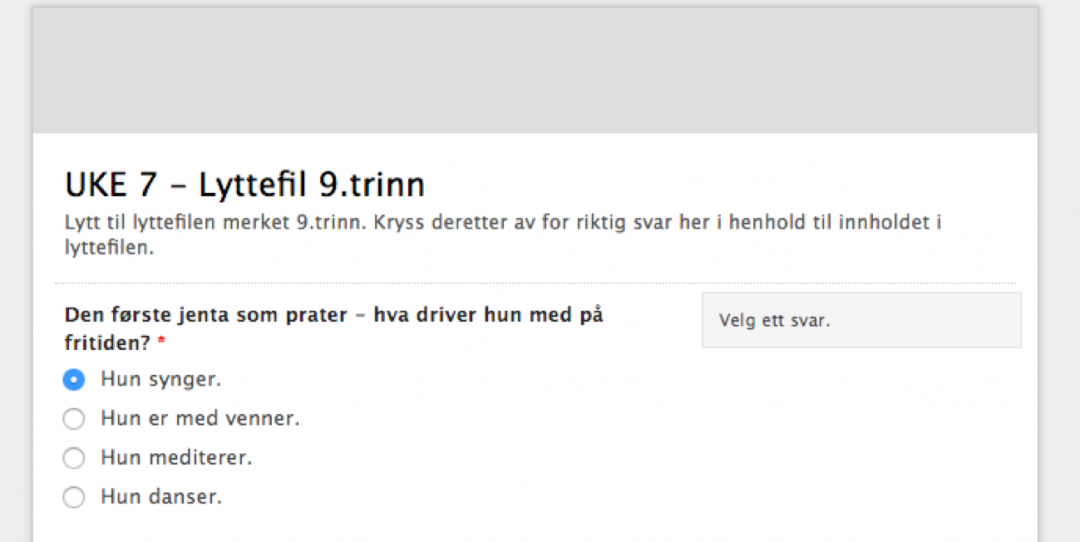 The students, Lisa says, complete their assignments "by way of a Wufoo form from the French class app directly to my computer. Easy for all!"
Less time submitting, more time learning!
Getting to the point in Florida
Nora, a web designer in Florida, is too busy to screen potential clients herself. That's what she uses Wufoo forms for.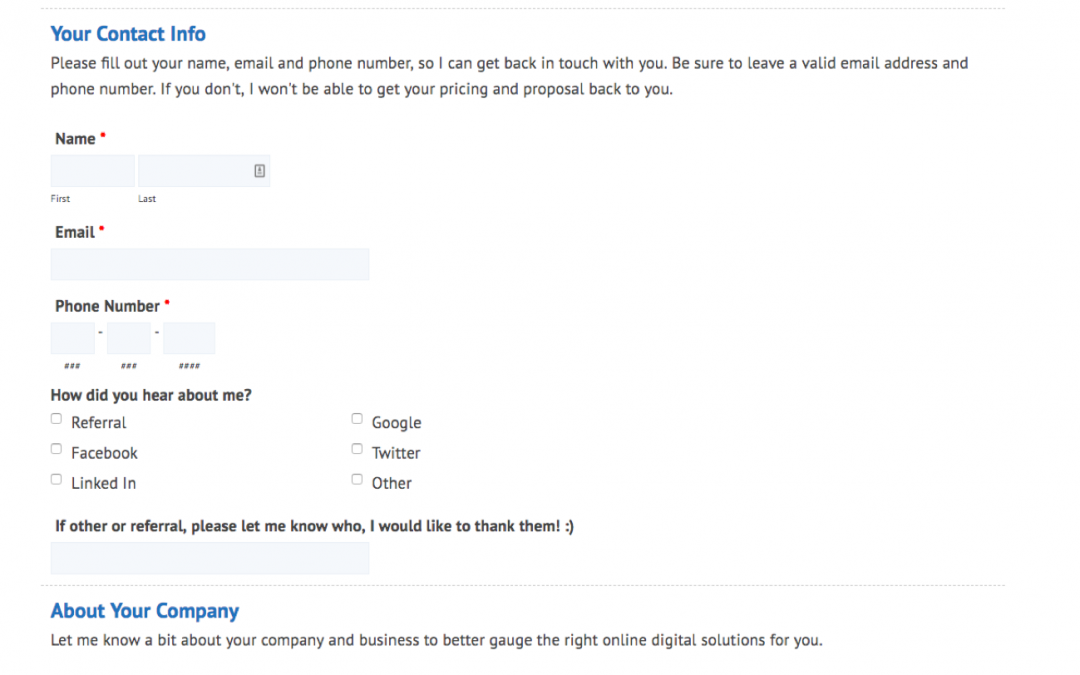 "In our line of work, and with our project load," Nora says, "it's imperative to find out if a potential client will fit well with our company's services or not. We use our Website Design Questionnaire form to pre-screen potential web design clients to get an idea of what they are looking for from their website. This often helps us weed out businesses who we might not be the most effective agency for, and hone in instead on companies who we feel we can be an asset to."
Great way to save time and create value for your business, Nora!
Looking good in New Jersey
Glenn is in charge of managing the website for a plastic surgeon in New Jersey. He found that using advanced features provides prospective patients with a better user experience. For example, Glenn uses smart form fields to offer different questions and response options based on user input.
"If someone requests a certain type of visit," Glenn explains, "the options that are affected by that choice are given to the user."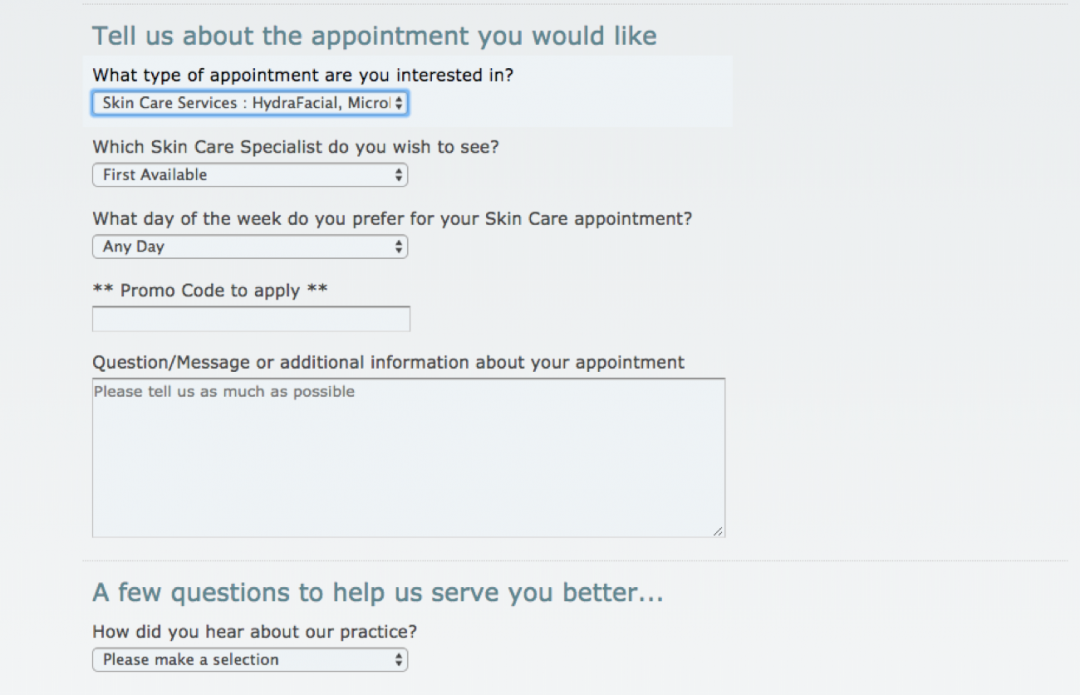 That is not all, Glenn says, who also makes great use of Wufoo's partnerships: "We have integration with a referral field and MailChimp email marketing list with segmentation."
Way to make the most of our features, Glenn!
Elegance and efficiency in Iceland
Iceland got representation with a submission from the John Tailor company. As you probably guessed, it is a tailor service, operating under the motto: "Changing the world, one suit at a time." They only open up for appointments 4 times a year, so coordinating with potential customers is crucial.
Egill, who sent us their submission, says they use a Wufoo form to receive appointment requests after sending an email campaign to prospective customers. "In the email," Egill explains, "the customers have 4 different choices, 4 different links that will pre-populate the form with the clients' personal information to save time and make it easier to fill out."
This way, elegant Icelanders can find an appointment slot that, erm…, suits them.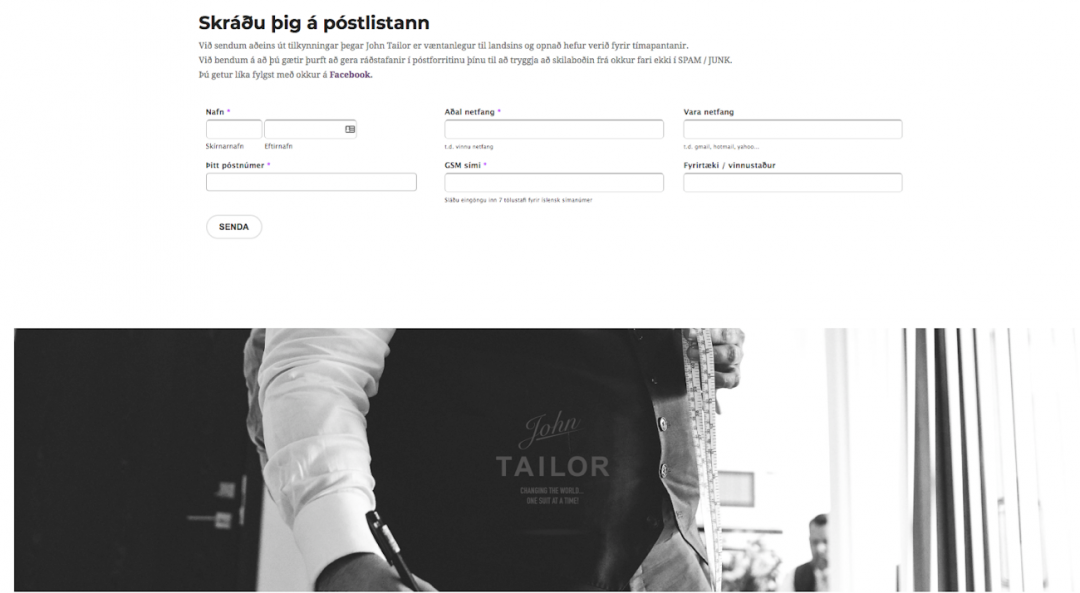 That's not all: The customer's choices trigger various rules in the form, which Egill integrated to the website with his own CSS. He also takes advantage of Wufoo's Zapier integration to channel the customer's info into new calendar events, an email draft, a spreadsheet with a list of entries, and more.
"I'm really taking full advantage of what Wufoo has to offer with this form," Egill says. "It is the most complex form I have built with Wufoo and is most definitely saving me countless work hours! Using this opportunity to thank you all for what you do :)"
You're very welcome, Wufriend!
Early bird gets the word
If you live in London and you have time in the early mornings to spiff up your writing, you should check out the Write & Shine workshops—starting as early as 7.30 am. (Yawn!) Mathew sent us their Wufoo form, which he says "has been an amazing resource, particularly because of its range of awesome features and integrations."
Aw, stop it, Mathew!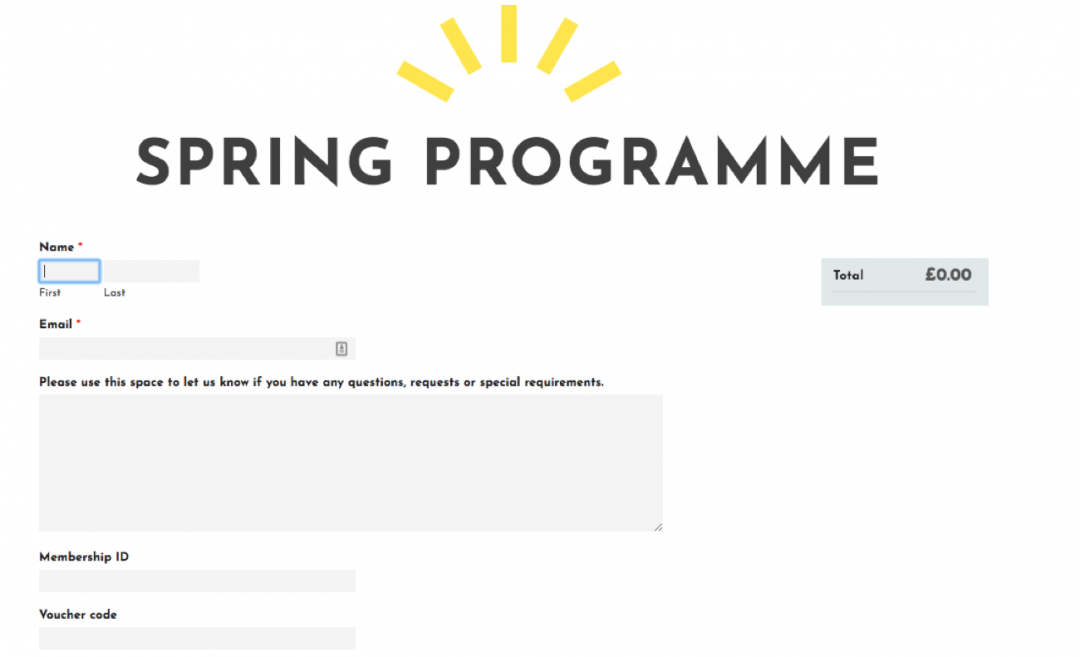 But he won't stop. "Customers," he says, "can book and buy workshops, using the easy Stripe integration, and we use max quantities to make sure we never overbook! We also sell season memberships that allow unlimited booking, which we can do through using membership code and some simple form rules to ensure members can book without going through a payment page."
There's more. Mathew also uses custom CSS, the MailChimp integration to send course content automatically by email, and Twitter automation to promote every instance of a user signing up for a course.
We hope the writing students are just as creative as the Write & Shine team are with Wufoo forms!
More great uses for your Wufoo forms
These are just some examples of the many ways in which you can use Wufoo forms to grow your business online. See more here:
Do you have great examples of how you use Wufoo forms? Submit them here.