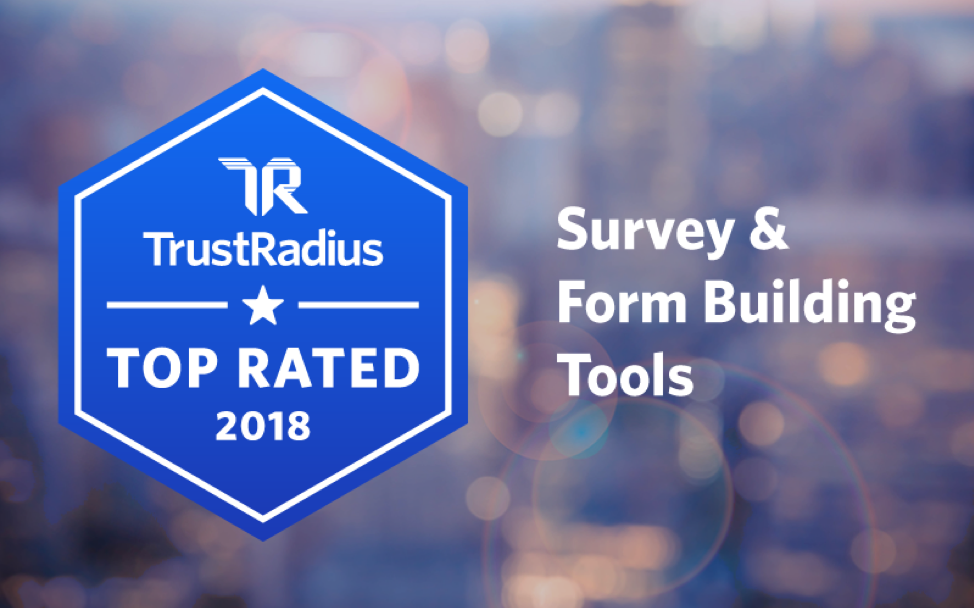 The reviewers have spoken, and Wufoo has earned the 2018 Top Rated award for Survey and Form Building Tools from TrustRadius.
The TrustRadius Top Rated awards are unique in that they are an unbiased reflection of customer sentiment, based solely on user satisfaction scores. In order to earn a Top Rated badge for Survey and Form Building Tools, products must be in the top tier of the category with 10 or more reviews and ratings. Every reviewer is verified and every review is vetted before publication to ensure buyers can make truly informed decisions.
According to positive feedback from authenticated users, Wufoo is living up to their promise of helping users build powerful online forms in minutes. Ease of use, customization options and an intuitive interface are commonly cited strengths across Wufoo's 81 reviews and ratings. Read on to see what users had to say.
"Wufoo works perfectly for anyone needing a very simple form. It is very intuitive for people who have little experience with web design as well. Forms requiring quick and easy answers, especially short forms – Wufoo is perfect."
– Assistant Director of Admissions in the Education Management Industry | Read the Full Review
"The forms are easy to create and easy to use. These factors are a plus because you don't have to be a super savvy tech person to manage the forms and the end user finds them easy to understand and complete."
– Director of Client Services in the Staffing and Recruiting Industry | Read the Full Review
"It's easy to link Wufoo to other services like Google Drive. Almost all of our forms are connected to some other service to store our data."
– Digital Marketing Manager in the Consumer Goods Industry | Read the Full Review
"Responsive layout means forms work across devices without us needing to write any code."
– Project Manager in Marketing in the Internet Industry | Read the Full Review
To learn more about Top Rated awards, read this guide on how TrustRadius Top Rated works.