If you're using Wufoo to run your business, you're already familiar with how much time Wufoo saves you, how easy it is to set up, and how you can use Wufoo to sell digital and real products by accepting payments online. What you might not be familiar with is how you can use Wufoo to receive feedback from your customers to help you improve your business, get more customers, and ultimately increase your sales. If anything, you'll gain real insight on how your customers perceive you and your business and what you can do to make your business better and easier to use.
Customer Satisfaction Survey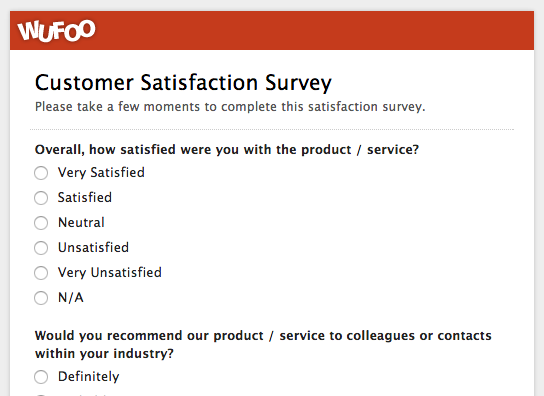 We'll start off with the most general and basic of all the customer feedback forms, the customer satisfaction survey. Using our form template, you'll get the basics of a great customer satisfaction form and from there you can customize it to fit your specific product or service.
When should you use a customer satisfaction survey?
Right after someone has placed a complete purchase through your form. You can even place a link on the confirmation page of your form.
If you're using an email service like MailChimp or Campaign Monitor to communicate to your customers, you can reach out to your customer base periodically to get a read on your customer's base level of satisfaction. Do it a couple of times and you'll get an idea if you're improving your service!
Consumer Demographic Survey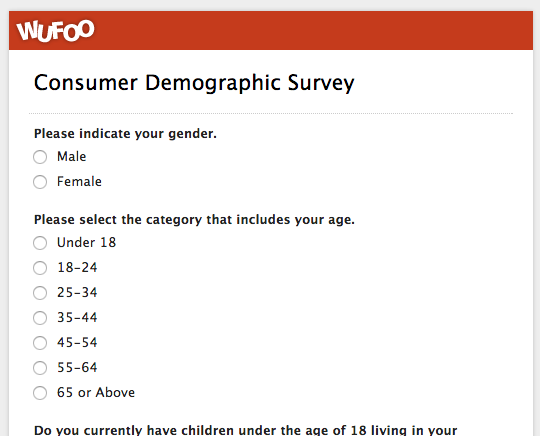 The consumer demographic survey is best used when you're looking to get an idea of _who_ your customers are. This survey lets you figure out the demographics of your customer base. With that information, you'll be able to tailor your messaging or even product offerings to better match who your customers really are.
When should you use a consumer demographic survey?
Planning to change your products or services? Use this form to figure out who your customer base is.
Need to know the demographics of your customer base? Update your email marketing or advertisements to better suit your current customers? This form's for you.
Use the negation in your results to find business opportunities. Find out who your customers _aren't_ and you'll be able to find a new segment of users to go after to make them your customers.
Market Research Survey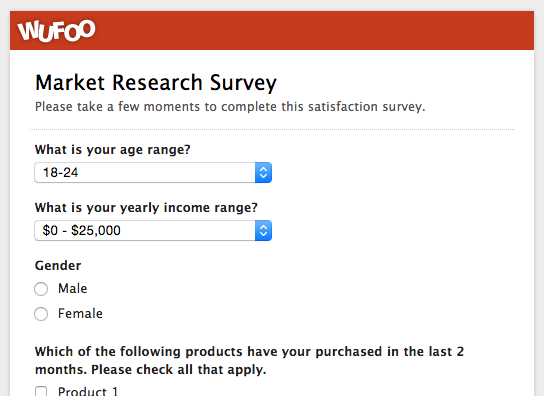 The market research survey is the next logical step to take once you've determined your customer satisfaction and their demographics. With the information gleaned from those two forms, you've probably got a good idea of what new products or services you want to get into. Now is the best time to use this form to get some more information about the new product line or service to make sure it's a success out of the gate.
When should you use a market research survey?
If you're in the process of offering a new product or service and want to get an idea of what you should charge for it.
You are _thinking_ about offering a new product or service and want to know if it's worthwhile to spend the time developing it.
Customer Service Survey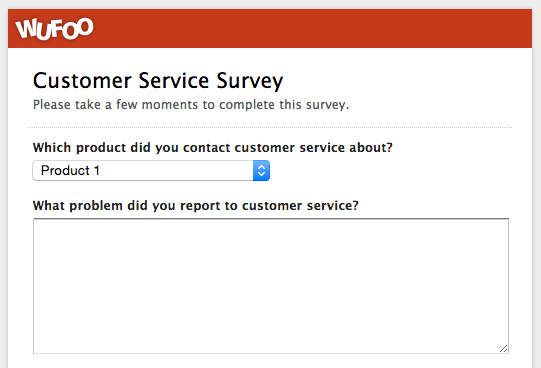 The customer service survey is pretty self-explanatory. As you know, we work very hard to offer top notch customer service and support and we use a similar survey once a customer has received an answer from us. It's a really, _really_ invaluable tool to get an idea of how effective our customer support is, what is working, and more importantly, what isn't working. We use the results from this survey to keep an eye on our customer support efficacy and make sure it's top notch.
When should you use a customer service survey?
After a customer contacts you for some help, you should send them this survey to get their immediate feelings about the level of support.
If you're looking to offer awesome customer support and create loyal customers. Like Wufoo. Just saying.
Net Promoter Score® Survey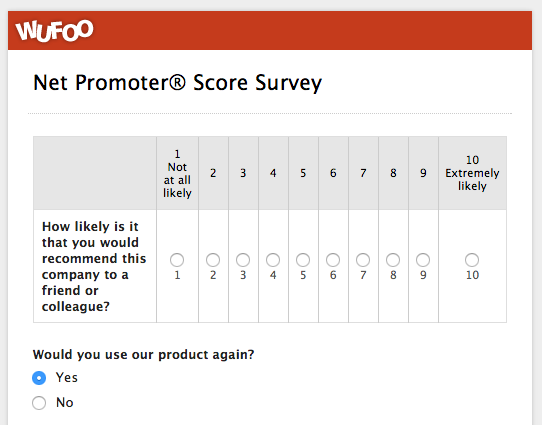 The grand-daddy of them all: the Net Promoter Score® survey. It's so official, we needed to circle-r it. Basically, the survey asks one question and your customer gives a score between 0-10. 9-10's are your loyal enthusiasts (you want these), 7-8's are satisfied customers (good but could be swayed to competitors), and 0-6's are your detractors (basically unhappy customers).
Do some math based off the answers and you have your NPS® score which is an indication of how loyal your customers are. It's not an end all be all tool but coupled with the above forms and surveys, it becomes another data point for you to determine how satisfied and happy your customers are.
When should you use a Net Promoter Score® survey?
When a customer cancels a product or service, it's useful to use this form to get a quick idea of their general happiness.
Use NPS when you feel your customers don't have a lot of time to answer a survey but you want to receive some feedback.
—–
Armed with these five customer feedback and satisfaction form templates you'll be able to start getting insightful and useful feedback and notes from your customers. And if you use that information to make your products or services better, you'll soon find that happy customers usually means more customers!
Have some tips you'd like to share about obtaining customer feedback? Share below and let us know!