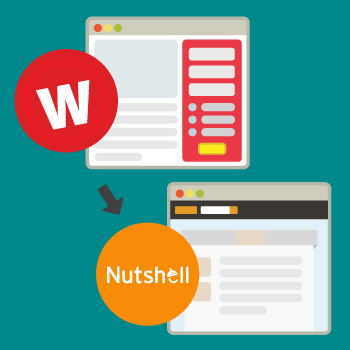 In a nutshell (sorry, can't resist!), we love integrations here at Wufoo. Getting to partner with other fantastic companies and services to bring you the best in online form-building is why we come to work with big ole grins on our faces. So allow us to introduce you to our latest partnership with the small business CRM, Nutshell. And give a back-slapping, high-five Wufoo welcome to Ahmad Aggour of Nutshell as he takes you through the paces of this sweet integration!
Take it away, Ahmad!
Nobody (that we know of, anyway) wakes up in the morning thinking to themselves: "I can't wait to manually input a bunch of information into my CRM today!" In fact, data entry is oftentimes one of the reasons why CRM adoption rates might be less than satisfactory.
Well, thanks to our partnership with Wufoo, you can eliminate the need to manually enter form data in your CRM. That means you can spend more time doing what matters–nurturing those relationships and closing sales!

Nutshell is the powerfully simple CRM that combines consumer-level design with practical business functionality. The result? A tool that enables growth and sets your business up for success. Your sales teams will be tracking and nurturing each and every opportunity, without letting any fall through the cracks. Your customer service team will be able to better manage the relationships you have with your customers.
With Nutshell + Wufoo, you'll be able to:
Create new accounts in Nutshell based on Wufoo form data.
Automatically add tags to form data in Nutshell.
Collect more robust data in Nutshell.
To Use This Integration
1. Create an account with Wufoo and with Nutshell. You can start your 14-day free trial of Nutshell here.
2. Create a form in Wufoo with the information that you want to capture and store in Nutshell.
3. Set up your Nutshell account to integrate with Wufoo using WebHooks. You can use these easy-to-follow instructions, or you can watch the short video that walks you through the easy process.
That's all folks. Now you can enjoy all the extra time you have now that you'll no longer be doing all of that tedious manual data entry!
Ahmad Aggour is the Marketing Strategist at Nutshell–questions/comments for him? Leave 'em in the Comments section below.