Hey there, Form Builders and lovers of all things social–media that is! Recently we revamped (and re-revamped) our Share Page, our one-stop page where you can explore all of the different ways to distribute your forms–including embedding it into that fancy pants website of yours. And don't worry, we're keeping this tip short 'n sweet–all the more time you'll get to spend on form-building.
So, let's get social. Behold the "Share On Twitter" section of this mighty Share Page of ours: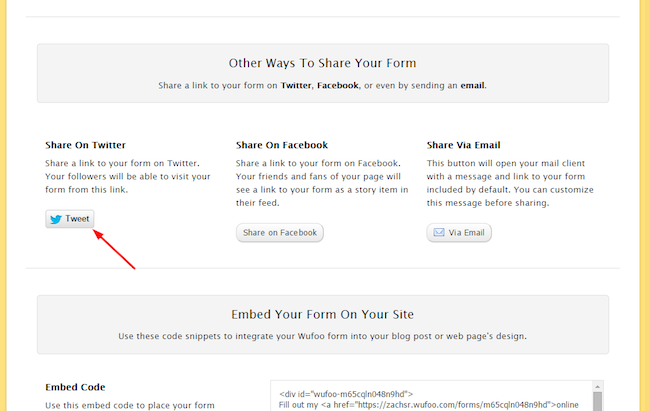 With a single click on the "Tweet" button, you'll be able to share your form out into the Twittersphere via hyperlink. Clicking the Tweet button will then open Twitter in a new window where you can log in and tweet the populated form link: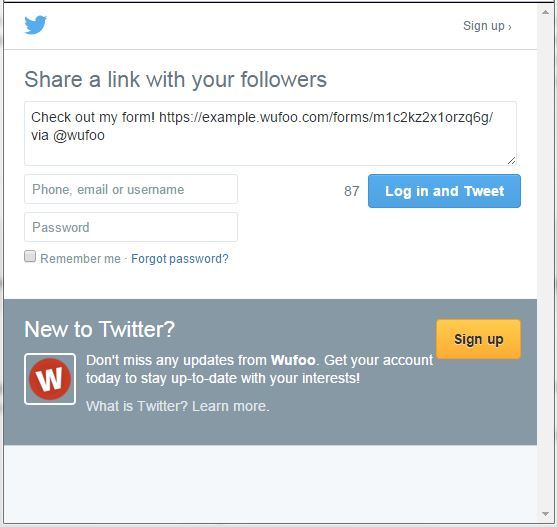 The first time you send a tweet from one of your forms, you'll be prompted to enter your email or username and password. Once you've logged in you'll be able to tweet all the tweets.
When you think about it, Twitter and Wufoo make a great match–it's a simple and effective way to get those forms out to a fresh audience quickly and easily. One quick click and you can be collecting information, from demographics to sales leads and whatever else you can dream up from your followers.
And…wait for it–here are a few more examples of that sweet Tweet button in action (cuz why not?):


And there you have it, form fans. With this nifty feature in your form-building toolbox, your potential for reaching out to current and future customers is that much greater.
Have more burning questions? Don't forget to check out our Guides page and get ready to get enlightened on all things form-building and more!