> We've talked about Wufoo [weddings](http://www.wufoo.com/guides/plan-a-wedding-with-wufoo/) before here on the blog. So it gives us a thrill to bring a little love back into the air (yeah yeah, we know Valentine's Day is still a few months away) but from a different perspective–the wedding photographer's!
>
> In our latest customer spotlight, we have Matt Badenoch of Matt Badenoch Photography, here to talk about how he uses forms to both maximize his customer base and minimize unnecessary communication time and more.
>
> Welcome, Matt!
As a moment capturing, storytelling wedding photographer, I love the diverse, cultural melting pot that is London. Being a part of incredible life stories each week is what makes wedding photography the best job in the world. My business is very relationship based and not only do I strive to provide my clients with amazing photos but I also want to deliver an awesome experience. I'm always looking for ways to streamline existing workflows and processes. This frees up more time to focus on growth–booking additional clients faster and increasing value to my existing clients.
Here are some of the features and methods that I rely on in Wufoo to accomplish some of my business goals–you can too!
This is the first point of communication with the majority of my clients so a really important one. The customization options available allow me to create engaging and professional looking forms that can be integrated seamlessly into my website.
Brand consistency–a crucial requirement for any business, large or small–is also possible with the customization options. Also a great place to find out how my couples discovered me. This also lets me calculate the ROI on my marketing activities. The Report Builder makes this a cinch to do.
FAQs
I'm always educating my couples on the wedding photographer industry as most have no prior experience. As a result, I developed a detailed FAQ page. The primary goal of my website is to get potential clients to contact me. I've embedded a short form entitled 'Still have any questions?' on the FAQs form, encouraging couples to reach out. The Wufoo form is perfect for this.
There's a lot of information I need to get from my couples before their wedding day (different addresses, timings, group shots they want, sensitivities I need to know about etc). This used to involve tons of back-and-forth emails. Which of course meant that sometimes information would fall through the cracks or get missed. Now I send them two forms (one at time of booking and the second form one before the wedding date). It's a better user experience for my couples, saves me loads of time and the best bit, when I need to access the information the day before the wedding? It's all there in one place.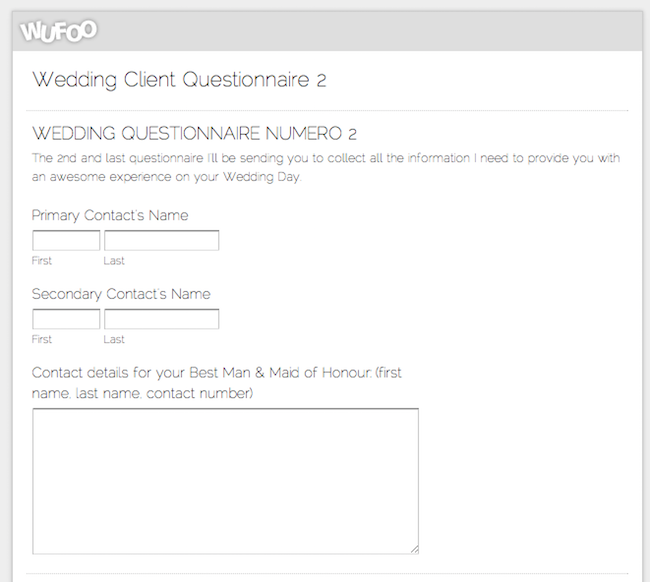 Timelines
Another important part of the wedding–timing. Using the 'preferred value' option I can easily let my couples know what their wedding photo timeline will look like. At the same time, this lets them provide details unique to their wedding.
Feedback
Hugely important for any business especially one like mine focused as much it is on excellent customer service. The Five Star Rating System is fantastic for getting feedback from my clients. And even better–it only takes them a matter of seconds to complete.
Wufoo forms are now integrated into 80% of my client's communications. Balancing up to 50 clients all at different stages of their customer cycle…there's always a risk of information falling through the gaps. Online forms drastically reduce the chances of this happening. My customers' experience filling out my forms is at once smooth, effortless and the interface is clean and elegant.
And seriously, with the time saved on my end, I'm able to spend more valuable time on my marketing efforts, figure out other ways to increase my customer base and you know in the evenings, I can hang with my friends and family!
Getting hitched? Be sure to check out Matt's page here if you're looking for swell photographer to capture your special moments and let us know if you have any questions below!