An oft-requested product feature by you fine Wufoo form owners? The ability to receive an email notification when a customer checks out and successfully pays through your Wufoo form (and not just when they fill out the form). Well, we're happy to announce that now whenever a customer fills out your form and pays you, you now have the ability to have the email receipt sent to you too.
With this feature, you'll be sent a copy of the email receipt that your customer receives. This way, you'll have the payment receipt email for your records and you'll know instantly when a customer has paid you. **Note:** setting up and receiving payment notifcations works for all [payment providers](http://www.wufoo.com/payments/) (with the exception of PayPal Standard, Chargify, and Freshbooks) not just Stripe as pictured here. Definitely all good things to know, right?
Let's walk through how to set it up!
### Payment Settings Setup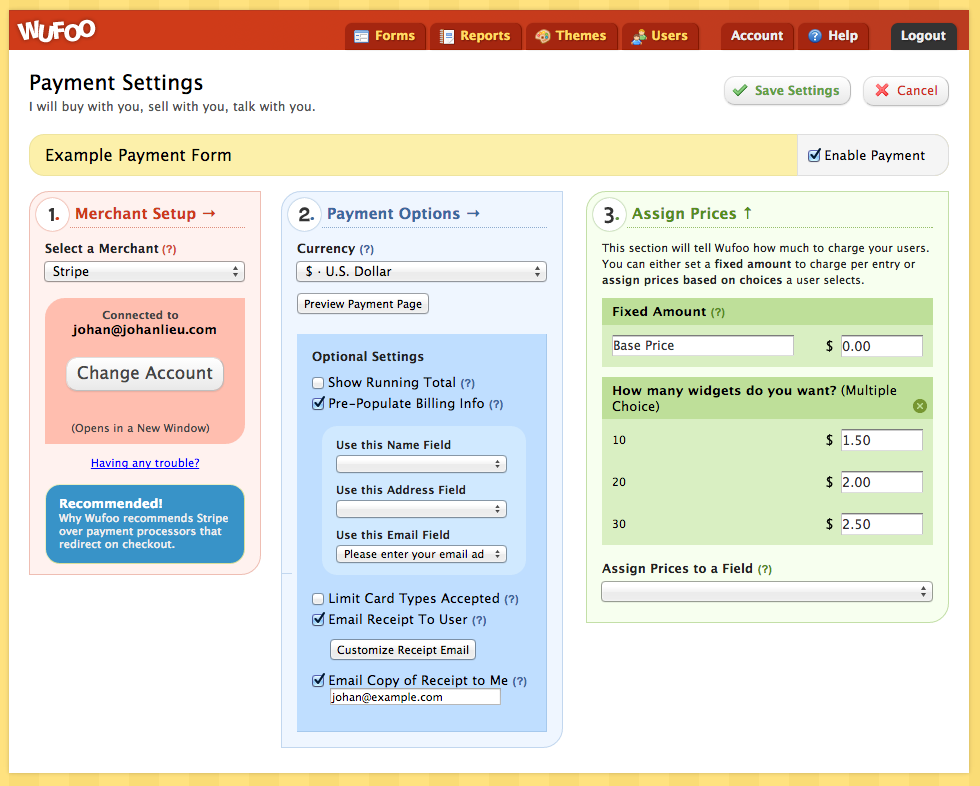 To start receiving a copy of the email receipt when your customers check out, head on over to the [Payment Settings](http://help.wufoo.com/articles/en_US/SurveyMonkeyArticleType/Payment-Settings) for your specific form. Once there, you'll see a new checkbox option in the second column (**Payment Options**) labeled, *"Email Copy of Receipt to Me"*. Click the checkbox and a text field will appear. Enter the email address where you'd like to receive your notification (up to 20 email addresses separated by a comma) and then click Save Settings.
That's all there is to it. Now whenever one of your customer fills out your form and successfully pays you, you'll instantly know since a copy of the email receipt will be sent to you automatically. As always, let us know what you think in our Comments section.