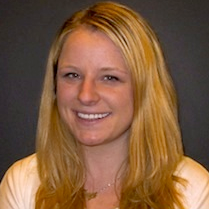 Howdy-ho, folks! As always, every one of us here at Wufoo just love it when we have happy customers reach out to us wanting to share their fabulous form stories. We love getting to showcase them here for you even more. Emma Siemasko is one busy lady. She's not only the Content Marketing Specialist for Grasshopper, a virtual phone system company, but she's also the co-founder and owner of Frog2Prince, an online dating consultancy.
Big thanks to Emma for taking time out of her day to share how she's whipping up some Wufoo wonderful at both Frog2Prince and Grasshopper. We're thrilled to have her in the dino family.
Say howdy to Emma!
When my co-founder and I started building Frog2Prince, we were researching different options for getting our clients' information quickly, efficiently, and reliably. We needed the complete contents of their online dating profiles (including photos) in order to provide them with the services we offer–which are what exactly?
Frog2Prince specializes in helping improve the online dating profiles for all those eligible bachelors out there. Since we're a business, we also needed to figure out a way for us to get paid for these services. Although my co-founder was able to build a decent site–he's a mathematician, not a web developer–we were at a coding loss when it came to creating a sign up form that had all the necessary features. Enter Wufoo.
After a quick Internet search, we discovered Wufoo and were soon amazed at how easy it was to set up on our own. We made our first form in just one night–I was ecstatic, jumping around my apartment exclaiming, Now we have ourselves a real live business!
Wufoo gave us the ability to create a custom sign up form, one that stays on my site, links easily to Stripe, and sends text notifications whenever a client clicks the Submit button. Wufoo has saved us hours of research and coding time. Need your online dating profile edited? With Wufoo, my clients can quickly enter their profiles, upload their photos and make a payment with plenty of time left over to focus on their real goal–online dating success.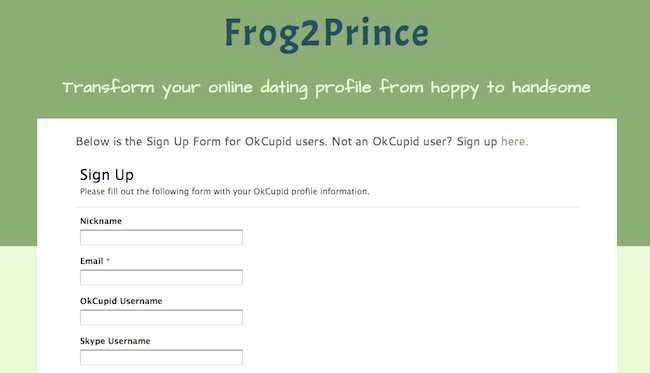 On my first day as a Content Marketing Specialist at Grasshopper, where we offer small businesses and entrepreneurs a virtual phone system, I happened to see Wufoo's homepage on the screen of one of my team members. "Wufoo!," I yelped, "What do we use it for?"
Allison, our Social Media and Community Manager, explained that Grasshopper uses Wufoo to collect information about our customers through a custom "Tell Us Your Story" form. We pride ourselves in providing excellent customer support at Grasshopper, so we use the form to get information about our customers' businesses. Through their submissions, we're able to get a better understanding of who they are and what they need. This helps us get them press attention, include them on our Happy Customers page, and we can showcase their work in the Customer Spotlights section of our blog.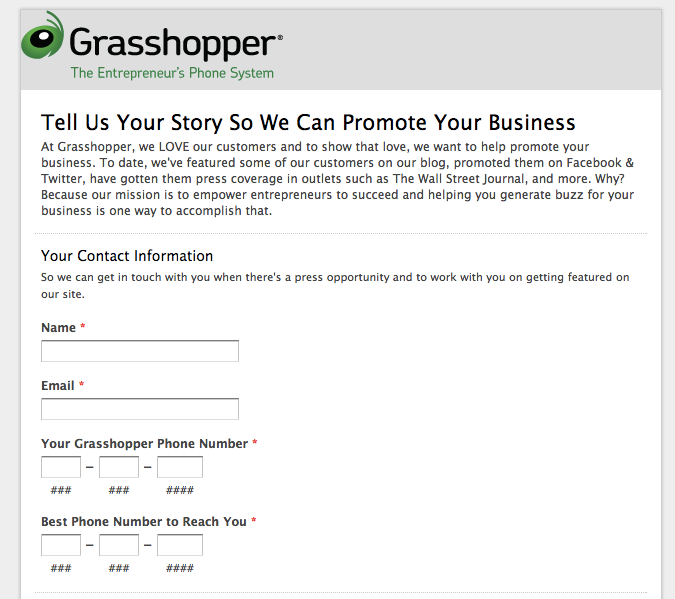 Recently, I was working on a blog post about working from home and wished that I had customer interviews on hand. Allison demonstrated how I could key in search phrases like "work from home" and "telecommute" in Grasshopper's Wufoo account or through the emails that Wufoo sends us. In a snap, we were able to find five customers who'd submitted their stories through Wufoo and who were open to talking about their experiences working from home. Voila!
Writing blog posts that feature our customers' companies and personal stories is important to us and so we depend on the information we receive from the Tell Us Your Story Form to keep Grasshopper's content engines running. Although Grasshopper is a more established company than Frog2Prince, Wufoo is absolutely essential to how both businesses operate, no matter what their scale is. One of Wufoo's strengths is that it offers the kind of features that give Frog2Prince–a small fledgling business–the support it needs, while also acting as an extremely useful resource for Grasshopper–a company that's been around for 10 years.
I'm a big fan of Wufoo at Frog2Prince, and we have lots of love for it over at Grasshopper too.
Kudos to you, Emma and we're jazzed that Wufoo can help support both of your rockin' businesses.
Don't forget, single dudes–if you're looking to spiff up your online dating profile, be sure to check out Frog2Prince.
Whether you're an entrepreneur or a small business owner, click here to find out how the fine folks over at Grasshopper can help you with all your phone needs.