Great Black Speakers (GBS), an online Atlanta-based speakers bureau, was founded in January 2007 by Lawrence Watkins, CEO. Great Black Speakers' motto? Shaping Minds One Speech at a Time. His company is committed to "providing excellence, reliability, and an elevated measure of integrity on a daily basis" by helping universities, corporations, and high schools find high quality, African-American speakers for different events.
GBS currently has over 200 speakers that are a part of their bureau and have worked with many colleges and universities nation-wide. In collaborating closely with their clients and speakers, they ensure that the speakers they represent are not only well trained in their craft but are able to deliver their talks in a variety of environments: workshops, seminars, panel discussions and conferences.
In order for this to happen successfully, the GBS team relies on a powerful and easy to use application to help deliver great speakers to their clients, and all of us at Wufoo are pretty thrilled that we can help them accomplish their mission of inspiring, educating and motivating others. Lawrence was kind enough to take some time to share his experiences with us.
Welcome, Lawrence!
Hands down, Wufoo is the most important business app that I use for my company, Great Black Speakers. Wufoo allows us to easily collect and source information to make it most useful for different members of the GBS team. Here are our top five reasons why we love all things Wufoo:
1) Wufoo Ensures that We Ask the Prospect The Right Questions with Dynamic Forms
With Wufoo, we can use the same contact form to talk to three distinct groups of people who reach out to us: organizations who want to book a speaker, potential speakers, and the media. For each of those groups we need to collect specific information to service them. In less than 20 minutes, I was able to set up the form below– without a programmer– to accomplish this task: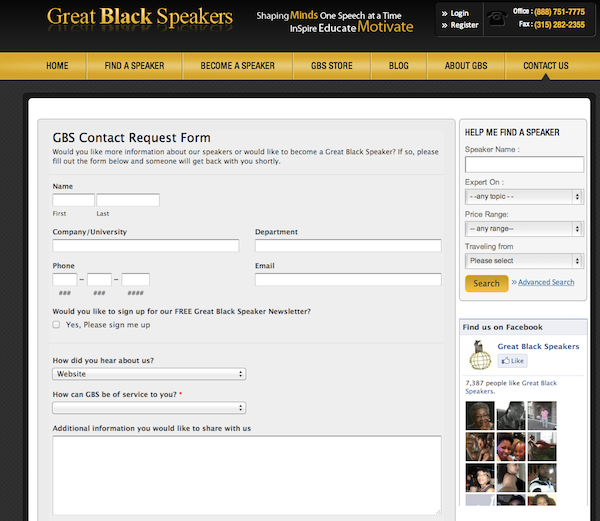 2) Wufoo Allows Us to Easily Notify the Right Salespeople When a New Lead Comes In
In the past, data collection was a bottleneck within our system because there was a delay between when a prospect contacted us and when that information was forwarded to the proper salesperson. Through their rules feature, Wufoo automatically sends the prospect to the person on our team assigned to handle that type of lead: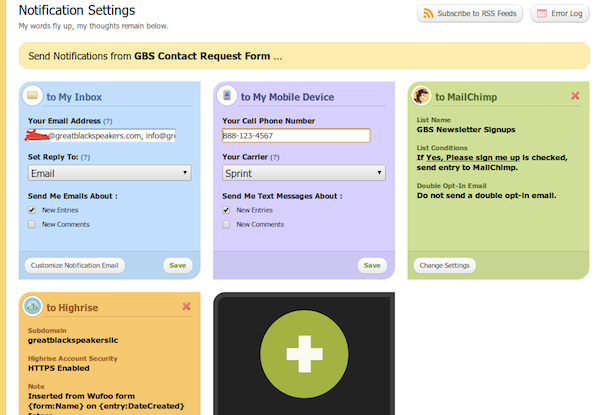 3) Following Up with Prospective Leads is Simple with Wufoo's Highrise Integration

One of the new cool tools that I have discovered is Zapier, which allows for business apps that normally do not talk to each other to communicate. I've set up Zaps to automatically create new deals within our CRM, Highrise, when new leads come into the system after completing our Contact Form. This makes it easy for our salespeople to know which leads to followup on and also allows me to manage the sales pipeline more effectively:

4) Wufoo's Integration with Chargify Allows Us to Easily Accept Subscription Payments
One of our revenue sources is to charge a subscription fee to new speakers who want to use GBS to grow their brands. In the past, we had used PayPal to manage this process but I felt like I needed a PhD in order to setup and search contacts with PayPal! Thankfully, Wufoo integrates nicely with Chargify, which makes it super easy for us to sign up new speakers and analyze cash flow through their reports.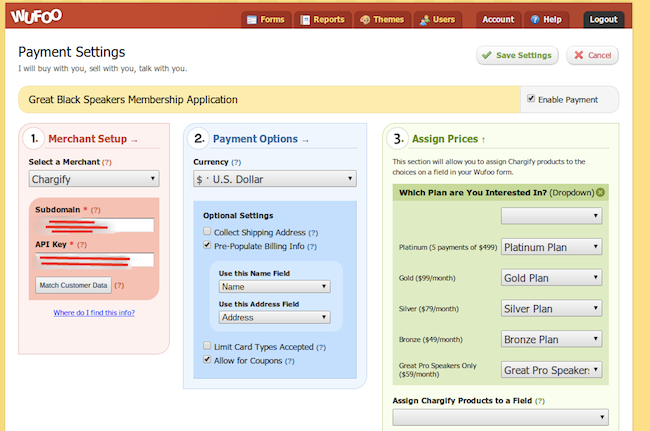 5) Our Email Subscription Rates Have Increased by 30% with Wufoo's Mailchimp Integration
Like many other small businesses, I use Mailchimp to handle sending out emails to my audience. Mailchimp offers their own forms that you can embed into your site. However, you have less control over the look and feel of them. Wufoo solves this problem and more– I can embed forms into my site that then pushes notifications directly into Mailchimp.
Also, I included a check box asking individuals to sign up for our email list right on our contact forms. Because of this, GBS increased email subscriptions by about 30%!
Bottom line: Wufoo makes my life easier because it provides a hub to all of our customers' data while making it super easy to connect all the of the spokes within our system. The best part is that Wufoo makes it incredibly simple for you to set up on your own. Their support team is also super helpful! Try them out if you haven't done so already!
We love hearing that we're making lives easier! Thanks so much, Lawrence!
Looking for more information on Great Black Speakers? Learn more here.