[This post was edited April of 2016 to include updated instructions for using Asana's Personal Access Token in place of API Key for this integration]
Bear with us for one sec. Sit up straight. Take a deep breath. Square those shoulders. Feels better, doesn't it? When you're centered and in alignment, it's so much easier to stay focused on getting stuff done without distraction. The team behind the web and mobile app, Asana, knows just how important focus and alignment is when it comes to productivity.
Awesome productivity doesn't always come easy either. There's a lot of mindfulness involved in collecting the right information and organizing all the different channels of communication that come into your business. Ok, so mindfulness is probably too nice of a word to describe this process. Sometimes it's downright tedious and difficult to do.
This is where Wufoo enters the picture. Our integration with Asana enables you to interact with your data in ways that would be otherwise impossible with your standard database. You can truly make your information dynamic and actionable—add attachments or connect data with other relevant Asana tasks without spending hours on spine-crunching data entry or on creating complicated forms.
Here are just a few of the abilities available to you as a result of our partnership:
• Enter bug details for bug/issue tracking
• Capture sales leads and manage them directly in Asana
• Collect support tickets and order requests from customers
• Build a system for collecting employee referrals
• Feed job applications right into Asana
To Use This Integration
1. First, set up a Wufoo form. Go to Wufoo and create a form with some custom fields. You can either use the Wufoo form on your own site as an embed or via the Wufoo link.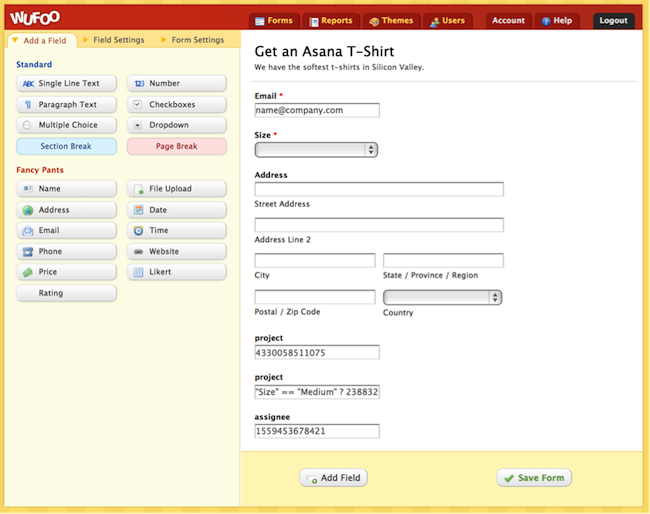 2. Next, you'll link your Wufoo form to an Asana project using [Webhooks](http://help.wufoo.com/articles/en_US/SurveyMonkeyArticleType/Webhooks). This way any information submitted to your forms will automatically be directed to your Asana project.
3. To do so, you'll first need to find your **Asana Webhook URL**. The Asana Webhook URLs follow this structure:
> http://wufoo.asana.com/project/**project_id**
You can find your Asana project ID by looking at the **first set of numbers** in your Asana project URL. For example, in this Asana app URL (https://app.asana.com/0/*10198701095429*/10198701095429) the highlighted portion of the URL is your project ID. Simply copy this project ID, add it to the Webhook URL structure above, and that's your Asana Webhook URL!
4. Next, you'll need to generate a Personal Access Token for Wufoo. You can generate this Personal Access Token in your Asana [My Profile Settings](https://asana.com/guide/help/api/api#sts=Personal Access Tokens) . Simply generate a Token and copy it over to Wufoo. Be sure to copy it, since you won't be able to view it later!
5. Now that we have your *Asana Webhook URL* and your *Asana Personal Access Token*, you can now setup your Wufoo form to automatically send data to your Asana project.
To do so, go to the [Notification Settings](http://help.wufoo.com/articles/en_US/SurveyMonkeyArticleType/Notifications) for your Wufoo form. Add a Webhook notification to your form, enter in your Asana Webhook URL (make sure there's no "/" at the end), then add your Asana Personal Access Token in the Handshake Key field. Click save and you're set!
6. Now, sit back and watch as data from your Wufoo forms automatically gets sent to your Asana projects!
Want to ramp this up a notch or three? You can even set up an optional deeper integration. We've added functionality that allows you to create custom routing from your Wufoo form to your Asana project. Your form's submissions can appear in Asana with a **specific tags** or **assignees** based on the selections made within your Wufoo form. Read the in depth guide for detailed instructions on how to setup custom routing.
Huge thanks goes out to everyone at Asana who helped make this integration happen. If you have any questions, be sure to leave them below and check out their blog here.
Inspired to integrate with Wufoo? Visit our Ultimate Guide to Integrating with Wufoo today!