Have a lengthy list of choices for a Drop-down or Multiple Choice field? Does the thought of typing each selection one by one make your soul cry? Enter Wufoo's 'Import Predefined Choices' feature. If you have a text list or even an Excel list on hand, then copy and paste that list directly into the Import Predefined Choices utility. Magically, Wufoo converts that list into choices in your Multiple Choice or Drop-down field.
Let's see it in action!
Suppose you'd like all entries to select the country they're contacting you from, but find no need to include an entire Address field. A quick Google search for "text list of countries" returns a short list of hits (~66 million). I find that the OpenConcept text list of countries works well for this.
Add a Drop-down field on your form and click on the Import Predefined Choices button in the Field Settings.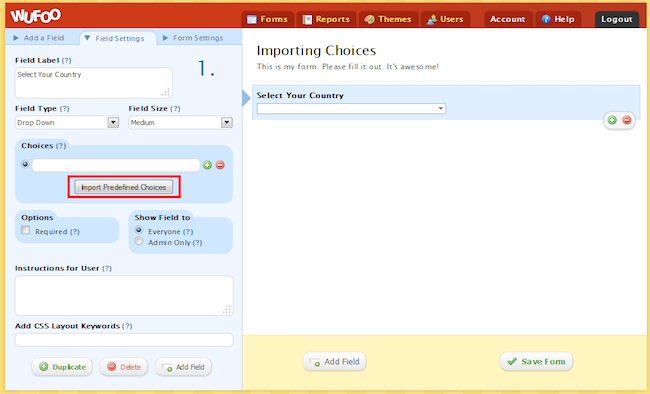 You'll find a list of Predefined Categories such as Gender, Age, Employment, Continents, Income, Education, etc. And, you'll notice an open area to the right of the categories to paste your own custom list.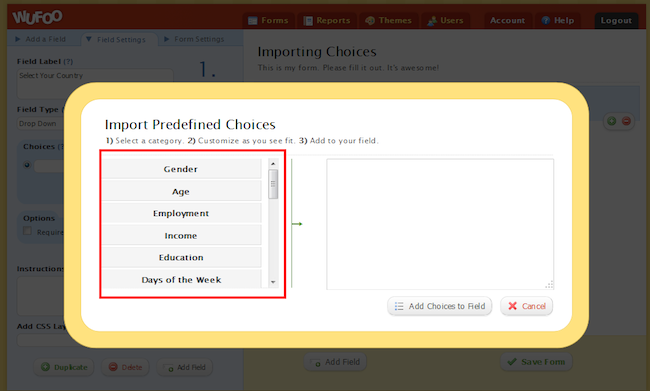 Copy the text list of countries from the OpenConcept page and paste that list directly in to the custom choices area of the Import Predefined Choices utility. Click on the Add Choices to Field button.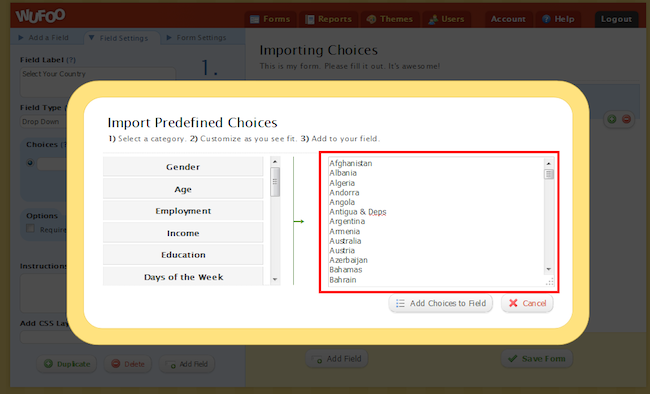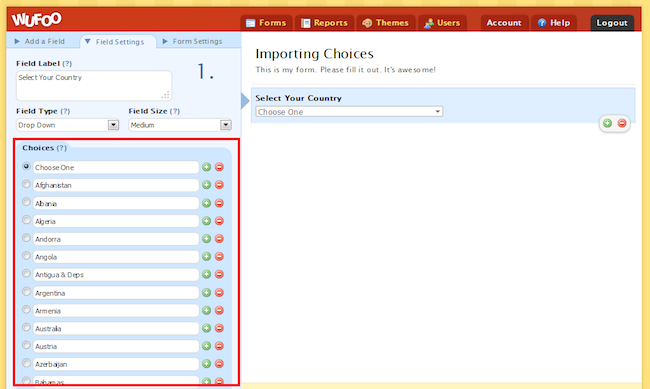 Bask in the glory of your own awesomeness. Relish in the fruits of your labor. You've just added 195 countries to your Dropdown list in less than 2 minutes.
Predefining a Checkbox field is certainly possible as well. Since Checkbox fields are stored a little differently in the database, you'll need to set it up as a Dropdown or Multiple Choice field first. Once you've predefined the choices, change the field type to Checkbox and well, that should do it.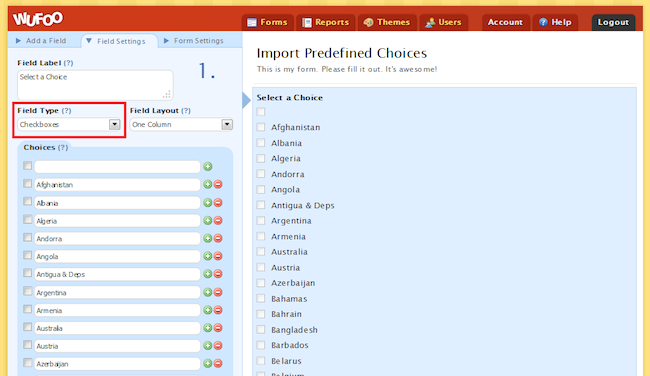 We hope you've enjoyed this installment of Wufoo Tips and Tricks. As always, we're here to help if you need anything!