Oli Gardner is the Creative Director and resident landing page expert at Unbounce–a powerful and easy-to-use landing page platform for marketers. He's seen over 20,000 landing page examples and writes on the subjects of Conversion Centered Design, inbound marketing and conversion rate optimization.
The floor's all yours, Oli!
If you're using Wufoo forms to collect data and build your leads list, you're probably going to be interested in how to increase the number of leads you're gathering. Am I right? The real question is not whether you want to get more leads, it's how to get more leads.
You can do this in two ways: 1) Send more traffic to your form.
2) Get your forms to convert better.
If you're not sure, I'll make it easy for you. Go for option 2–Get your forms to convert better. The best way to do this? Create a better experience on the landing page that houses your form.
Removing distraction
The reason that landing pages are so effective at increasing conversions is that they're designed to focus your visitor's attention on one thing, and one thing only–your conversion goal. In this case the form.
If you've ever seen a form on a homepage, or any other website page for that matter, you'll have noticed that there are many other things that you could choose to do instead of completing the form. You could navigate to a different page, or you could click on one of many interesting photos, links or promotions. Choices are great when you're deciding which color of paint to put on your bedroom wall. But when it comes to marketing, the more choices there are, the lower your conversion rates will be. Fact.
Maximizing attention ratio
An average homepage has about 50 links on it. Which means the element you want people to interact with (your form) has approximately a 2% share of the interaction potential of your page (50:1). Compare this to a focused landing page that has only one interaction point–this equates to a 100% share of the interaction potential (1:1).
I know which type of page I'd like to have my form on…
Unbounce + Wufoo
Yep, you got it. Using Wufoo and Unbounce together allows you to leverage the power and flexibility of Wufoo's extensive form designer, with the focused experience and A/B testing provided by Unbounce landing pages. In the rest of this post, I'll walk you through the process of integrating Unbounce and Wufoo so you can start increasing your conversion rates right away.
Already pumped to use Unbounce? [Check out Unbounce for your landing pages](http://why.unbounce.com/with-wufoo/) to start improving the conversion rates of your forms.
The diagram below illustrates the 7-step workflow we'll follow to set things up to create a testable landing page for your Wufoo form.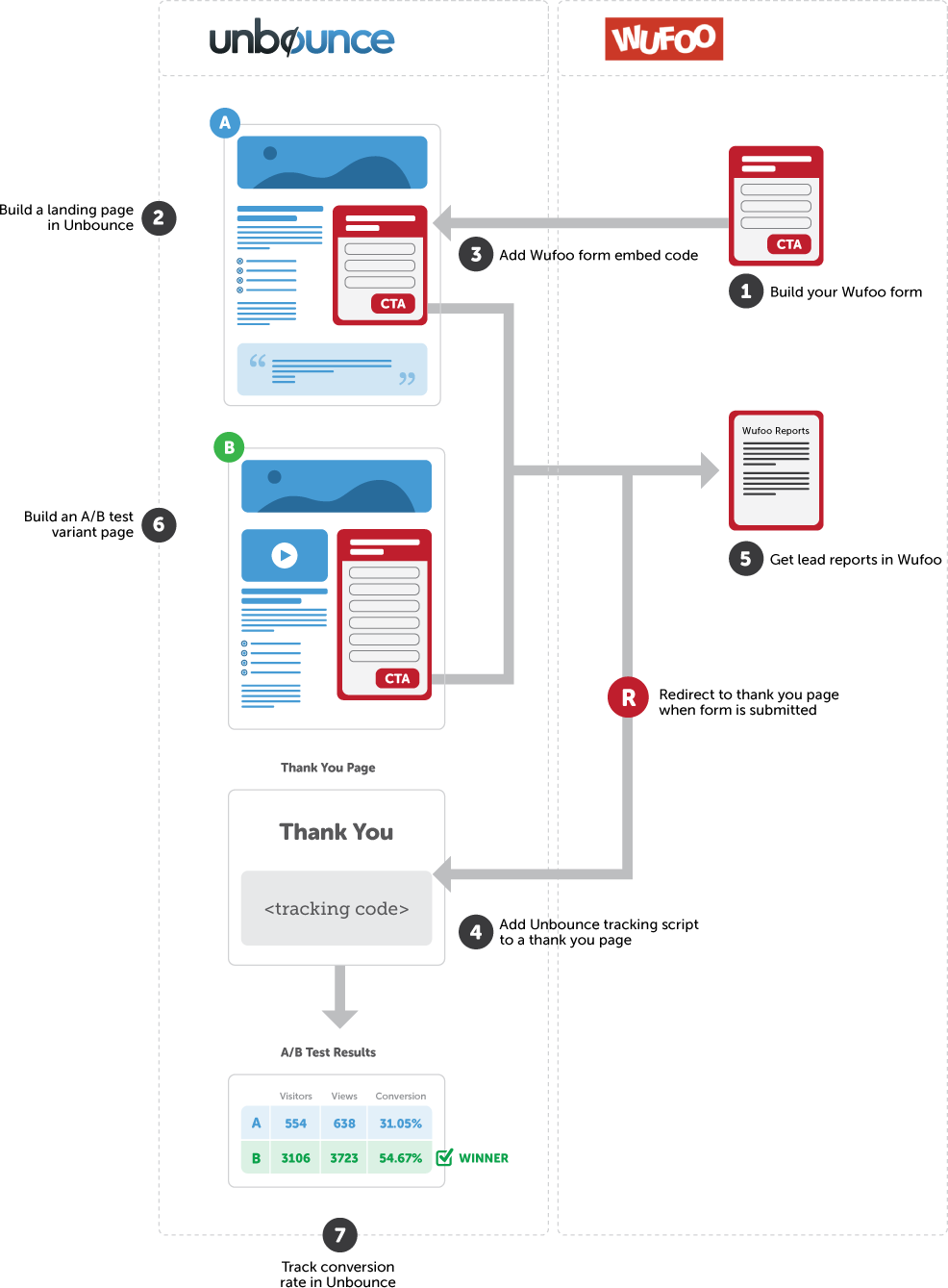 Step 1: Build a Wufoo Form
Creating your form in Wufoo is just as easy as ever. The important part of this process is that you choose to redirect to a custom Thank You page when the form is submitted. You can do this in Wufoo in the "Form Settings" panel.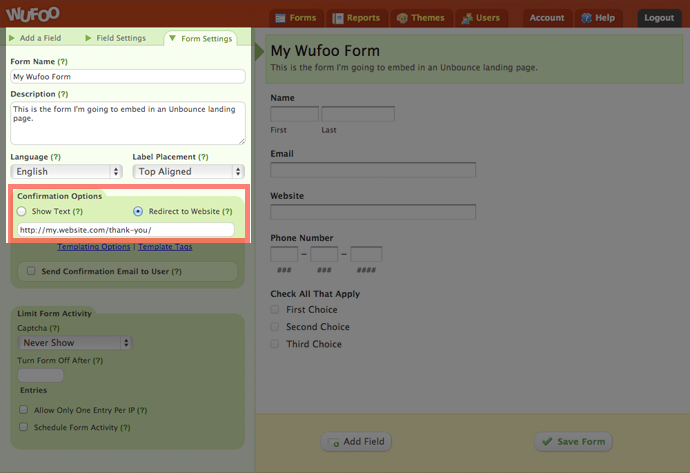 The URL you put in here will be for the Unbounce thank you page that we'll cover in step 4. Don't worry, it's easy to come back and add this URL later once the page is built.
Step 2: Build a landing page in Unbounce
Inside the Unbounce landing page builder, you can choose from a suite of templates or design your own page from scratch. We'll start with a template, and remove the default form so that you can add your awesome new Wufoo form.
This shows how an example template will look inside Unbounce.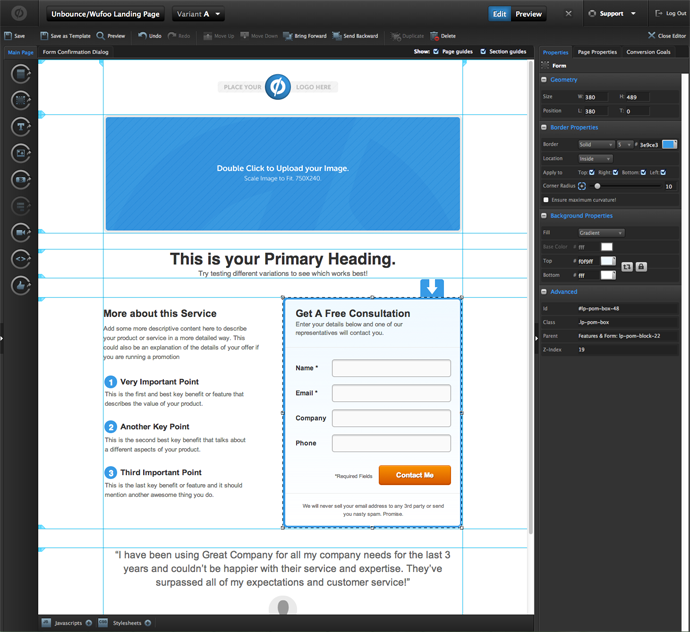 Select the form and delete it so you have space for your Wufoo form.
Step 3: Embed your Wufoo form
Returning to Wufoo, you can grab the embed code for your form as shown.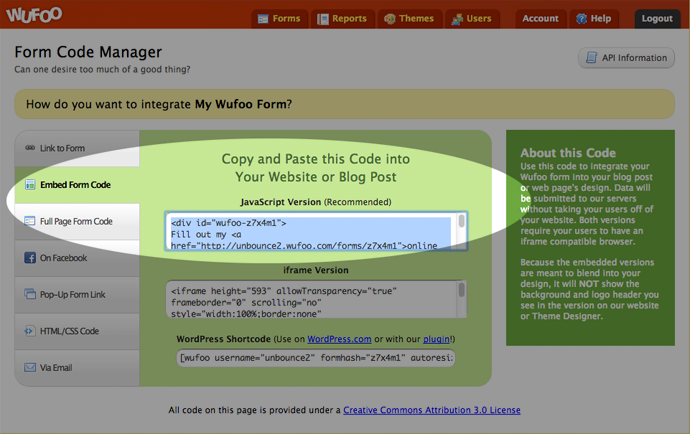 Back in your Unbounce landing page, you can drag and drop a "Custom HTML" element (<>) from the left menu, to where you would like the form to appear and paste the Wufoo embed code in the window shown.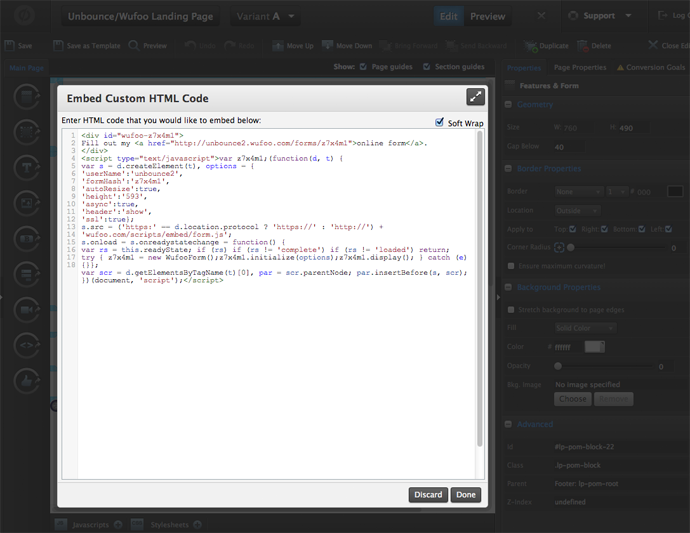 Step 4: Create a Thank You page and add the tracking script
The confirmation (thank you) page is what's shown after your form is submitted. This is a really important page as it gives you the opportunity to leverage post-conversion marketing. You can also give your new lead a call to action before they leave–follow you on social networking sites, share the landing page with a friend, or offer a freebie.
Now, in order to track the conversions all the way from your original landing page (through Wufoo) and back to this thank you page, you add the Unbounce external tracking script to your Thank You page by adding a new Javascript at bottom of the page.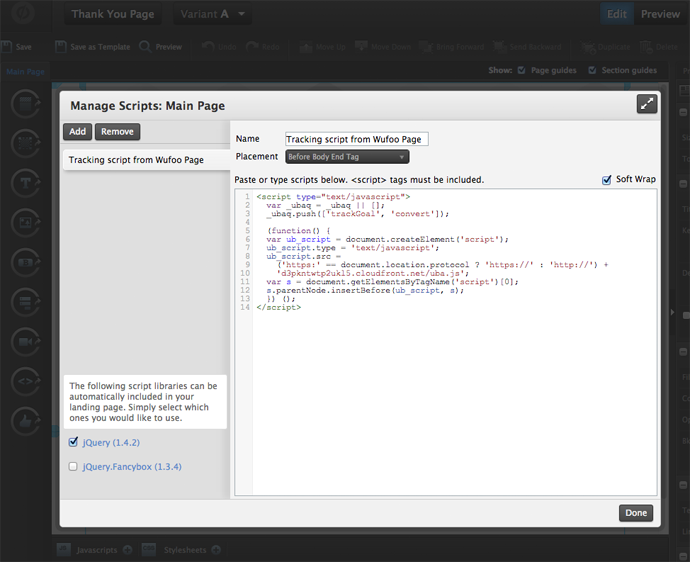 Step 5: View leads in Wufoo reports
Now that your setup is complete, you will be capturing your leads in Wufoo as normal, and you can view them in the reports section. This is where the really cool part happens. Now that you've got an Unbounce landing page set up with your Wufoo form in it, you can start A/B testing your page and form to increase your conversion rates.
Step 6: Set up an A/B test page variant
To run an A/B test you need to create a duplicate version of your landing page, make some changes and run the two pages against each other in a test experiment.
There are two types of test you can run at this point:
1. Same form different page
This is where you get creative on your landing page, changing copy and design elements to try and improve your conversion rates based on the page messaging. You use the same Wufoo form on both pages.
2. Same page different form
In this instance, you'd use exactly the same landing page for A and B, with the only difference being the Wufoo form that's on your page. You might want to test a long form against a short form, so your page remains the same, and the number of fields in your Wufoo form changes.
Last step!
Step 7: Track your conversion rates
Now that your landing page and Wufoo form are connected, you'll be able to track the conversion rates of each landing page. Below is the Unbounce dashboard where you'd see the conversion stats for your A/B test. (In this example the stats are still at zero because we've not sent any traffic to the page yet).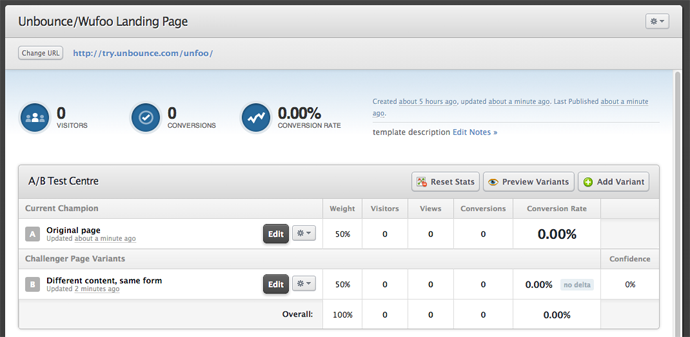 There you have it! By embedding your Wufoo forms in an Unbounce landing page, you can create a highly tailored and focused experience for your visitors. Start A/B testing your pages and those amazing forms of yours in order to increase those conversion rates.
[Start increasing your conversion rates](http://why.unbounce.com/with-wufoo/) by using a landing page for your Wufoo forms.
Questions? Comments? Leave 'em for Oli in the Comments section below and don't forget to visit Unbounce for more info on landing page awesomeness.