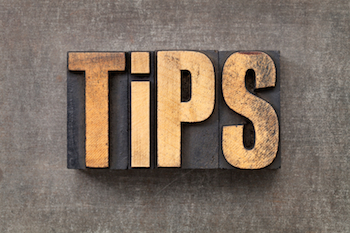 If you're anything like us here at Wufoo, as the end of the year approaches, it seems like you're getting busier and busier and there's less and less time to get things done. Luckily, you run your business on Wufoo and we've got you back. Here's two quick tips you should do now to save time each and every day.
## Setup Email Notifications
This is the most important Wufoo tip you'll ever read. [Turn on email notifications](http://help.wufoo.com/articles/en_US/SurveyMonkeyArticleType/Notifications#inbox) and you'll automatically get an email notification whenever someone submits an entry to your form. I can't stress this enough and how important it is to help you save time.
Now instead of worrying whether or not you're getting any submissions to your form, you can instead rest easy knowing that when a potential customer fills out your form, you'll instantly know about it and act on it. The email we send you also includes all of the form data so you can easily view the info and decide if you need to act on it right then and there or if it can wait. If you're using Wufoo to run your business, you know that the slightest delay could cost you a customer and sales. So, please, for me, turn on email notifications for your most important forms. You won't regret it.
## Integrate Your Form with Other Apps & Websites
The second best way to save yourself some time and effort is to simply integrate your form with any one of our [numerous integrations](http://www.wufoo.com/partners/). Tons and tons of apps and web sites have integrations with Wufoo and help save our customers tons of time every day.
Have users or customers uploading files (say photos for a quote on painting a room)? You should definitely [integrate with Dropbox](http://www.wufoo.com/partners/dropbox/) and have your files automatically sent to Dropbox where they will sync to all of your devices.
Using a Wufoo form on your web site to receive leads from customers or clients? Make sure you read our blog post about the most popular CRM's that Wufoo integrates with. Coupled with email notifications, you'll automatically know when a lead comes in and your CRM will track your entire lifecycle with that customer.
Have you setup a mailing list sign up form so that your users and customers can get more information about your services or receive updates about deals or sales you're having? It's time to integrate that form with any of our email integrations like [MailChimp](http://www.wufoo.com/partners/mailchimp/), [Campaign Monitor](http://www.wufoo.com/partners/campaignmonitor/), [ActiveCampaign](http://www.activecampaign.com/help/wufoo-integration/), [Sendloop](http://www.wufoo.com/partners/sendloop/), or [INinbox](http://www.ininbox.com/partnerships/wufoo). New email address comes in? It'll automatically show up at your email integration of choice, ready to be acted on.
The possibilities are endless. You can combine any number of our integrations with your forms to help you create a powerful and time saving workflow (like a sales lead form that sends your lead information to [Salesforce](http://www.wufoo.com/partners/salesforce/), sends the lead's email address to MailChimp, and sends any uploaded files to Dropbox). And you'll also instantly receive an email notification (because you set that up already, right?) when the lead comes in which includes their phone number so you can call them right away.
By using email notifications and any number of Wufoo's great and easy to use integrations, you'll be saving time in, uh, no time. And you can get back to running your business and living your life. Got a tip on how you use Wufoo to save yourself time? Share it below, we'd love to hear about it!