Today we released a new streamlined and redesigned Share page (the artist formerly known as the Code Manager) in the Wufoo Form Manager. We cleaned up a lot of the clutter to make it easier than ever for you to share your form where you users and customers are. Let's walk through some of the changes and new features:
Share Is The New Code

The most obvious change we've made is to rename the "Code Manager" to "Share". We've also updated the button on the Form Manager from "Code" to "Share" to make it even clearer how to share your form. This change is a long time coming since Wufoo has offered plenty of ways to share forms that wasn't just code.
Cleaned Up Interface
Previously, the Code Manager was a mess of hidden tabs and it was difficult to figure out what you needed to share your form the way that you wanted to. In the redesign, we did away with a lot of unused features and clutter and removed the tab structure and instead broke out the various methods you can share your form into three parts: links, social sharing, and embedding your form.
The first section is fairly straightforward. This is the traditional permanent link to your form that will never change, perfect for sharing with colleagues or customers in an IM chat, email, or any other ways you share links.
The second section is other methods of sharing, primarily on Twitter, Facebook, or email. More about this section below.
And the final section is where you'll find the code snippets to embed your Wufoo form on your own site, or even on your WordPress site/blog.
Social Sharing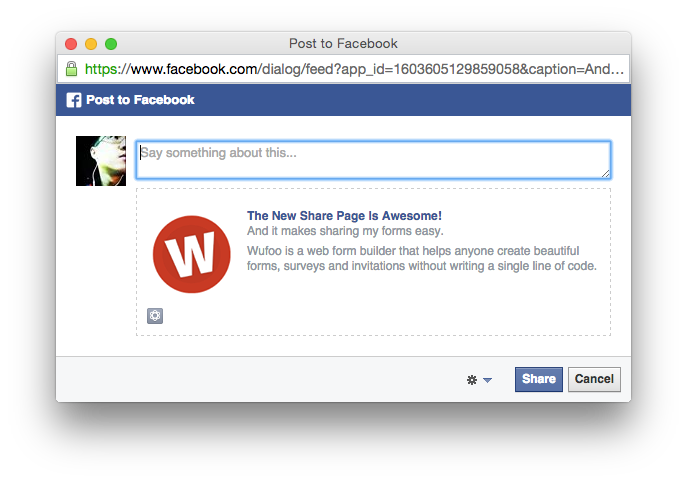 With this update, we've also added two new ways to share your form. You can now easily post and share your Wufoo form to your Twitter or Facebook account. No more copying and pasting links and bouncing between tabs!
To do so, simply click either the button of the social network of your choice and a new window will appear asking you to log in to your Twitter or Facebook account. If you're already logged in, you'll see the sharing prompt where you can modify your message before sharing. Click the share button and boom, you're done! A link to your Wufoo form has been automatically shared to your social network of choice increasing your form's reach and visibility.
—–
We're really happy with how the new Share page looks like and think it makes it a lot easier for you to share your forms with your users and customers. We know it's a big change so we'd love to hear what you think about the new Share page below.
—–
Updated 12/8/2014: Based off your overwhelming feedback, we've updated the new Share page to include the previously removed Short Link URL to the links section. We've also added a new section named Advanced Sharing Methods which includes complete HTML/CSS download of your form and the iframe embed for circumstances where Javascript is unavailable. These last two features are for advanced users and we suggest that the majority of users use the preferred methods of sharing or embedding their forms (permanent link or Javascript embeds). You can read more about these updates in this blog post.