Themes, baby. Whether you're conscious of it or not, themes are all around you. It might be health and fitness month at work, parents and teachers still have Back to School on the brain and the holidays (yep, that's right) are just around the corner. Themes aren't just a predictable part of modern life. They lend structure to and help us organize our busy lives. Just like our online forms do, eh? Now imagine having the ability to customize your forms to match the theme of your life—whether it's for work or for play. Now stop imagining, and welcome to reality–the Wufoo Theme Designer.
Thanks to our Back to Basics and Newbie Series posts, we hope you've gotten a handle or at least a running start with the basics of Wufoo. High-five. So let's move on to the world of custom themes. We know you're ready. Sure, we already know our forms are fast, easy to make and pretty great without any bells and whistles…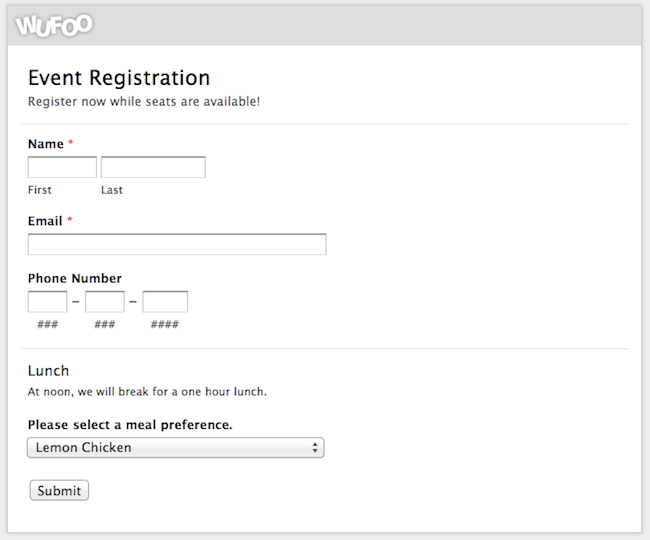 But maybe you're looking for something that will help you stand out from the crowd like this fancy form…
Cool, we definitely dig that. So the good news is that Wufoo's Theme Designer makes customizing the look and feel of your form a breeze. If you were building your own forms from scratch, you'd need to decide on a design, and then spend quite a bit of time writing and re-writing custom CSS to get your design looking the way you want. With our comprehensive Theme Gallery and Designer, you can find a template that works best for your needs and then tweak it using a series of simple drop-downs.
Ready for some awesome basic how-to steps (plus some cool add-ons) in the Theme Designer? Good!
How to Create/Apply a Theme–in 6 Simple Steps
Click on the "Themes" tab at the top of your Wufoo page. Make sure the Theme Menu dropdown is set to "Create New."
From there, set the different properties you want for your theme from the two menus in the middle of the page.
When you're done designing, click on the "Save Theme" button in the upper right hand corner.
Give your new creation a name.
After you've saved your theme, you can apply it to a form by going to the Form Manager (click the "Forms" tab) and finding the form you want to add the theme to.
On the right side of the page is a drop-down menu where you can select the name that you want to use for that form. Use the same method to apply themes to your reports from the Report Manager.
And as promised, cool add-ons!
Fonts: Modifying your font and font size can have some big payoffs. Maybe you're making an employment application form, so you want to be extra sure that your users pay attention to your Field Instructions. Why not use a more powerful font, and make that text a little bigger?
Or maybe you're making a wedding RSVP form, and you'd like it to look a touch more traditional, and handwritten by using a cursive font like this?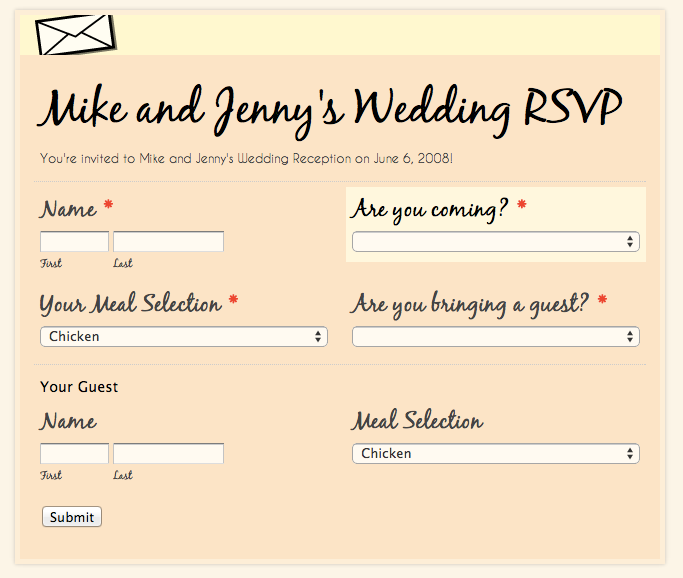 If you need more options, and you don't mind working with custom CSS, check out how to use Google Fonts with Wufoo. Are you a little pickier when it comes to typography? No worries, we also support adding your own Typekit fonts to a Wufoo theme.
Backgrounds: To provide some contrast with the new fonts you just picked out, you'll probably want to try changing your form's background next. You can choose from one of the built-in patterns, choose a solid color, or even go transparent. For you adventure-seekers out there, you can even upload your own image to use. One thing to note is that the image you upload won't stretch to fit the form.
Button: One more quick add-on/modification you might want to consider? Customizing your form's Submit button. You can change the text to match what you're using your form for, such as "Register Now" for an event registration, or "Sign me up!" for a mailing list. You can also substitute an image if you want something a little fancier.
Logo: The Wufoo logo at the top of your form can be changed to any image you'd prefer. You'll need to host the image yourself, and for best results you'll want it be hosted using SSL. More on this to come.
There you have it, form fans. Now you've got everything you need to start making some really creative ones. Stay tuned to the blog where we'll be sharing even more tips on how to use and maximize our powerful Theme Designer. Theme on!
Psst! Don't forget to take advantage of our brand new Wufoo Guides resource page.