It's finally here. No, I'm not kidding. I wouldn't kid about something like this. I wouldn't toy with your emotions like that. I'll just cut to the chase; starting today, you can now use Wufoo along with your [Stripe](http://www.wufoo.com/payments/stripe/) account to create subscription (née recurring) plans for your customers. We know it's something many of you have been [looking forward](http://www.wufoo.com/2012/10/11/wufoo-and-stripe-join-forces-to-power-payments-in-online-forms/#comments) to for a long time (apologizes in advance for the long delay!) but [Stripe subscription billing](http://help.wufoo.com/articles/en_US/SurveyMonkeyArticleType/Stripe-Subscription-Billing) is here.
Let's jump right in and see how we can get your Wufoo forms setup with Stripe subscriptions!
## How To Use This Integration
### 1. Create Your Subscription Plans In Stripe
To start creating subscription plans for your customers with Stripe, you'll first need to create the subscription plans themselves in [Stripe](https://stripe.com/). To do this, simply log in to your Stripe account and navigate your way to the [Stripe Dashboard](https://manage.stripe.com/dashboard). From there, click the navigation button labeled, "[Plans](https://manage.stripe.com/plans)".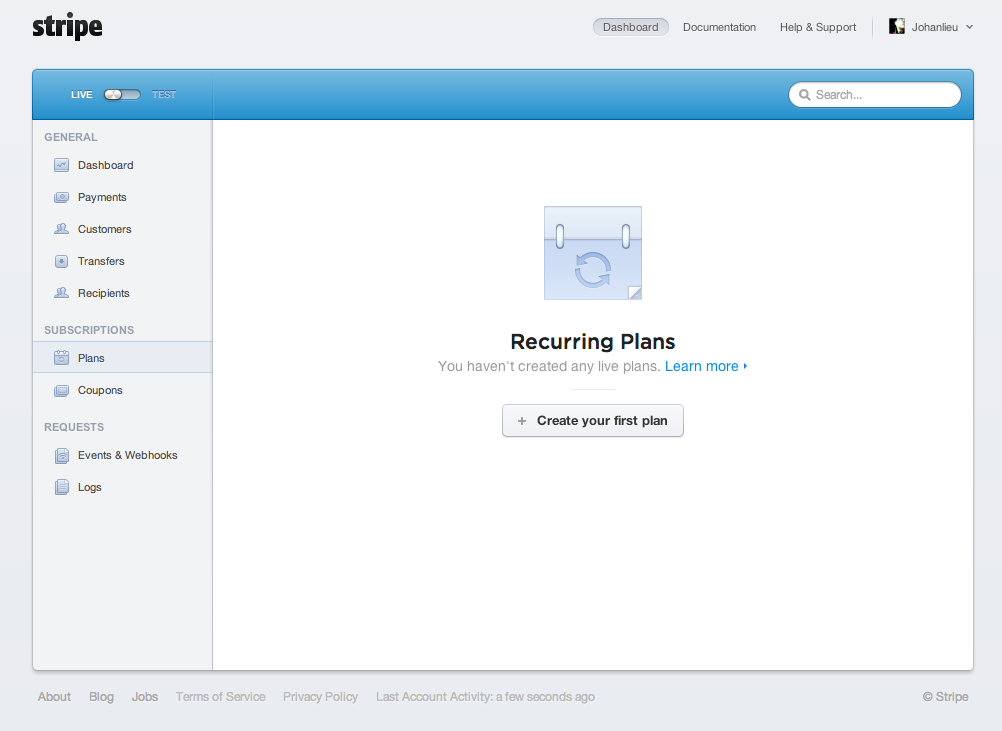 Click the **"Create Your First Plan"** button and a small dialog will appear that asks you to enter details for your plan. This is where the juicy stuff happens! In our example above, I need to create a monthly plan and an annual plan to fulfill my destiny of world domination via house cleaning. To create your subscription plan, you'll need to enter in:
– **A Plan ID**: This is just an arbitrary ID for your plan. We suggest using the name of your plan and separating the words with underscores.
– **Name**: This is the name that your customers will see. You should make this super easy to understand and read. In my example, I named it "Monthly Cleaning Plan". Simple, right?
– **Amount**: This is the amount that you will be charging for each subscription interval. In this case, it's $100 for monthly and $1000 for annual. (Hey, I'm not cheap, my cleanings services are top notch and totally worth it!)
– **Currency**: This is the currency you want to accept payments in.
– **Interval**: This is the frequency of your plan. In my case, I'd select monthly. For my annual plan, I would choose annual.
– **Trial period days**: In the event that you'd like to offer a trial period for your subscriptions, you can enter in the number of days for the trial. Wufoo's Stripe Subscription Billing supports trial periods, but that's another blog post for another time. But trust me when I say it's awesome.
– **Statement description**: This is what shows up on your customer's credit card bills. Keep it to 15 characters or less and no spaces.
Once you enter in your details for your plan, click the **Create plan** button and boom, you're set. Create as many plans as you need, all in the same manner. Once you're done, it's time to head back to Wufoo and hook up your form with your Stripe Subscription Plans.
### 2. Setup Your Form
Well, of course, right? Simply head to the [Form Builder](http://www.google.com) and create your lovely Wufoo form that your customers will fill out. For our example here, I've created a form for my fictional (or is it?) cleaning company.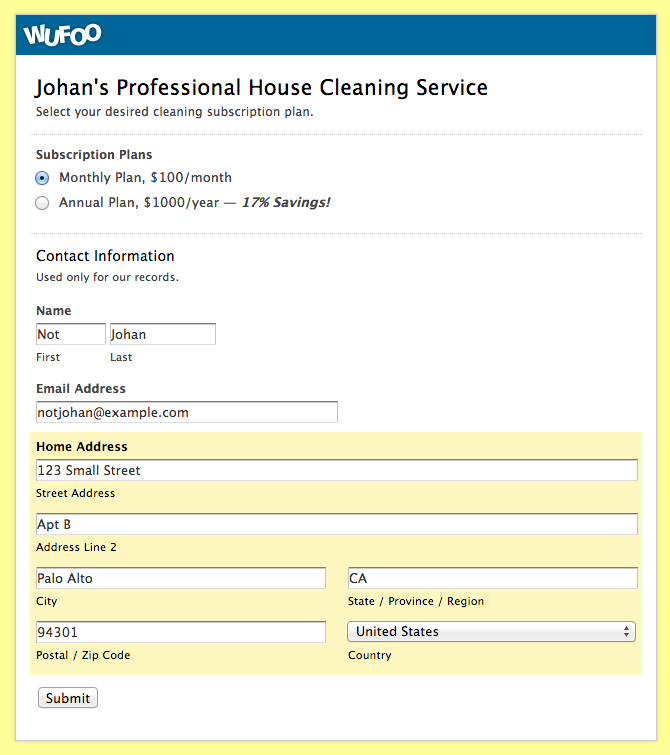 You can see that my form consists of some contact fields at the bottom (a [name](http://help.wufoo.com/articles/en_US/SurveyMonkeyArticleType/Field-Types#name) field, an [email](http://help.wufoo.com/articles/en_US/SurveyMonkeyArticleType/Field-Types#email) field, and an [address](http://help.wufoo.com/articles/en_US/SurveyMonkeyArticleType/Field-Types#address) field for my records).
But the interesting field is the first one, a multiple choice field. I've named this field the totally original, **"Subscription Plans"**. This field has two choices, one that is labeled **"Monthly Plan, $100/month"** and one labeled **"Annual Plan, $1000/year — 17% Savings!"**. Each of these choices directly correspond with a Stripe subscription plan in my Stripe account. For my annual plan, I even added a line about the savings of choosing the annual plan. *You should make sure the labels for your choices in the form correspond with the names of the plans you created in Stripe.* Nothing more confusing that selecting a plan that doesn't match with what you think.
> Note: Stripe Subscription Billing will only work with [Multiple Choice](http://help.wufoo.com/articles/en_US/SurveyMonkeyArticleType/Field-Types#multiple) or [Drop Down Menu](http://help.wufoo.com/articles/en_US/SurveyMonkeyArticleType/Field-Types#dropdown) field types. If you want to use subscriptions, you'll need to use one of these two field types.
Now, when someone selects one of these options and pays, a subscription profile will be created in Stripe for that customer and will be renewed for each billing period. If a customer wants my expertise in cleaning their house and wants to pay each month, they can select the Monthly Plan option and each month Stripe will charge their credit card. Easy-peasy.
But I get ahead of myself. The next step after creating your form is to create subscription plans within Stripe itself.
### 3. Connect Your Wufoo Form To Your Stripe Account & Plans
Now that we have a form in Wufoo, and subscription plans in Stripe, it's time to connect the two. To do this, simply head to the [Payment Settings](http://help.wufoo.com/articles/en_US/SurveyMonkeyArticleType/Payment-Settings) for your form.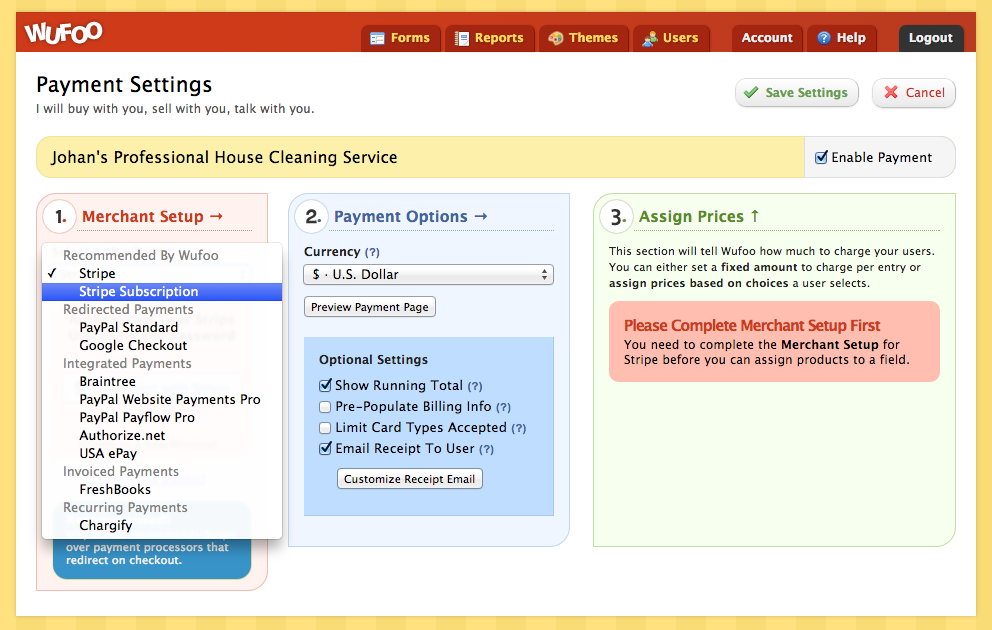 Once there, select **"Stripe Subscription"** from the *Select A Merchant* drop down menu. One click of the **"Connect With Stripe"** button will make a dialog box appear. From here you can choose to create a Stripe account, log in with your Stripe account, or if you've previously used Stripe on one of your forms, you can select that Stripe account from the drop down menu to speed up set up.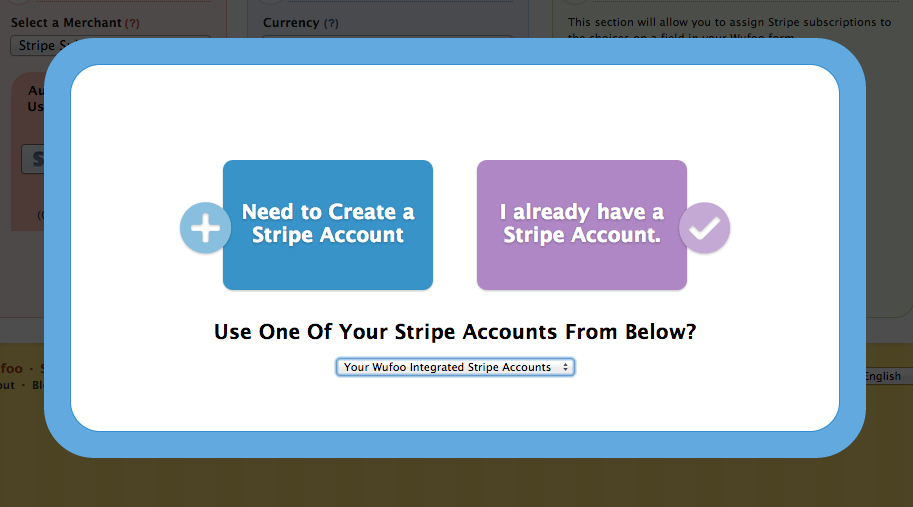 After you connect your Stripe account, it's time to connect your form to your Stripe subscription plans. In the third panel on the right, you can select which field you'd like to assign your plans to. *Remember, you can only setup Stripe subscription plans with multiple choice or drop down menu field types*. If your form doesn't have one of those fields on it, you won't see anything here.
In our example, we choose the multiple choice field titled **"Subscription Plans"** from my cleaning form. Now we can associate each field choice with a specific plan. Here, I've associated the "Monthly Plan" option with the Monthly Plan I created in Stripe, and ditto for the "Annual Plan". Hit the "Save Settings" button, and you're all set to begin to receive payments and renew your customers without any work at all.
### 4. Managing Your Stripe Subscriptions
In the event you need to *refund a customer* or *cancel their subscription* (hey, cleaning houses is a subjective thing, people might not be happy), you can do this by visiting the same **Stripe Dashboard** where we setup our plans. From there you can visit the [Payments](https://manage.stripe.com/payments/overview) page which lists all of the payments you've received. Simply hover over the transactions you'd like to refund and click the refund link. A small dialog box will appear asking you how much you'd like to refund, hit the **Refund** button, and your refund is set.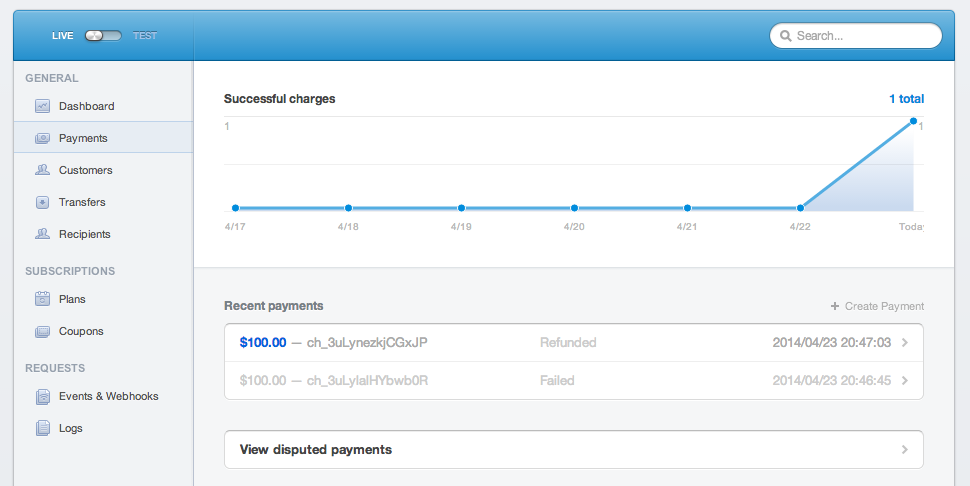 If you'd like to cancel a customer's subscription, you'll need to navigate to the [Customers](https://manage.stripe.com/customers) page. This page lists all of your customers and it's here where you can dig into a specific customer to cancel their plan, refund them, or even delete their entire profile if you need. Basically, all management of your customers and their subscriptions and payments is done through the Stripe Dashboard. It's super powerful, but tread lightly; things get real serious in there.
—–
There you have it! You can now accept [Stripe subscriptions](http://help.wufoo.com/articles/en_US/SurveyMonkeyArticleType/Stripe-Subscription-Billing) from your customers through your Wufoo forms which *automatically renew* through Stripe. We're ridiculously excited to release this feature and hope you, our awesome Wufoo customers, can find unique and novel ways to use Wufoo & Stripe together to make accepting payments even easier so you can get back to doing what you love rather than worrying about forms, payments, or subscriptions.
As always, if you have any questions, comments, or notes, please leave them below. And if you want to comment about how we've finally rolled this out, that works too. We won't hold it against you. 🙂 Either way, thanks for being Wufoo customers and being awesome.