Say hello to SpotHero! This tech startup out of The Windy City of Chicago focuses on finding parking spots for their customers that are both reasonably priced and conveniently located.
Here to share their Wufoo story with you is Kate Owens–a hometown Chicagoan thrilled to be part of the fast growing Chicago startup scene–a Customer Hero for SpotHero.
We're all about making life easier for our customers here at SpotHero and specifically for the daily driver. Our website and mobile app help drivers find, compare and reserve guaranteed parking at discount prices near stadiums, tourist attractions, hotels, theaters and downtown office buildings all over the country. Launched back in 2011 in order to solve Chicago parking problems, SpotHero is now focused on solving New York parking and Washington, DC parking problems next.
You can also find our services in Baltimore, Boston, Milwaukee and Newark. In order for us to make sure each new city launch is more successful than the next, and to ensure our customers have an awesome experience, we ask our customers for their direct feedback. By asking our customers to rate their parking reservation experience, we're collecting valuable information and also learning how we can improve our services.
Wufoo forms are used by nearly everyone on our team. My fellow Customer Heroes review the forms daily and respond to feedback. SpotHero community relationship managers, AKA our City Launchers, rely on Wufoo to reach out to targeted customers in new markets.
Our Account Managers use feedback collected by Wufoo to identify one-time opportunities for improvement with parking locations that will provide a better experience for our customers.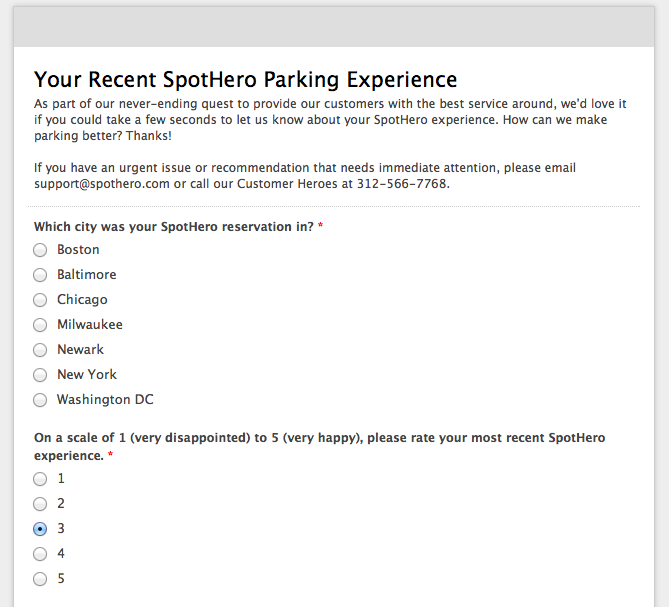 Overall, Wufoo allows us to immediately identify and resolve issues while also giving us the floor to personally connect with and go above and beyond for our customers. Wufoo has also helped us be more proactive with reaching out to customers in order to better understand their needs as we grow SpotHero. I love the challenge of turning an unhappy customer into a happy one. From the thousands of customers I've interacted with, some have even connected with and endorsed me on LinkedIn.
My favorite Wufoo experience? Reading feedback from our customers! Here are three that made me smile:
"We saved $60 by using SpotHero and were still conveniently located to our hotel, which was less than one block away. We would absolutely use SpotHero again."
"I couldn't have been happier about using SpotHero. To be able to park in downtown Chicago for up to 12 hours and only pay 10 bucks was a great deal. The directions to the garage that were printed on the confirmation page were spot on. Will definitely use your service again."
"What a find! We attended The Book of Mormon in downtown Chicago and parked right across the street. This is our first experience with SpotHero and we will definitely be back!"
For more on how we can help you find your next parking spot, visit us at SpotHero or download our iPhone & Android parking apps. After parking, you'll get to see our Wufoo form in action 🙂
Thanks for sharing, Kate and don't forget…If you're looking to hear directly from your customers, we've got the forms you need in our fantastic Forms Gallery!