If you want to see who has filled out your form, you can simply ask for a few bits of information from your users, such as their name and email address.
Let's say you already have that information though. It's not particularly helpful to ask for information you already know, so it would be fantastic if you could track exactly who's filled out your form without having to ask for it. Fortunately, with the help of our survey creating cousins, SurveyMonkey, there's a rather cheeky way to get this done.
SurveyMonkey is a beautiful tool that's perfect to use if you're creating a customer satisfaction survey, gathering employee engagement data and so on.
If you use SurveyMonkey, you can take advantage of their Email Invitation Collector.
This lets you send your surveys to a specific email list and track exactly who's responded. We'll go through how to embed a Wufoo form into SurveyMonkey so you can track who has filled out your forms through their email collector.
To kick things off, we'll need to create our survey in SurveyMonkey. If you don't have an account with them, check out their plans and prices. Once you're signed in, click +Create Survey to get started. They give you options to use a template or copy an existing survey, but we'll create one from scratch.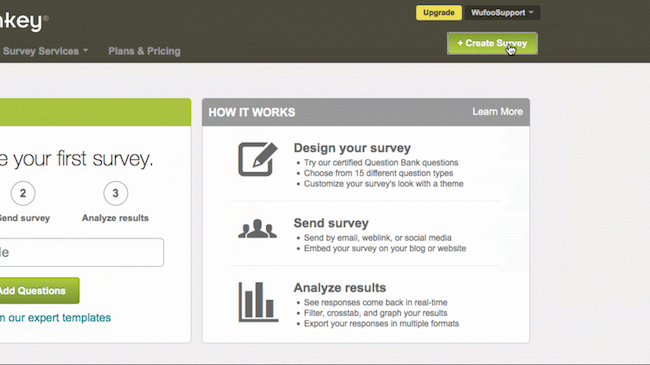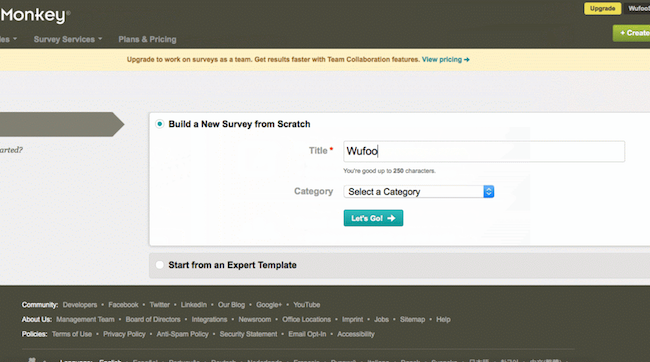 Once the survey has been created, you'll notice it doesn't look too different from Wufoo. You can create a survey using the different methods on the left side of the page. If you click Builder you can start adding questions to the survey.
We're not too interested in adding many questions. Our interest lies in wanting to embed our Wufoo form into the survey. To do that, add a Text question. Once you've done that, you'll notice a very mini video camera on the question. Give that a click and then click Embed. It's here where you'll put the iFrame embed code from your Wufoo form.
That can be found in the share section within Wufoo. Save when you've done that and you've created your survey. Easy as pie! Feel free to change the look and feel of the survey through their Themes tab. Otherwise, we're ready to share.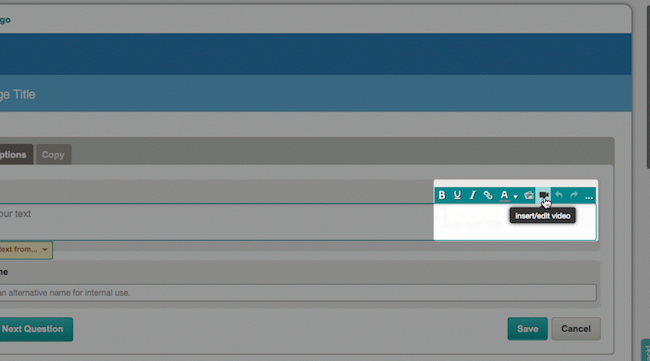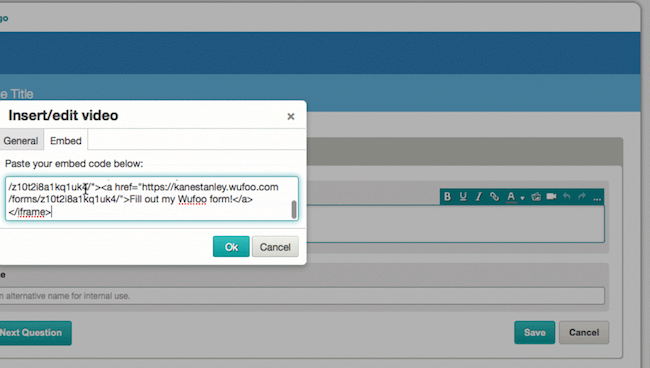 To set up the email collector, click the Collect Responses tab in the top right corner of the page. Then choose the Email collector. It's all mega straight forward from here. You can manually add your recipients at the top of your page, or click +Add Recipients to upload your own email list from your email client.
You can also change the subject of your initial email and edit the body of the email as well. Then just click Next and follow along until you can send the email. Once it's sent, you're all sorted. Each person will now receive an email asking them to fill out your form.
At any point, you can check your SurveyMonkey account to see who has replied to the survey and who hasn't. You can even send reminder emails to the people that haven't replied yet. Pretty nifty stuff.
When you view the survey, the form will be nice and comfy inside of the survey. It's easy to fill out the form and simply click Done on the survey to complete the process.
We hope this trick is helpful! Questions for Kane? You know where to go.