Hey, form fans. We know there are a ton of you out there using Wufoo in all sorts of innovative ways. Getting the opportunity to showcase our incredibly cool customers' hard work is always a very cool thing. Thanks for continuing to inspire us in making Wufoo even greater!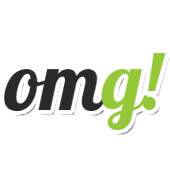 On that note, help us welcome Jonathan Chang–co-founder and CEO of Oh My Green (OMG!)–to the blog. OMG! is an online marketplace for high quality organic and non-GMO foods. They rely on Wufoo forms to help them grow the company, spread the word on their healthy products to their customer base, and more.
Let the Q & A begin!
Tell us more about yourself and OMG!
My background is in entrepreneurship, having founded and co-founded four tech startups across multiple industries. OMG! is a purveyor of healthy snacks. Every product is certified organic or non-GMO. Every brand has healthy nutrition facts, and produces products in a sustainable manner. We were selected to join a competitive incubator program for grad students, The Venture Studio, at Stanford University.
Thanks to the program, we had access to office space, worked with top funders and advisors to help us with our core business and got to learn from the best, including Rupert Murdoch. Our first major client ended up being the Stanford Graduate School of Business where we sold our product at campus events and in retail outlets. We then scored a pilot with Harvard University Dining Services to supply product for the Harvard Kennedy School's retail outlet.
The How and the Who of Wufoo
We use Wufoo to collect information from brand partners (company vision, contact info, product details, pictures, etc.) and job candidates (info, resume, etc.). Every member of our core management team works with Wufoo in some shape or form. Easy collaboration and quick decision-making are all key factors in keeping the lights on here and Wufoo helps us do just that.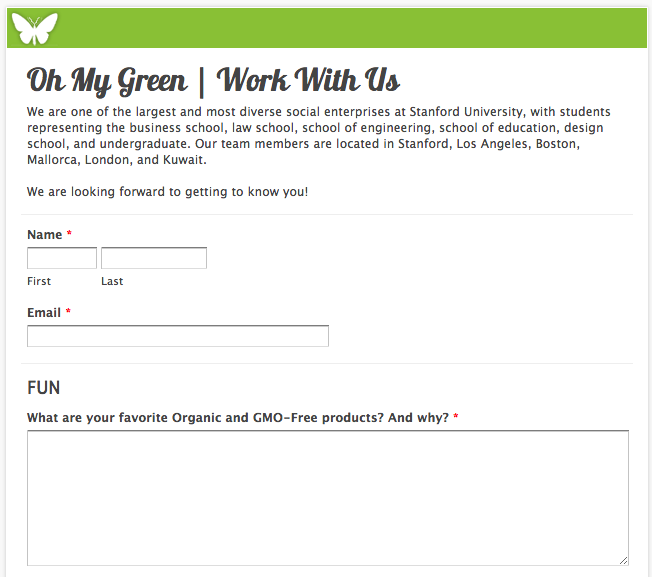 Has Wufoo changed your workflow or the way you do business?
Yes! The way we collect information from our brand partners and job candidates has never been easier and better. I don't need to worry about missing emails or attachments anymore.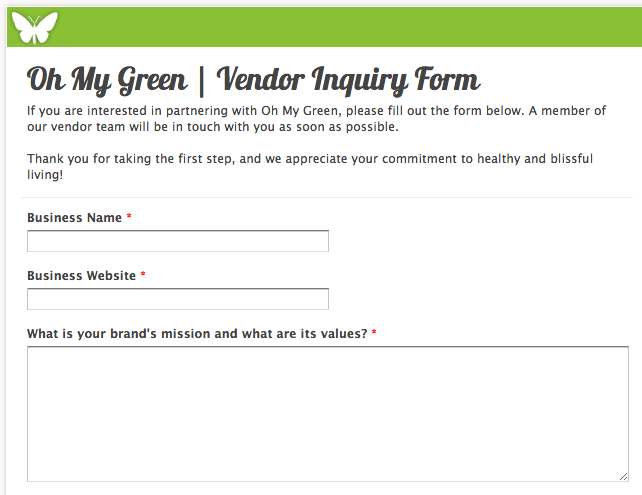 Favorite Wufoo experience?
It's that email from Wufoo notifying us about an online entry along with a summary and attachment included. Information is organized with a clean UI/UX. No coding experience needed. So easy, even a business school student can do it … 🙂 I kid, I kid.
Anything else?
Health is about giving options to people. It's not about who's right or wrong. People have different opinions about what's good for them and our role as a change agent is to listen and understand their point of view. One of our initiatives is to bring healthy food to schools across America. We take it one small step at a time. By focusing on snacks, we can gain instant support because of this simple fact–students love snacks. And if they taste good? Even better.
The OMG! team is also starting a grassroots initiative for middle and high schools. The core idea is to empower parents into making a difference by giving them the tools and resources they need for healthy food and snack adoption in their local schools. It's exciting to see where this year will take us as we move forward and we love how Wufoo's made our lives easier here at OMG!.
Thanks for sharing your story, Jonathan. Here's to Oh My Green!'s health–and to yours.
Questions, comments? Let us know in the Comments section.