Last year we wrote a cheeky guide on how to use CSS to create a custom closed message on a form. It was a solid workaround, but required a bit of legwork to execute. We're happy to say, you can now skip leg day as much as you'd like, thanks to the new form closed options.
Form closed options, which are available on all paid plans, let you add a completely customized message for your users when they visit a closed form. If you don't want to leave a custom message for the user, you can choose to redirect them to your own website instead. Better yet, setting this up requires no CSS or workaround. To show you how easy it is to use, let's check out an example using a glorious donation form.
Dodge the Dinos 20K Run is an annual 20K run with a twist. Runners are chased by Wufoo's very own dinosaurs. Fundraising for chosen charities is urged, and participants can use a donation form for their fundraising. Cue the Dodge the Dinos 20K Run Donation Form.
Taking donations before the event is fantastic, but what if someone visits the form after the event is over? It would be great to let the visitor know that the dinos have been dodged, but they can learn all about the chosen charity if they'd like. This can be done with a form closed message. Setting this up couldn't be easier:
Click the

Forms

tab at the top of the page

Click

Edit

on the form

Click

Form Settings

Click

Show Text

under the Form Closed Options section

Add the custom message and save
Easy Peasy. Now, if someone were to try to donate after the event, they'd see the custom form closed message telling them that they're too late.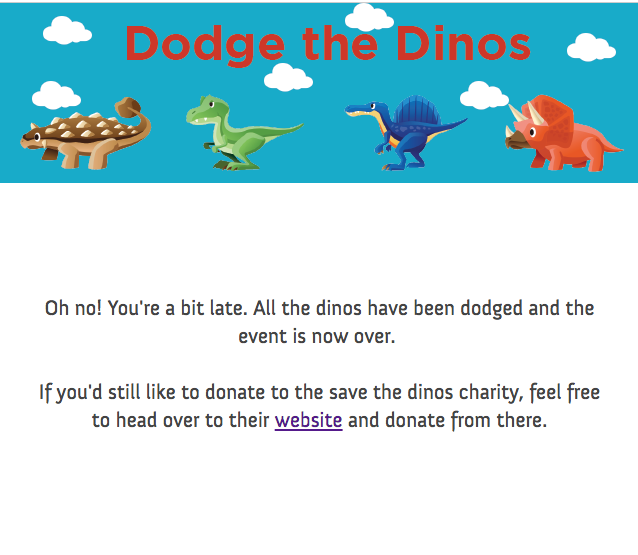 It could also be good to redirect the person to a website after the event is over. That could be a site to the specified charity or any site you'd wish. Setting this up is just as easy. Simply follow the same steps as before, but choose Redirect to Website instead. Then add the URL from there.

In this case, if someone were to view the form after it was closed, they'd be immediately redirected to the specified website. This is a fantastic option if you'd like to send your customers to your own website after a form has closed as well.
The form closed options offer you a brand new dimension to keep your users informed or to get them to your website. We really hope you like this new feature and we've got loads more to come. If you'd like to learn more about how form closed options work, check out our help center article as well.