Hey all you lovely form fans! You're some of the best people in the world – One of the things that makes you the best is that you aren't afraid to tell us what new features Wufoo needs. As amazing and awesome as Wufoo already is, we can always make it more amazing and more awesome. We've taken your advice and added a feature that many have requested: Placeholder Text.
What exactly is placeholder text?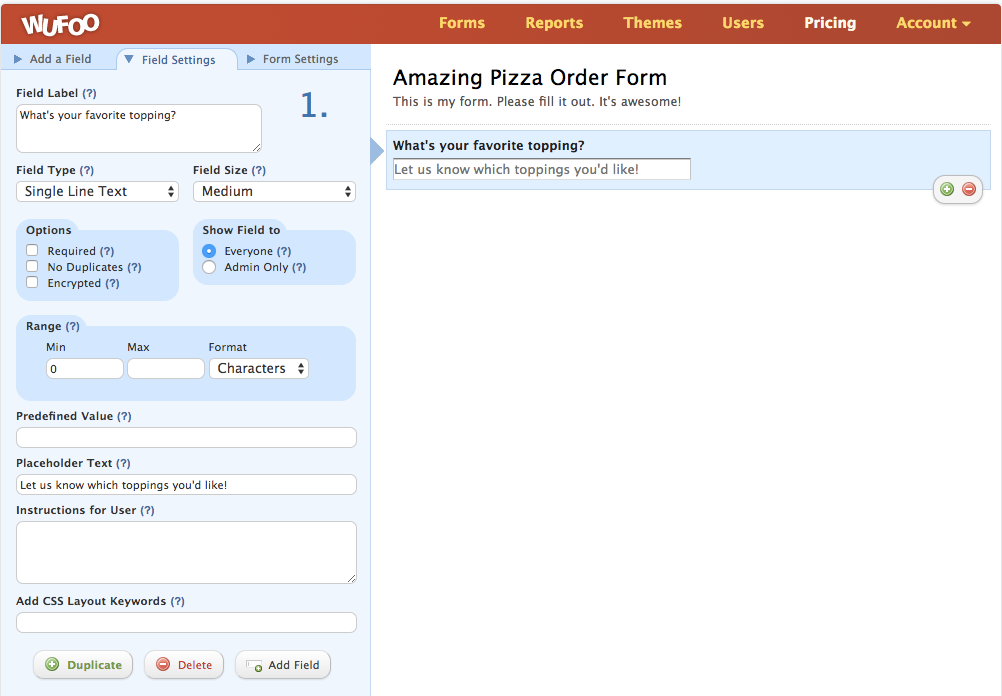 Placeholder text is text that you can add in the input field that won't be collected as data. It's a guide for your users so they know what sort of information to put in a field. When your end user clicks on a field in your form – poof! The Placeholder Text disappears and is replaced with whatever the user enters into that field.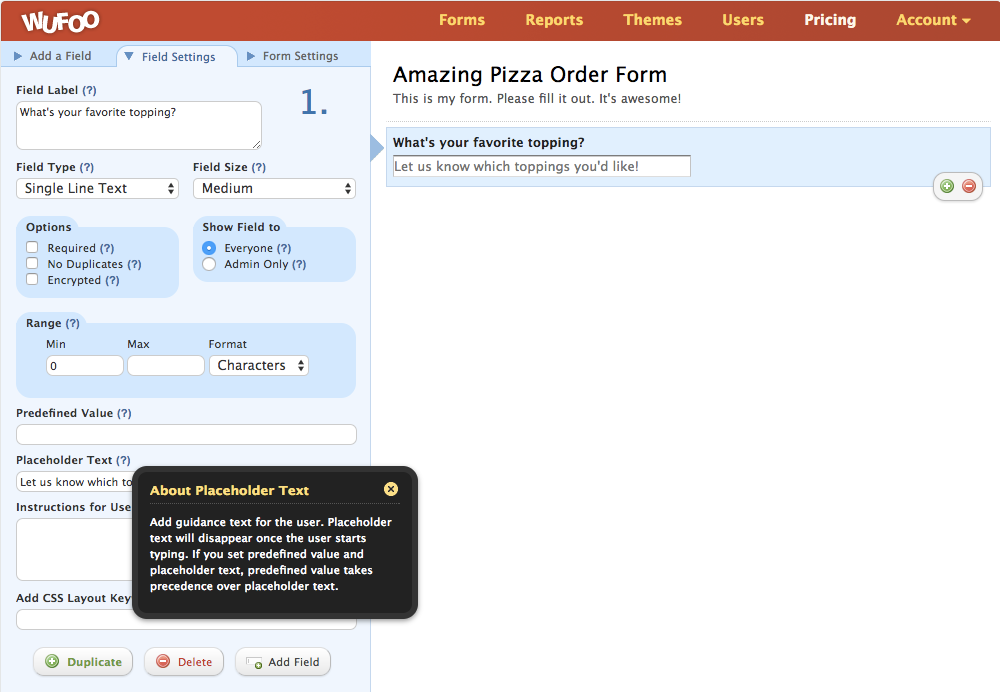 Here's a list of all the form-tastic fields that you can add Placeholder Text to:
Single line Text

Number

Paragraph Text

Address

Email

Phone

Website
Still not sure how you'd use placeholder text? Well, look no further: Let's pretend you run a pizza place with a million different toppings – you could just leave a text field on your form so the end user can specify all the toppings they want to add to their pizza. Rather than leaving those hungry customers to their own devices, you can give them a few suggestions to start:
Pepperoni, olives, peppers, pickles, jelly, peanut butter, regular butter, etc.
You'd want to add this as a Placeholder Text — this will just hold the place (see what I did there?) of the customer's REAL toppings until they decide what they want and type it out. As soon as they start typing, the suggested toppings will disappear and only what your customer types will be submitted.
Placeholder Text vs. Predefined Values
By now you MUST be thinking, "Wait… don't we already have Predefined Values? Isn't that the same thing as Placeholder Text?"
I'm glad you asked! Yes, we do have placeholder text, but no, they are not the same thing — they couldn't be more different!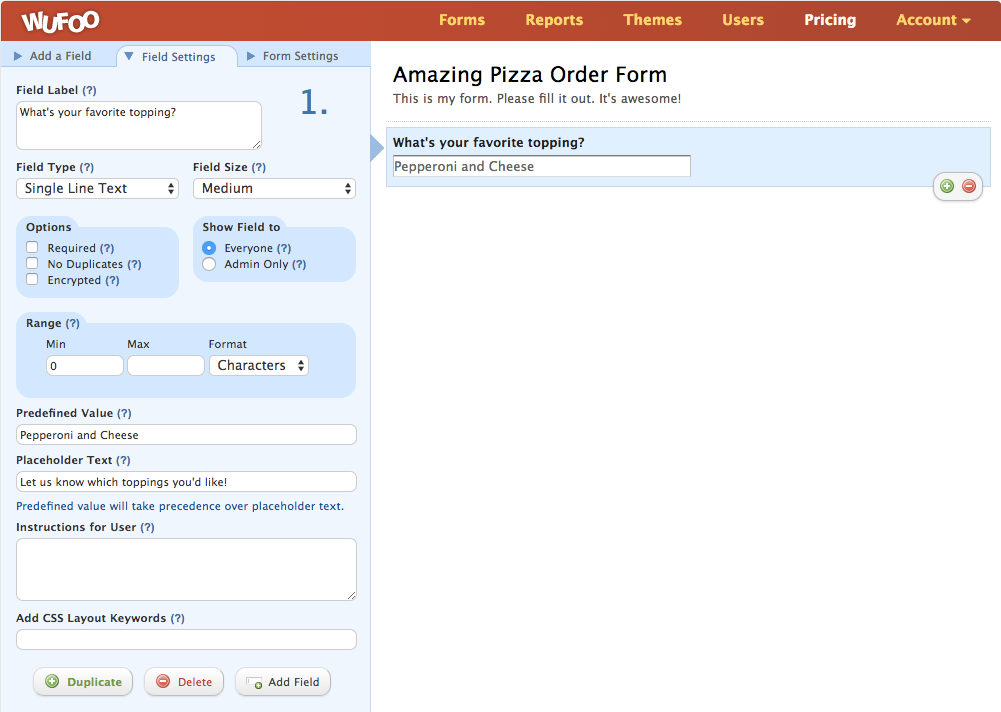 Placeholder text is a visual aid for your end user. It's the guide that leads them to the perfect pizza toppings (to continue with my example above)! Alternatively, a Predefined Value for a field is actual text in the field that won't automatically disappear when the end user starts to type. It's ACTUAL data that will be ACTUALLY collected in the entry if your customer doesn't delete it.
If you had all those toppings for your pizza as a predefined value and the end user did not touch the field, all those toppings would be collected as data in the entry. You'd have no idea whether they actually want pepperoni, olives, peppers, pickles, jelly, peanut butter, and regular butter, or if the backspace on their keyboard was just broken!
So as you go off and figure out whether or not you need a predefined value or placeholder text, please remember that if you decide to add both, the predefined value will always take precedent over the placeholder text. If you have predefined text (even just a space!), the placeholder text won't be there at all. For more information about placeholder text, hop on over to this Help Center page!