Hello again form-friends! Now that Halloween is over, let's focus on the next big holiday at hand…THANKSGIVING. Loosen your pants and get ready for a filling how-to on, well, how exactly to take advantage of Wufoo's most recently added feature to aid your Thanksgiving festivities: Max Quantities.
What are Max Quantities?
Through all the feedback you've given us over the years, one thing in particular stood out: many of the Wufoo users wanted a way to limit the amount of times a particular field can be selected.
The Max Quantities feature allows you do to exactly that; you can limit the number of times a specific option can be selected for checkboxes, multiple choice fields, and dropdown fields.
Johan's blog post gave you a use case example involving clothing but of course, T-shirts aren't the only thing you can use this fab feature for. Let's get our brains back on the holiday at hand, shall we? FOOD.
Forks up, people.
Max Quantities and the Thanksgiving feast
Thanksgiving obviously wouldn't be the same without turkey, stuffing, mashed potatoes and of course, pie pie, all the pies. But if you're the cook, food can also be the most stressful part of the holiday. You don't want to get stuck cooking everything, so how's about a potluck?
But then, Who's going to bring what?
This is where Max Quantities comes in. First you have to decide how many appetizers, entrees and desserts you want and then you can create a form for people to volunteer what they would like to bring.
Let's make sure we have enough options:
ONE Turkey, because turkey deserves its own category.
FIVE Appetizers
FOUR Entrees (other than turkey)
UNLIMITED Desserts. You can never have too much dessert.
Now, let's create a multiple choice questions with these choices, but we won't add the numbers in just yet. Here's what the form looks like: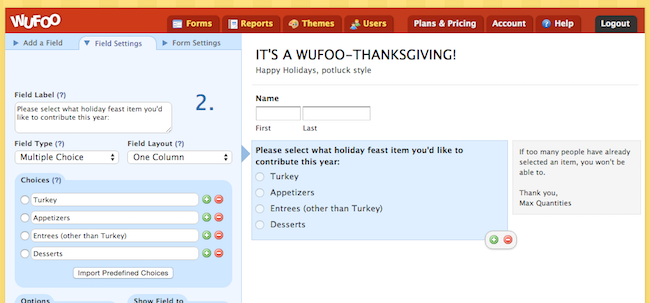 This is a perfectly fine form as it is. But without Max Quantities enabled, people can click whatever they want. We might end up with 10 turkeys. Or worse…no desserts.
But when you select the Max Quantities under Option from Field Settings, you can input a number. This limits the amount of total times that someone can select this option.
But add those Max Quantities in and your form looks like this: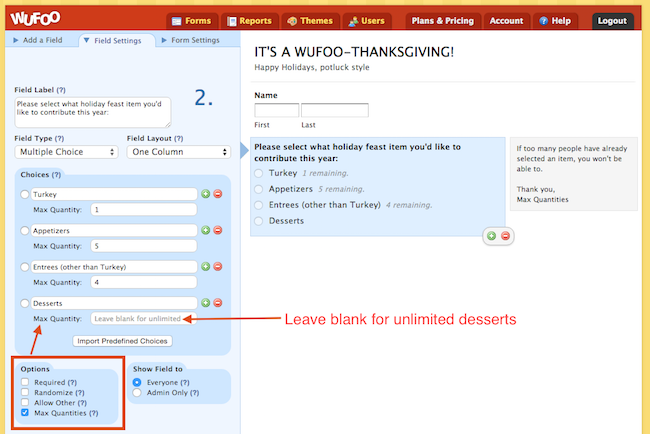 Once someone selects the "Turkey" option, no one else will be able to select it. Once five people select the "Appetizer" options, no one else will be able to select that. And then anyone can select desserts because that does not have a max quantity associated with it.
Add in a fall-inspired theme, and you'll end up with the Thanksgiving Potluck form: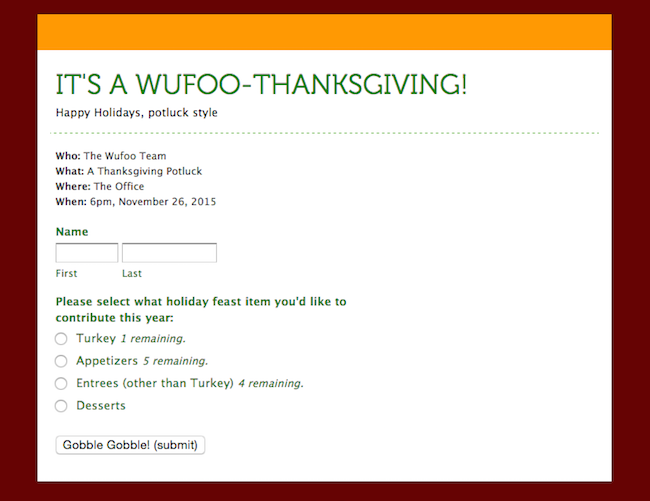 Happy Thanksgiving from everyone on the Wufoo team and as always, let us know if you have questions or comments below!