Online forms for event planning: Ring the New Year with Wufoo
Hello Wufoo fans, and happy holidays! It's that wonderful time of year again—you know, the joyous months of holiday parties, family get-togethers, New Year's celebrations, Sales Kickoffs, and more.
With so many events to think about, it's easy to get overwhelmed with planning. But fear not, Wufoo has your back! Let's look at some of the ways Wufoo can help you with all of your event needs.
Sales kickoff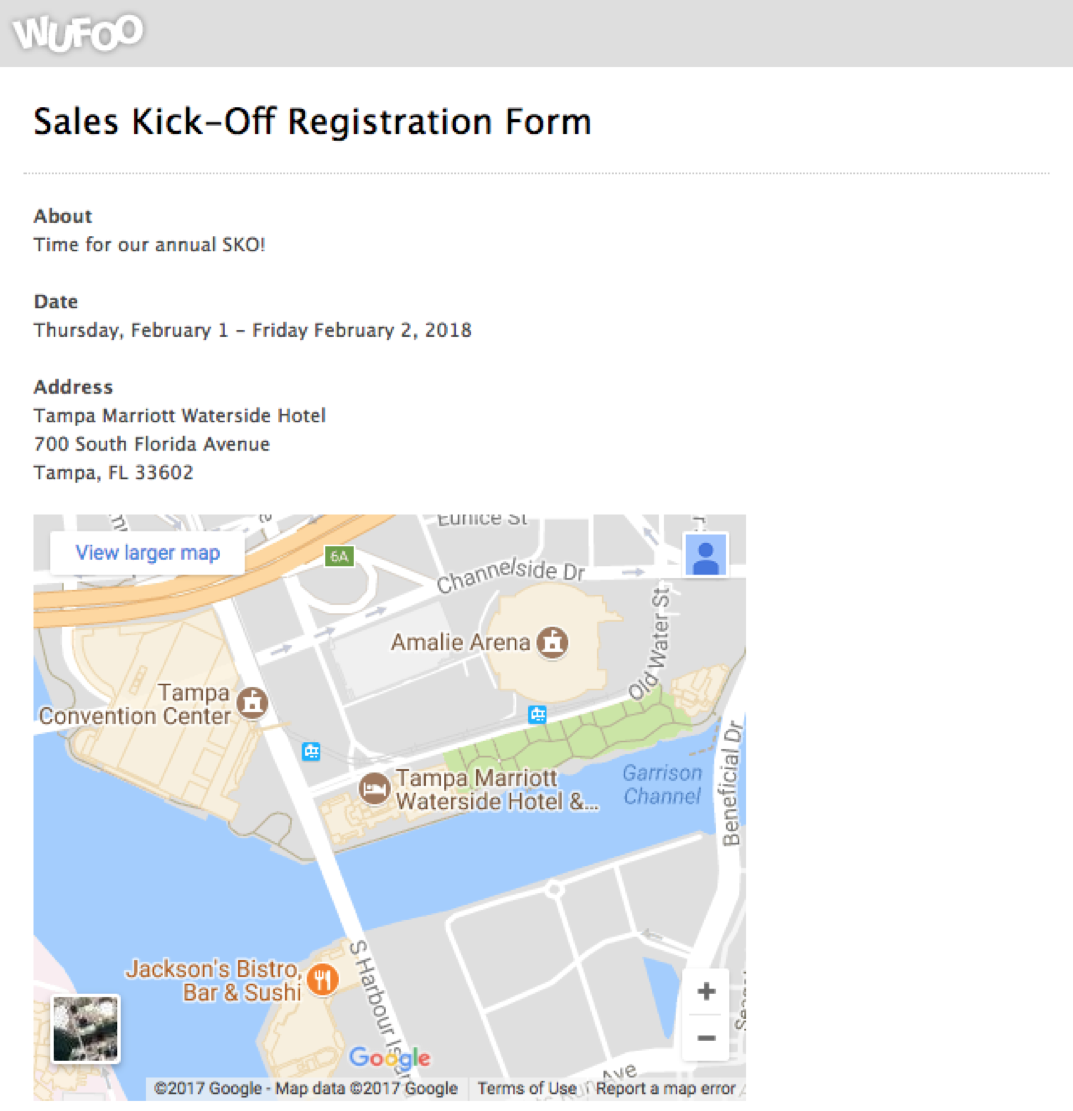 Many businesses host a sales kickoff event at the beginning of the year. Use a form to collect all attendee information far in advance so you can determine room assignments, make reservations, and handle any other logistical needs.
If your business offers staffers a choice in roommates or the option to room solo, include those questions in the form so you can get everything you need in one go.
After the event, create a survey to share with everyone to collect feedback and capture any learnings for next time!
Party planning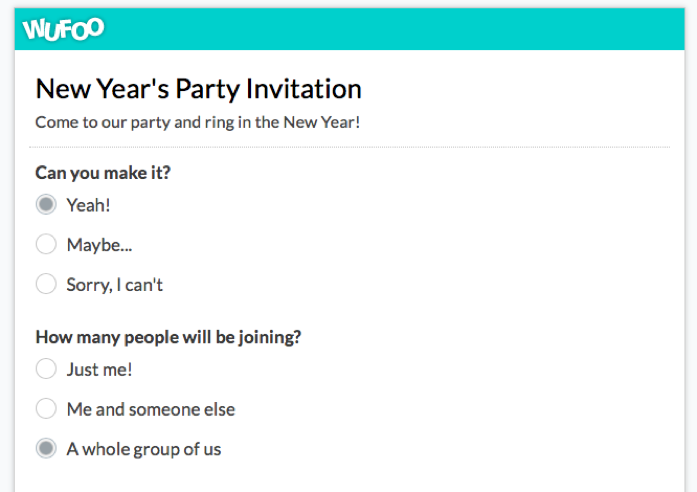 If you've ever planned an event or party, you know the importance of having an accurate headcount. You don't want to be ill-prepared with seats, food, and activities.
Whether you're hosting an event for the holidays, a New Year's Eve party, a baby shower, a Super Bowl watching extravaganza, or anything else, it's always good to know who's coming so you can plan accordingly. With Wufoo, you can create an RSVP form in no time and start planning the fun!
Pro tip: Include a map to your party or event right inside the form.
Need to get the invitations out ASAP? No problem. You can use one of our pre-made templates and share it out in seconds.
Holiday dinner or potluck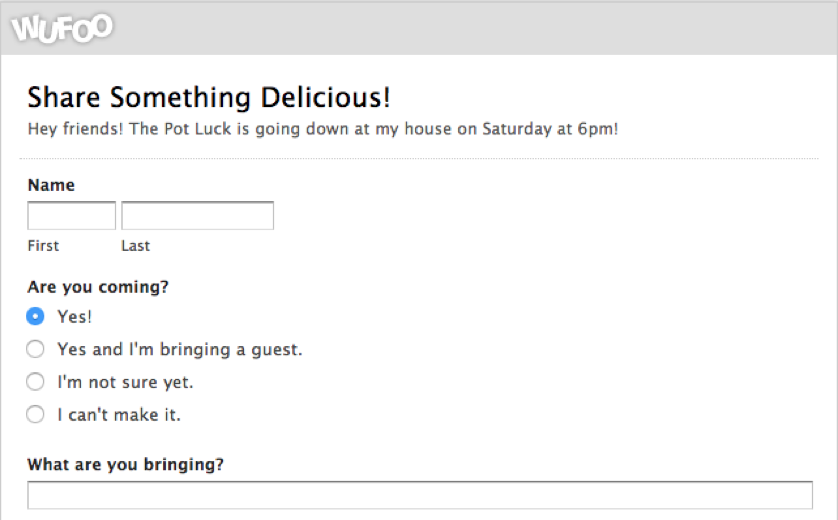 Hosting a big dinner for Christmas, Hanukkah, Kwanzaa, or another holiday? Why not conduct a quick survey to see what your guests want to eat and detect any dietary restrictions so you can be sure to have a dish for everyone.
Or maybe you're planning a potluck (so much easier, right?). Send out a form to all of your guests asking what they want to bring. You can even include max quantities so you don't end up with 10 trays of mashed potatoes. Unless everyone really, really likes mashed potatoes, in which case that might be a huge success!
Workshops & lunch and learns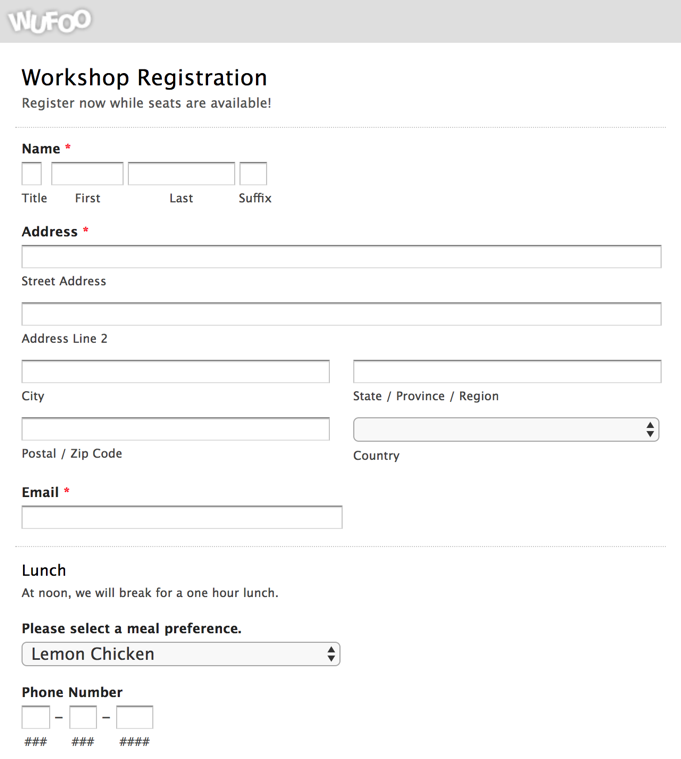 Are you hosting a series of workshops for your team members or customers? Our Workshop Registration Form Template offers a convenient, one-step process for people to sign up. If the workshop is a paid event, you can even collect payments right from your Wufoo form.
If you're doing a lunch and learn at work, you can throw in an option for attendees to include any meal preferences.
There you have it: Just a few examples of how Wufoo can help you get through all of your event needs for the holiday season and beyond. You can see even more event templates in our Templates Gallery for all of your form needs.
We'd love to hear more about the ways that you use Wufoo. Leave us a comment below!