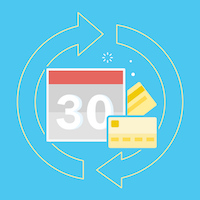 Hey there Wufoo fans! Now as most of you know, you can collect payments with Wufoo forms. But did you know that you're not just limited to one time payments? With Wufoo, you have the option of collecting recurring payments as well. That's right, we're just that cool.
But what if you want to collect both recurring and one time payments for the same form? That's where it can get a bit tricky. With our current integration, it's not possible to collect both types of payments on the same form.
Lucky for you though, we're form experts over here. We'll show you how to do this using three forms (it's not bad, I promise) while making it seamlessly look like a single form to your users.
You'll accomplish this thanks to a landing page.
Step 1: Create your 3 Forms
So, just so we can paint a clear picture–let's say you're collecting donations for your non-profit organization. You want to give your donors the option of either making a one time donation or making recurring donations. The first thing you'll do is create your landing page form with that one question: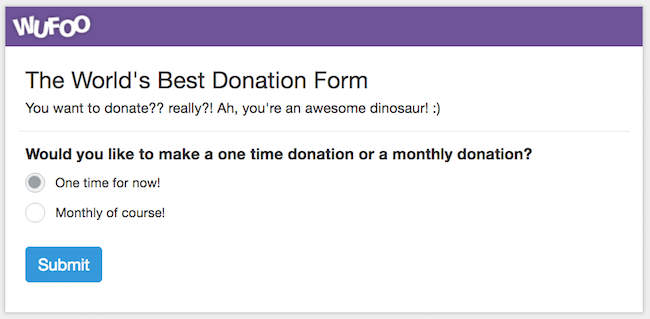 Now you'll want to create two separate additional forms: one form for the one time donations and one form for the recurring donations.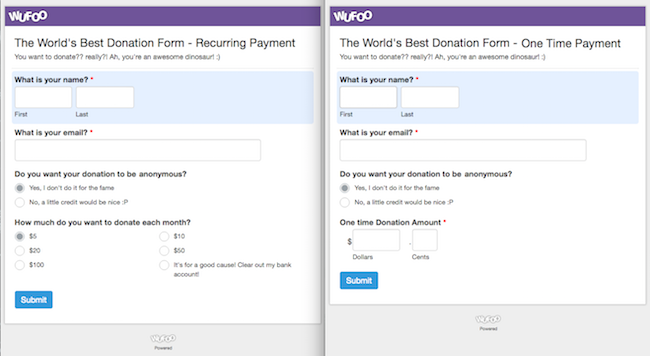 Pro tip: if you need to collect all the same info on the forms, consider creating one and then duplicating it to create the second. You'll cut down on your form building time.
Step 2: Connect the forms
To seamlessly connect these forms, we'll visit our lovely friends, the Form Rules. Specifically, we'll set up a couple redirects on our landing page form to take the user to payment forms.
And you're all set–you can start collecting donations.
But wait a minute…we forgot a little something.
Step 3: Setting up Payment Integration
You can't really collect donations without Payment Integration, now can you? Well here's how you'll do that. Since the landing page form just sends the person to a separate form, you can leave that form's Payment Integration alone. But you will need to set that up for both the recurring donation form and the one time donation form.
For the one time donation form — You can set up this Payment Integration just like any other one time payment form. Select your merchant, edit your settings, and add the donation price field to your Assign Prices section. All our merchants (except Chargify) will let you collect one time payments.
Next step? You'll set that up for the recurring donation form with one of our recurring payment merchants–there are three to choose from:
Stripe Subscription
PayPal Standard
Chargify
To make things easy on yourself, we recommend using Stripe or PayPal Standard. Since you can collect recurring payments and one-time payments with the same merchant account, this will allow you to keep all donation in one merchant account.
Just like that, you've got a landing page form to help you collect both recurring and one-time donations. For those people filling out your form, it will appear as if it's one seamless form.
As always, let us know if you have questions or comments!