Hey hey everyone! Today I'm going to let you in on a trick that allows you to customize a message to customers when you want your form to stop accepting new submissions. By default, the closed form message will read like this: Sorry, but this form is no longer accepting submissions.
So the message is accurate but depending on what you're looking for, maybe a little blah-sounding. What if you want to share a perkier, more personalized (i.e. not bot-like) message to those who try to access your form after it's already closed? And what if you need to communicate extra information about the event, like whom to contact, or include a link to your site?
Instead of configuring a Limit Form Activity setting, you can stop entry submissions with the Rule Builder. Here are the steps:
1. Add a hidden predefined Date field to always show today's date
2. Use Field Rules to hide/show fields based on this Date field
3. Use Form Rules to redirect to your website
I'm going to walk through this with my registration form, for the Disruptive Dinos Summer Coding Camp. Yep, that's right. Dinos are disruptive. It's a thing.
1. Hidden Predefined Date
Since registration for the camp will close on a certain date, we need a way for the form to recognize the date it is being filled out. This is possible by using a Date field, entering today in the Predefined Date field, and hide in the CSS Keywords field. Here's what this looks like in the Form Builder: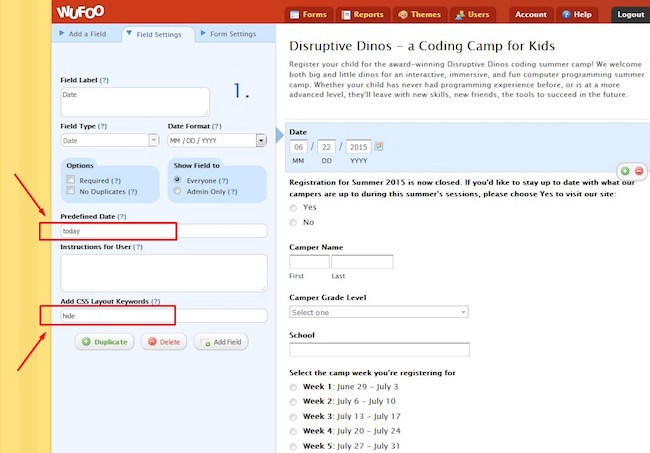 Enter both of these key words without the quotation marks. today will always select today's date in the live form. hide will make this field hidden to the user in the live form. Together, these settings make it so the user can't modify the Date field. Note: I also added a Multiple Choice field, which lets the registrants know that the official registration period is over and asks if they want to be added to a waiting list.
2. Field Rules
Now we'll create Field Rules based off this hidden date field. If the date is past the cut-off date of June 11, then we want the registration fields to be hidden, to create the appearance of a closed form. So there will be a "hide" field for every registration field on the form. However, if the cut-off date is past, we need the Multiple Choice field to show. So the structure of the field rules will be as follows:
If Date is after 06/11/2015, HIDE/SHOW [field name].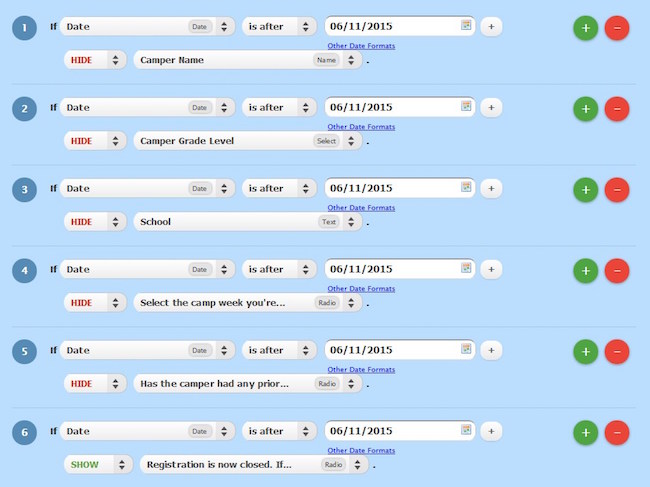 Great! So what does the live form look after June 11? None of the registration fields show, just the Multiple Choice field indicating that the form is closed.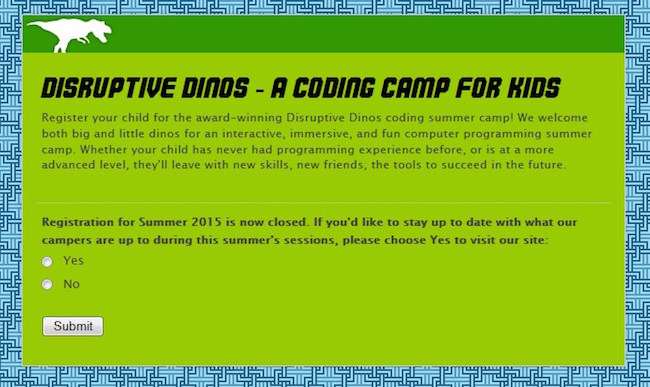 3. Form Rules
Form Rules carry out certain confirmation actions when the entry is submitted. In this case, we'll use form rules to give more personalized information to those who missed the cut-off registration date. If users select Yes, they'll be redirected to the summer camp website. If your event doesn't have its own website, you could also direct to social media such as Facebook or Twitter, a waiting form, or any other link that would provide helpful information. Here's what this first form rule looks like:

If users select No, we'll just show a custom confirmation message:

Once you've saved all those rules, you're done! The form will automatically stop accepting new registrations after the date you specify, but users will have a much more personalized experience; they'll get a clear and explanatory message about why the form is closed and the next steps to follow.
The steps outlined here aren't limited to just camp registration forms either. It applies to event registration, conference sign-ups, sports tournament sign-ups, the list goes on–any scenario where you need to close the form after a certain date.
We look forward to hearing your thoughts in the comments section below and be sure to visit our Guides page for even more form how-tos.