You've set up an awesome, fun, and extremely dangerous event. You want everyone you know to participate, but you don't want to shoulder this massive liability (smart thinkin'!)–enter the waiver form.
A waiver is a document that illustrates an individual's surrender of particular rights. Similar to a disclaimer, waivers are a complex document and they shouldn't be taken lightly. Talk to your lawyer when drafting a waiver. We're not lawyers so don't assume any of our examples here represents legal advice in any shape or form. Got it? Good. Let's get to building a form then, eh?
When signing a waiver, it's important to include a copy for your terms and the rights that the individual is surrendering when they sign. Generally, we would suggest using a Section Break field for this. Section Break fields let you include text or HTML without adding an extra input field to your form. An unfortunate side-effect of using a Section Break on a waiver form is that the text you include won't be sent along to your user, and won't be included in the Notifications you receive.
To make sure you and your users get a copy of the waiver for both of your records, we suggest using our CSS keyword cloak. Cloak is and often misunderstood CSS Keyword. "Hide an input field?! Why would I want to do that on a form, y'all crazy".
Well, sometimes yes. We're going to use the CSS Keyword cloak to hide the input field for a regular old Single-Line-Text field. First, paste all that text you had in your Section Break over in the Field Label of a Single Line Text field. Once that's done, add the CSS Layout Keyword cloak.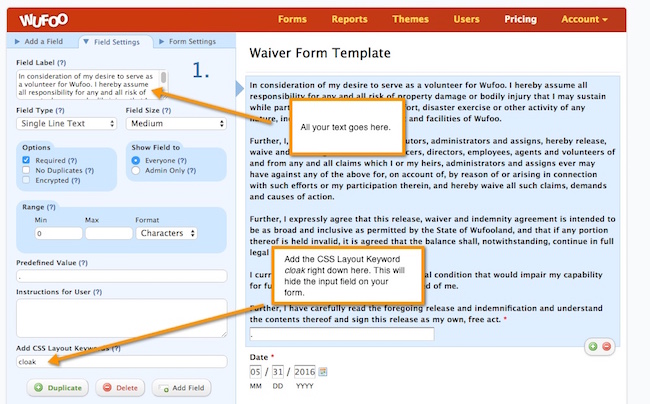 Field labels will always appear within the Notification emails, as long as that field's input field contains data. To ensure it always contains data, add a bit of pre-defined text to that single line text field to ensure it shows up in every email. Since that field is hidden, your users won't be able to see or change it. We usually use something like [placeholder] so it's easy to identify. Another option is to simply include a period as the pre-defined value.
This will give you a section of static text without an input box, kinda like our Section Break. The text will be included in Notification emails, as well as within the Entry Manager.
To include a copy of that waiver for your users, click on the Form Settings tab, and enable your Confirmation Email. When customizing that email, check the Include copy of form data checkbox. Your customer will then receive a copy of the waiver and all of its juicy legal pitfalls.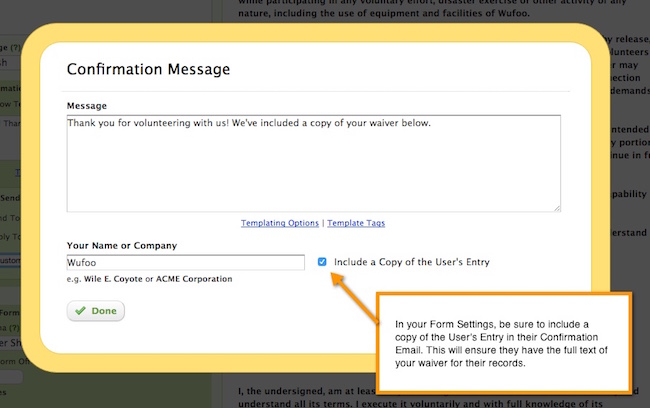 That's the gist of how to create a waiver form in Wufoo! Here's the example we just created for your reference too.
Stay safe out there, form fans and see you next time.
Questions for Cody? You know where to go.