We love hearing stories from our customers and we love getting the opportunity to share them here with you even more. Whether Wufoo's helping launch a fledgling entrepreneur's dream business, wrangling up wedding guests for a busy bride-to-be, or making access to healthy foods even easier, we're truly all over the map–and we wouldn't have it any other way.
Speaking of maps, let's take a quick jaunt halfway across the world, shall we? We're thrilled to shine our customer spotlight on India where Iris Holidays–a Government of Kerala-accredited tour operator–uses Wufoo to plan customized vacation packages for travelers visiting beautiful Kerala from all over the world.
Here to share their Wufoo story is Iris Isac, cofounder and CEO of Marketing and Operations at Iris Holidays.
Welcome, Iris!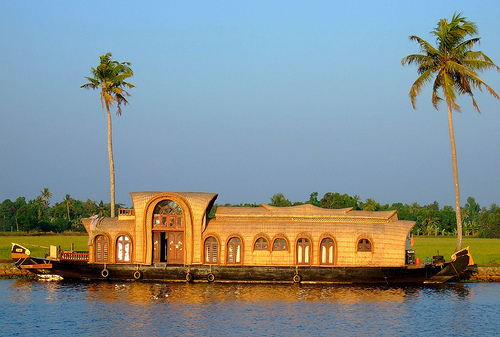 Since opening our doors back in 2006, we've helped plan the vacations of over 12,000 tourists here in Kerala, India. Kerala is located in the southwest region of India and has quickly grown to become one of the leading tourist spots here in South Asia. Every single one of our 12,000+ trip requests has been managed and organized thanks to the Wufoo forms embedded on our website.
Improving the user experience on our website has been key in providing our clients with high quality and consistent holiday packages. Every single page on our website is linked to our contact page where a Wufoo form is embedded. When potential clients enter their contact information we get the opportunity to help a potential new adventure seeker looking for a holiday here in Kerala.
Once the client clicks Submit, all of their information is logged into our in-house CRM system. Depending on the type of information we receive, our travel specialist will reach out by email to start the vacation planning process. One of the things that we love about Wufoo? The same form can be embedded in multiple websites. Entries made in all these separate websites comes right to our single CRM system , thanks to the power of the Wufoo API.
We now have the crucial details of every single customer who has contacted us via Wufoo.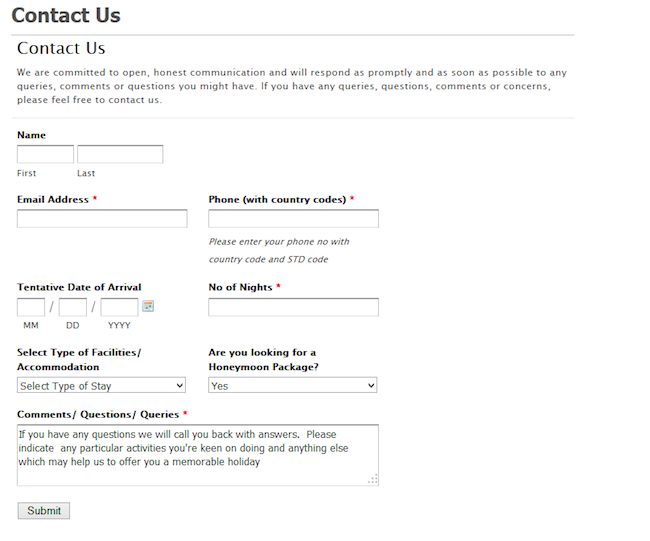 This data is used by our marketing manager for campaigns, seasonal trend analysis and to monitor our conversion rates. Wufoo's flexibility also allows us to experiment with the kinds of data we receive by moving, deleting or adding our form fields. This is super simple to do using the drag and drop functionality. In addition, it makes the clients' experience easier and hopefully encourages more people to want to fill out our forms.
Back in the early days, we didn't use the Wufoo API at first. Instead we manually allocated all of the entries received with an Excel spreadsheet which was time consuming not to mention tedious. One day, we happened across the Wufoo blog and read the case studies and customer spotlights on how other businesses were taking advantage of the Wufoo API. Learning how others used Wufoo has helped save two hours, minimum, from our team members' daily work hours. No more spreadsheets! We have also automated all of our systems and as a result, not much technical bandwidth is needed to maintain our sales funnel and more time can be spent on our clients.
After clients complete their forms, it's incredibly gratifying to read the replies that we receive back. Clients thank us for the prompt and immediate response that they get and all of us here at Iris Holiday definitely appreciate the acknowledgement. It's our little secret that these e-mails are also powered by Wufoo and we use these messages in order to showcase our Kerala tour reviews page.

We just might be among the first Wufoo customers from India however now we're seeing many more local websites also using Wufoo for their contact forms. We love the fact that it's so easy and that you can create awesome forms quickly with the drag and drop features. It spares the team from a lot of administrative headaches. We also have more time for coding, site maintenance, measuring analytics for lead optimization and can focus on strengthening our overall business performance.
Kudos to the entire team at Wufoo from all of us here in Kerala! You have made the working lives of small business owners from all over the world, not to mention their employees, far more productive–and fun!
Looking for a totally unique vacation experience? Check out Iris Holidays and get started with one of their amazing travel packages today.