> It's warm out there, form fans. And when warm weather hits, a bunch of us here at Wufoo, try our best to avoid the snacks and burn off those winter calories. So it's totally appropriate that our latest use case is focused on just that–fitness. And yes, the fitness of your forms plays a part here.
>
> Please welcome Jason Doggett, co-founder and director of the London-based personal fitness business, Muddy Plimsolls, Ltd. based in the United Kingdom. Doggett shares how he takes advantage of Wufoo's massive form muscle power to strengthen their customers' overall experience.
>
> Cheers, Jason!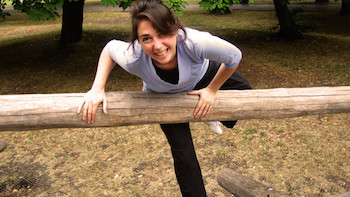 As an entrepreneur and small business owner, it's important to streamline and maximize where I can. I started Muddy Plimsolls, Ltd. with my wife Fiona (that's her above, training hard) and it's been a thrill to watch the company grow into what it is today.
Our personal training firm specializes in outdoor fitness training and we've been in business since 2008. In our particular line of work, we pride ourselves in combining our, ahem, awesome fitness training alongside our absolutely brilliant customer service in the form of easy-to-use online payments and advance booking systems. This is where Wufoo comes in.
Wufoo forms live and work right alongside Muddy Plimsoll's customer experience timeline. We start with initial enquiry forms. Either short 'Call Back' forms or forms that give leads the opportunity to tell us some more about themselves such as their fitness goals and when/where they would like to have their personal training sessions.
When a new client signs on, they then fill out our Physical Activity Readiness Questionnaire which includes medical questions that must be completed for insurance purposes.
After a new client has completed their first 28-day Training Plan with us, they get a *'How did we do?' feedback form*. When three months pass, we then ask them to complete a *testimonial form*. And should a client wish to end their training, they receive another *review form about their reasons for leaving*.
The most powerful use of Wufoo for us has been in **collecting information from leads who contact us**. So we put quite a bit of thought into how to design those forms: they must be short enough to complete quickly but in-depth enough for us to know how to best serve this new (potential) customer.
Designing a Wufoo form really makes you think about how the customer is engaging with your company. Because the Theme Designer is so easy to use, we can split test forms to see how each client responds.
If you're looking for a dynamic, intuitive and elegant way to organize and collect customer leads–implementing online forms are the way to go. Feel free to leave me comments or questions below if you're looking for additional tips for your own business.
Want to learn more about Muddy Plimsolls, Ltd.? Check out their page here.
For even more tips on creating the best customer lead forms for your business, be sure to check out our Guides page.