Hi Form Friends! Hope your 2016 form building resolutions are off to an auspicious start. For me this year is going to be all about efficiency and making sure that I use my time wisely. With that in mind, I'll answer two of our most common customer questions with the hope that you can absorb all that important info here and never have to worry about contacting us and waiting a few tantalizing hours for a response. So let's get to it.
> Dear Support,
> Why isn't all my data showing in report/excel export/datagrid?!
> Help me, Obi Wan Kenobi!
> Sincerely,
> Worried User
My Dear Padawan,
Not to worry–the force is with you! When you set up a datagrid on a report, that grid is set by default not to show all of the fields from your form. In order to make sure that all of the fields or the fields you want are showing properly, you will need to make changes to the widget settings for that datagrid The steps for making this change are as follow:
1. Login
2. Click on the Reports tab at the top of the page
3. Click on the Edit button for your report
4. Click on the Datagrid in the preview section of the report builder
5. The field checkboxes to display will open in the tab above
6. Select all fields or select individual fields to show
7. Save Report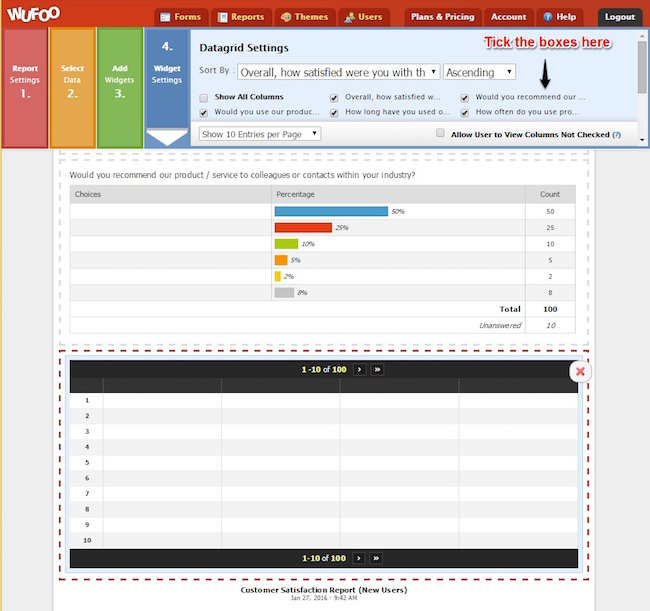 You can learn more here.
Alternatively, you can click the "Allow User to View Columns Not Checked" button in the report settings — this will not add any more fields to the default datagrid, but anyone viewing the datagrid will be able to add them using the green plus sign attached to the grid within the report itself. Additionally, they will be included in an export of that report.
Cheers,
Joss
Wufoo Support
> Wufoo Gurus,
> Why am I not receiving my notification emails?
> Namaste,
> Wufoo Yogi
Hi there,
Sorry to hear you're not receiving Notification emails! Without having a link to the form, I have three guesses as to what could be happening here.
Check your notifications page to make sure that notifications are set to trigger. On the notifications page, the entries box should be ticked.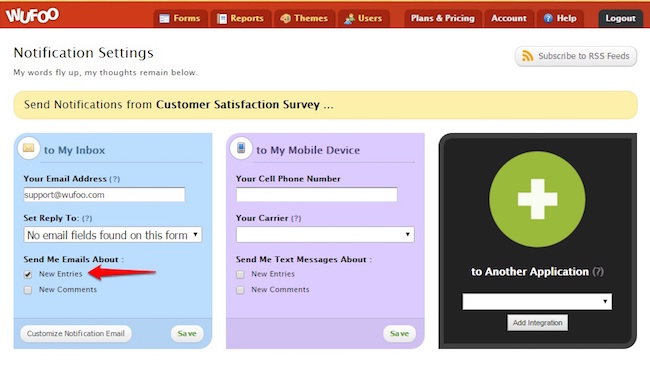 Know that any form rules will override the notification settings. If you want the email addresses on the notification page to receive all notification emails, then you'll want to add them to each of the form rules as well.
If all the above seem right, it is likely that a firewall is placing our email in a spam folder or blocking the notification entirely. We strongly recommend adding no-reply@wufoo.com and apache@wufoo.com to an email whitelist or "safe senders" list on your email server or account.
Additionally, we recommend trying the notifications with another email address not associated with your domain (such as a Gmail or Yahoo account) just to test if the problem is isolated to that particular email address or domain. If that works, you could set up an email forward from that address to the original address on your domain.
Hope this helps!
Best,
Joss
Wufoo Support
Even more questions for our wonderful Joss? Let her know below!