Hey there, form fans! We're back again to share more form-building best practices with you–the Dos and Don'ts of form design if you will. Today, I'll go over the Dos and Don'ts of the fantastic Form Field. Being the forward thinker that you are, intuitive form design is clutch for a positive user experience, but the types of fields you use to collect that data is crucial when it comes to reporting and compiling that information down the road.
Recently, Johan shared 3 Things You Definitely Should NOT Do On Your Forms. I'll expand on that by highlighting some best practices when choosing field types to collect your data. This guide will cover a handful of Standard and Fancy Pants field types along with tidbits of insight on Field and Form Settings.
Ready? Let's do this.
I've created a form to collect registration information for this summer's Dino Camp for kids (aka Jr. Archaeologists). This form uses various field types in a way that negatively impacts the user experience as well as potentially skews your data on the backend.
Click on the images below and check out the pointers called out in the field examples: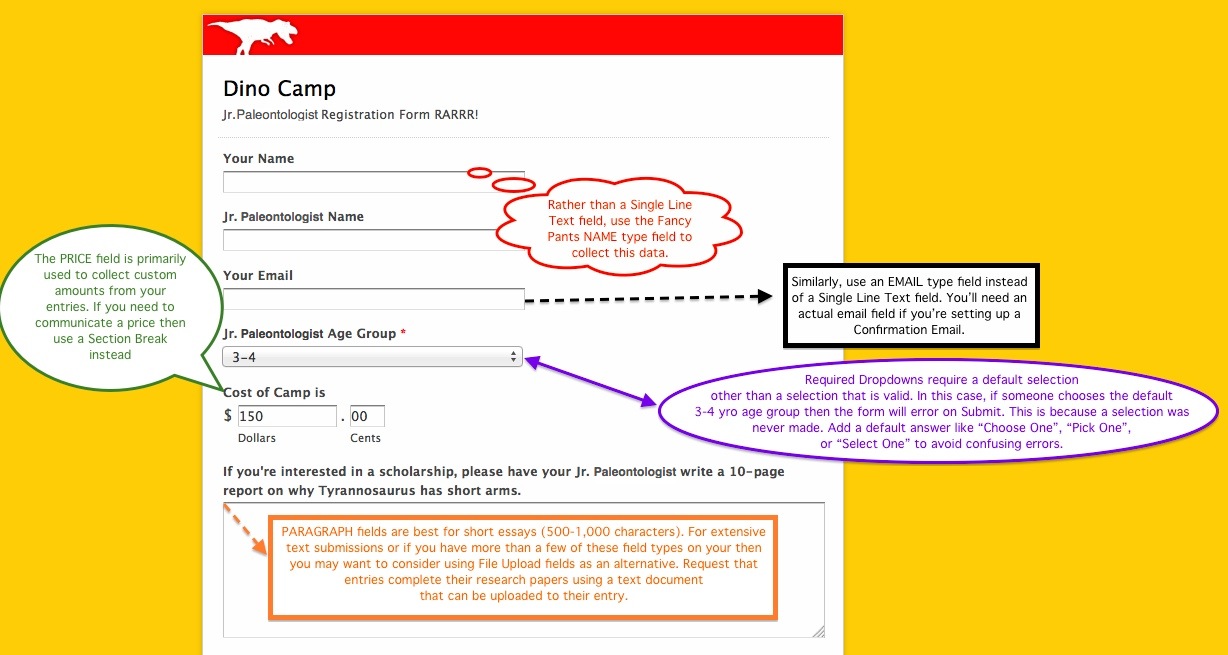 A few additional resources to help build excellent online forms:
Using Section Breaks to Make Your Forms Easier to Fill Out!
Dynamic Fields for Allowing More than One Camper to Signup per Form
The Science Behind Field Label Placement and Why Top Aligned is Suggested
How to Accept a Terms of Service Agreement
Additional questions for Jen? You know where to go, dear readers.