Hey Wufoo fans. Have you logged in to Wufoo on your mobile device lately? Grab your phone and try it out! Right now. We'll wait.
Awesome, right?! We're excited to announce a whole new mobile experience for you (and your customers).
Now you can build a form anywhere, anytime. Just choose from 400+ responsive form templates, share it out, collect responses–and analyze the results–all while you're on the go.
We know, we know. You've always been able to manage and view mobile-responsive forms that you designed in desktop. But now your favorite Wufoo features look and work great on any device. Here's a quick rundown of what's new.
Track your performance on the go
When you embed a web form into your website or share it in social media, you want to know if your form design is optimized to get the job done. Wufoo's mobile-ready analytics dashboard helps you check form performance wherever you are. Just look at page views, conversion rate, and other metrics!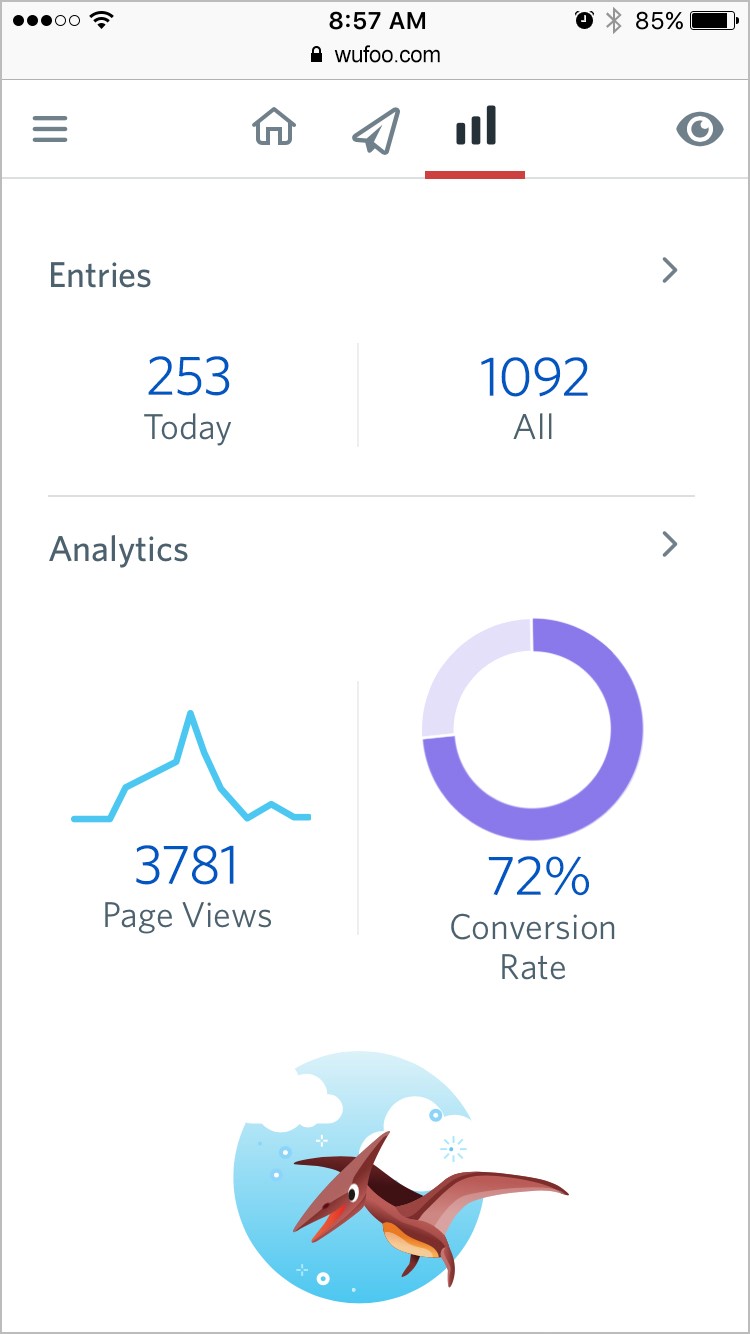 Access form entries anywhere
You've shared a form and entries are rolling in super fast, from hot leads to real-time event feedback needing your attention…now!
But what good are entries if you can't access them and take action right away? Our mobile Entry Manager is designed to help you quickly sort and search for entries wherever you are.
Choose from hundreds of responsive templates
We get it! When you're traveling, you don't have the time to design a complicated form on your mobile device. Who wants to do all that pinching and zooming, anyway?
That's why we've simplified mobile form creation. Just visit our Template Gallery and choose from 400+ responsive templates. Once you've got your form out the door, you can fully customize it on your desktop, so you can use our features in all their glory.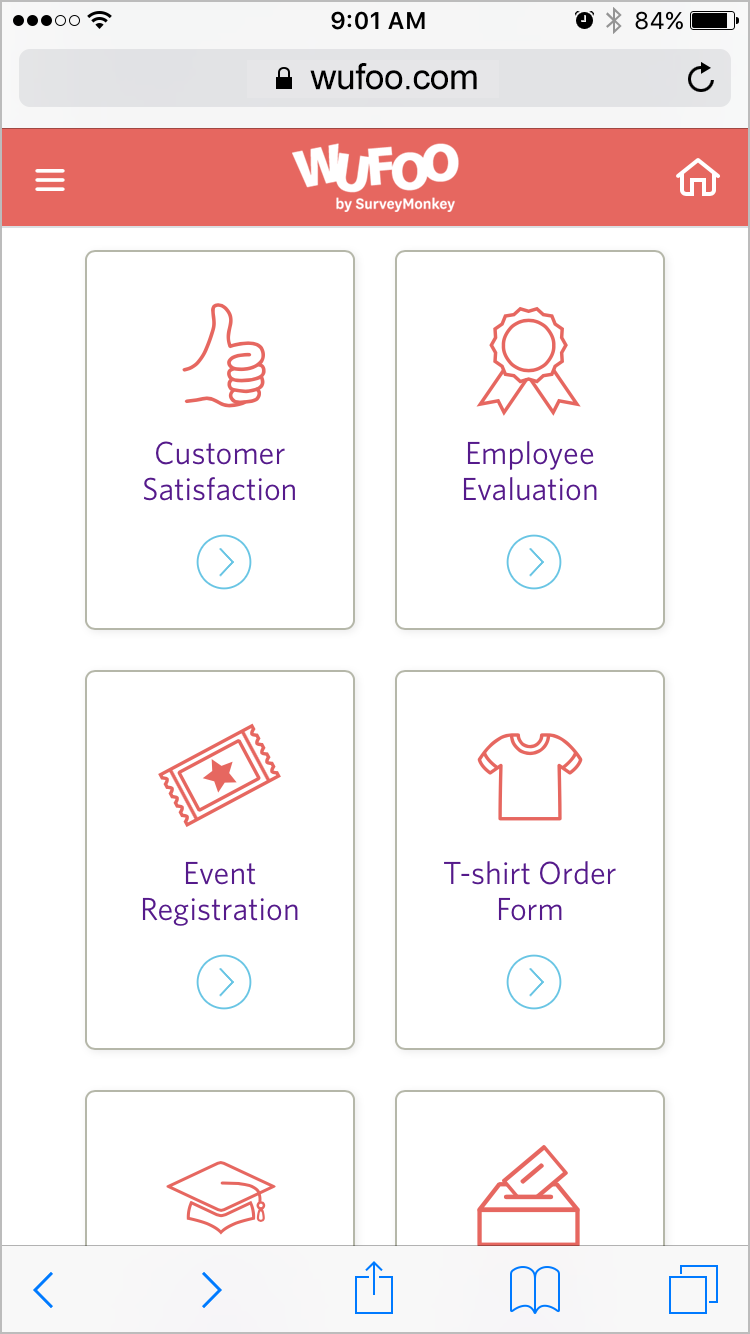 Don't have time to customize your forms on your desktop? We've got 6 awesome out-of-the-box themes you can apply with a simple tap on your mobile device.
Share forms anytime, anywhere
You've picked an awesome template and applied a cool theme. Great! Now it's time to let those entries start rolling in. Share your form on top social media channels like Facebook, Twitter, LinkedIn, and more from any mobile device.
Need to embed your form into your website? If you can't get to your desktop right away, you have an option in the mobile hamburger menu to switch to desktop mode–and switch back–anytime you want.
Get notified about new entries
When those entries start rolling in, you want to know immediately. Now it's easy to set up notifications for new forms and update notification settings for existing forms. So if a hot lead comes in, your rep will be notified via email or text right away wherever they are.
Access your account dashboard
You've got a lot on your mind–we don't want you to worry about your Wufoo account, too. Our account settings dashboard provides a quick visual overview of your Wufoo account usage, including form and entry limits.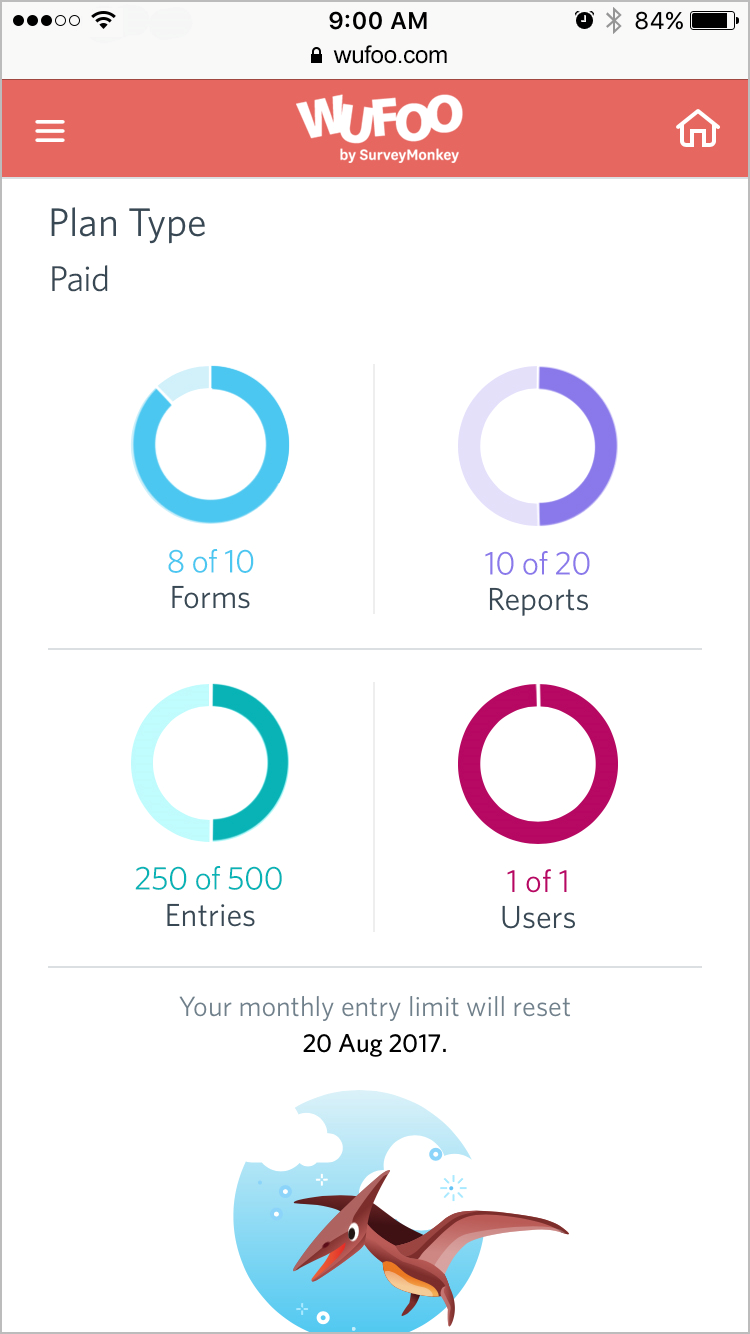 That way it's easy to upgrade for more exactly when you need it. Just go through our simple mobile checkout flow to increase your limits in a few taps.
Your feedback matters: Tell us what you think!
We're excited as a team to bring you this new mobile product experience.  So, what are you waiting for?  Get on that mobile device and try out our new mobile experience right away.
Want to learn more or have questions about mobile experience? Check out this article that takes you through it from start to finish.
This is just the beginning of our mobile product journey. We'll add more relevant features in the future. So please tell us what you think–and what you want more of–in the comments below. Your feedback will directly shape our mobile product experience. Thanks so much, and happy (mobile) form building!