When we began the process to redesign the Share page (the artist formerly known as the Code Manager) our main objective was to simplify the user experience and interface for all Wufoo users, both new and experienced alike. Part of that process was to examine all of the sharing methods and see if we could focus down the page to the options that the vast majority of users were using and remove the ones that weren't.
In short, we messed up.
After we announced the redesign, you guys let us know that the advanced options we removed in the effort to simplify the experience were integral to your workflows and with their removal your Wufoo experience suffered. The discussion was passionate and appreciated and we heard you guys loud and clear. Today, we just released an update to the Share page that returns the advanced features that you're used to.
## Short Link

We've added back in the short, easy to read URL as another way to share a link to you form. Instead of the unique identifier for your form as part of the URL, this link contains the title of your form.
As always, if you change the title of your form, all previously shared short links to your form will no longer work and you'll have to share the new link with the new title.
## Advanced Sharing Options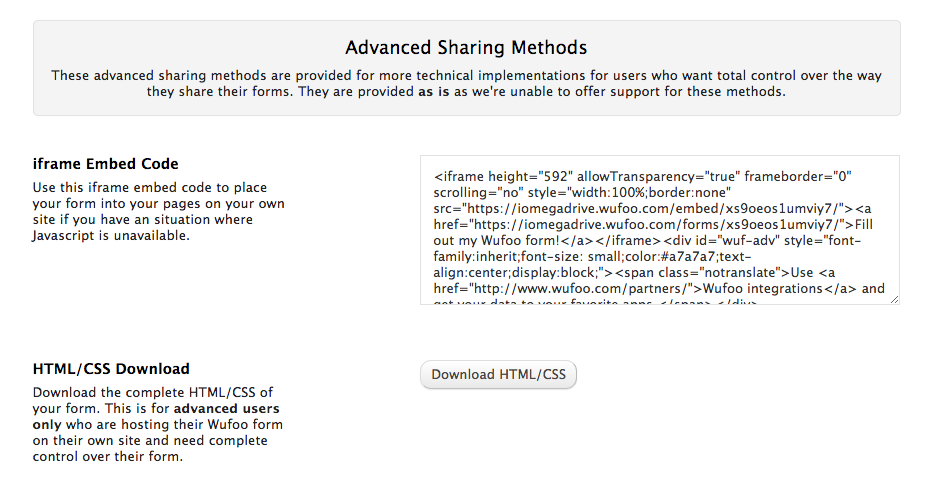 We've returned both the iframe embed option as well as the HTML/CSS download file for all users. Some of our more advanced and technical users require these features for their specific implementations of their Wufoo forms and now they are back.
Given that these advanced sharing options usually require a lot of knowledge of each user's specific environment and implementation, we suggest that the majority of users use the preferred methods of sharing or embedding their forms (permanent link or Javascript embeds) and that only our most technical users use these sharing methods.
## What We Learned
Finally, I'd like to talk about what we learned with this latest change to the Share page and how it'll change our process going forward.
First, no matter what our data says regarding usage or engagement, we'll strive to make sure that whenever we update Wufoo we make sure that we account for our power users who are taking their Wufoo accounts to the edge and have really technical implementations. We won't be so heavy handed in simplifying Wufoo to the point that power users are left out in the cold.
Secondly, we'll do a better job of communicating these changes to you guys. Both more clearly and earlier in the process. We'll make sure that whenever we do push big changes to Wufoo, you'll know about it well ahead of time. We've always tried our best to do this but it's something we can and will continue to get better at. You guys deserve it.
Finally, this isn't something we learned so much as a genuine thanks to the entire Wufoo community who gave us pointed, critical, and totally helpful feedback here on the blog, as well as on that them there social networks like Twitter and Facebook.
We *do* read every comment, tweet, and post from you guys and welcome all comments and criticism of what we're doing here. We appreciate frank discussions about how to make Wufoo better and please know that we care a whole lot about making and keeping Wufoo awesome and the best form builder out there. Thanks again for all of your support and if you have any notes, comments, or questions, please let us know below.
Thanks for using Wufoo!