Today we're excited (can you tell – check out all the !!) to announce the official release of our latest feature, Max Quantities! This feature involved a lot of in depth work from the entire Wufoo team and touched nearly every nook and cranny of Wufoo itself. We're super proud of the work and we'd love to share what Max Quantities can do for you.
Max Quantities is a new powerful feature that allows form owners the ability to limit the number of times a specific field choice can be selected. Where previously you could limit the number of times someone could fill out your form as a whole, now with Max Quantities form owners can limit and restrict the number of times your form users can select individual field choices. This is perfect if you have a max number of a certain item and want to make sure you don't run out and have to inform disappointed customers you're out of stock.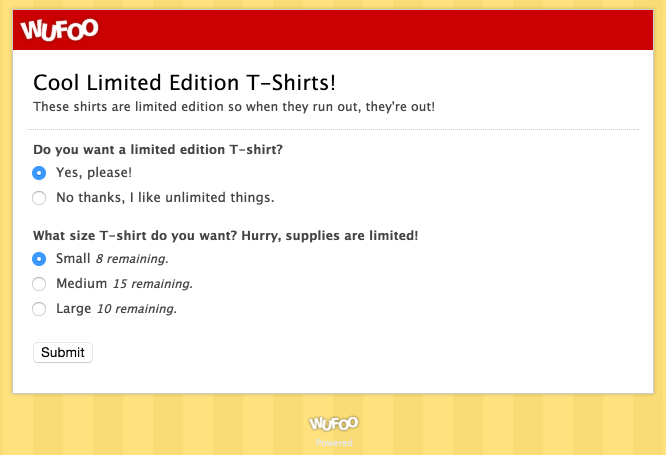 Max Quantities can be used for any number of circumstances and use cases where you have a certain limited number of items and want to make sure you don't commit to more than you have on hand. Let's say for example you've got your mitts on a limited run of t-shirts and want to offer them to your fans in a first-come, first-serve fashion. But you only have 10 smalls, 15 mediums, and 10 larges. And you want to make sure that if you're out of a particular size, subsequent fans are unable to select the size that's out of stock. Lucky for you, Wufoo and Max Quantities is here to save the day.
Within the Wufoo Form Builder for certain field types (Checkboxes, Multiple Choice, and Dropdown), you'll find a new option named, coincidentally, Max Quantities. Choose this option and you'll see a new option appear for all of your individual field choices. This field is where you're specify how many times your form users can select that option before it is no longer selectable on your form. Put in a number for the max number of entries you'd like to receive for a specific field choice and then click Save.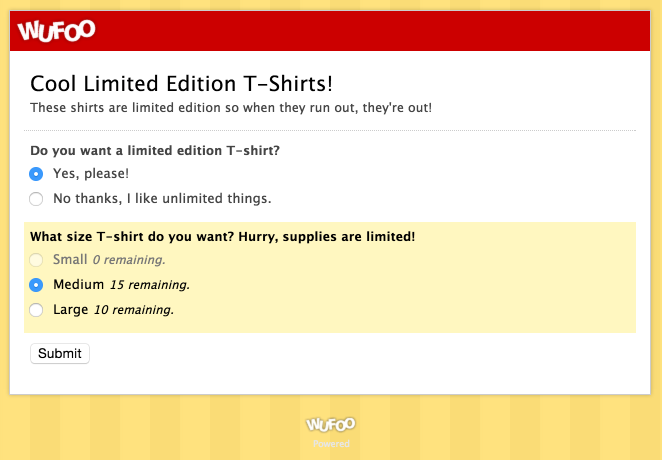 And magically, when say your surprisingly tiny fan base has taken all of your small t-shirts, your Wufoo form will display the small t-shirt size as disabled and your future form users will no longer be able to select the option as part of their form submission.
Voila, Max Quantities! The possibilities for Max Quantities are endless; limited ticket sales, limited reservation time slots, any situation where you've got a limited inventory of items, time, seats, or passes, etc, and want to make sure you don't overbook or oversell, Max Quantities is right there for you.
We'd love to hear how you'd use or are using Max Quantities. And of course, leave us your comments or feedback below.