Avant Garde. Alluring. Appealing. Although we'd love to come up with more words that start with the first letter of the alphabet to describe how simply awesome our newest member of the integration family is, we'd just be wasting time. Please give a warm Wufoo welcome to ALLYOU—an online portfolio and website builder for creatives.
ALLYOU is for all of you who have an eye for design but want to spend your time on you know, designing, rather than on dealing with complicated interfaces. Their elegant and intuitive front-end editor makes it a snap to set up and maintain a gorgeous online portfolio. You can take advantage of built-in templates or whip up your own design.
Now thanks to our integration, you can create beautiful websites with seamless inclusion of Wufoo-powered forms. It's incredibly easy and the results are absolutely stunning. Ready to take a look at how it works? Without further ado, we bring you Wufoo and ALLYOU.
To Use This Integration
1. You'll need an account with Wufoo and one with ALLYOU. Wufoo has both free and paid plans, the same goes for ALLYOU. Click here to see which of ALLYOU's plans will work best for you.
2. Create a form in Wufoo and customize it to your needs. You can match it to the look of your ALLYOU site by using similar font settings. Don't worry about the size of you form: You can edit the measurements when you integrate the form to your ALLYOU site.
Embed your Wufoo form: Login to your ALLYOU account > create a new page and add en embed element > Select "Wufoo" and paste the URL or embed code of your form > click "ok" and switch to "view" mode.
Take a look.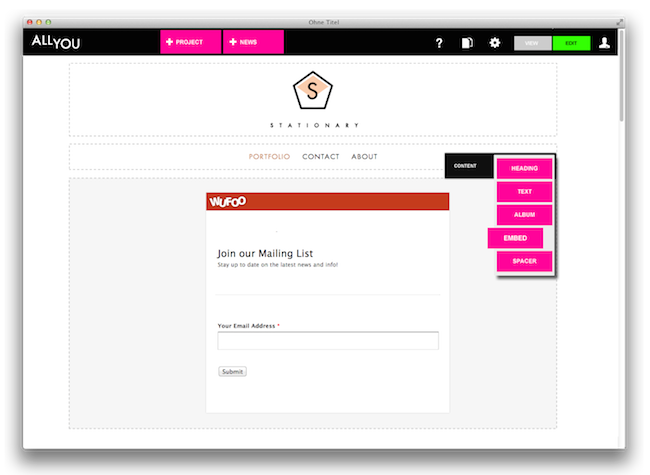 That's all there is to it, design fans! Look forward to spending more time focusing on the things that matter most to you—designing and making beautiful things—and less time worrying about your website. Leave that to ALLYOU and Wufoo!
If you're interested in integrating your web app with Wufoo, check out our Ultimate Guide to Integrating with Wufoo.
Questions or comments about this integration? Let us know in the Comments section below or visit ALLYOU to learn even more.