I've never been to a wedding I didn't enjoy. They're brilliant. You have a bit of free food, get a dance in there, meet some people, listen to a few speeches and then you're done. Not all of them go completely to plan, but for the most part they're usually a success.
Planning that kind of success can sometimes be a real bother but it's cool. Wufoo is always here to make things that much easier for you. With those summer weddings on the horizon, today I'm going to take you through how to use a Wufoo form and a report to turn the RSVPester process into a RSVParty.
First we have to make the RSVP form. Luckily we make that mega easy for you, because there's a template for it. It's no secret that we have loads of form templates to choose from and a wedding invitation is just one of those.
Check out our [wedding template](http://www.wufoo.com/gallery/templates/invitations/wedding-invitation/).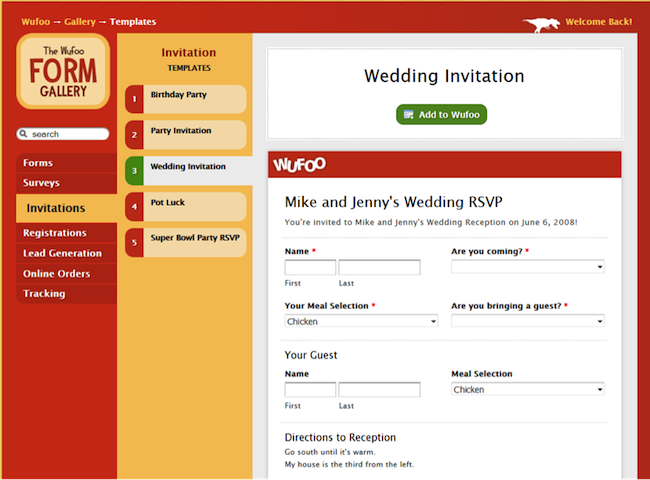 Once you've added that to your account, you can edit it as much as you'd like. I doubt all of you are called Mike and Jenny so I'm sure that will be changed around a bit. Then send that form out there for people to RSVP.
After a while, you'll realize that you have a bunch of entries to your form and you need to make some sense of it all. This is where the reports come in. We can build a great report to make reading all of this data super easy and make planning your wedding a bit less stressful.
To get to the reports section of your account, you simply click the Reports tab at the top of your page when logged in. Let's start with who's coming shall we? For this we can use a few *Number Widgets*. These nifty widgets will do a simple total count of an option in a field. Perfect when you want to know how many people are coming to your wedding. After creating your new report, click the **"Add Widgets"** tab and you can add your widgets from there. We have Yes, No, Naybe and guests options so we'll need *four number widgets*.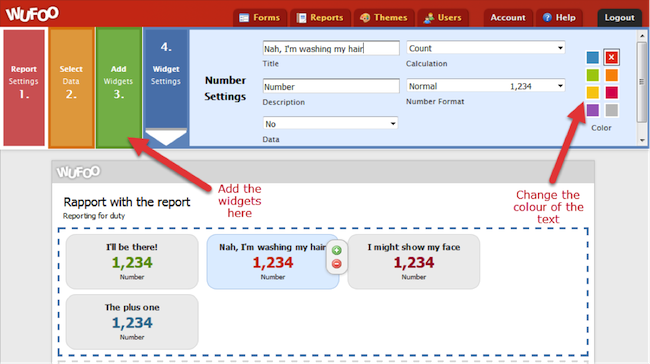 Lovely jubbly. Now we'll know exactly how many people are coming to the wedding without having to do any annoying manual counting. Hang on a minute, I said that I loved that I get a bit of free food at weddings. How do we know how much food to get?
Let's use a *bar graph* for this one. This will let us see all of the options from a field together in one widget rather than getting a count on them separately. When you add a graph widget to a report, you have the choice of using a bar, line or pie graph. A bar graph will be our best bet here.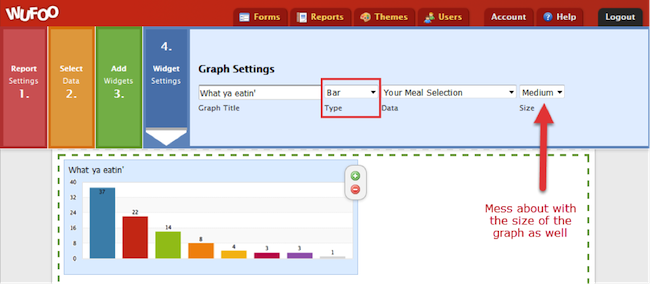 Brilliant. Now we know how many people are coming to the wedding and exactly what they want to eat. You'll want to make another graph for the guests food as well. You can probably feel the wedding planning stress falling away as you read this.
Now, what if we actually want to see a breakdown of all the people coming to the wedding with all of the information from their entry? The number count and food count do tell you a lot, but they don't tell you if the embarrassing uncle that tells awkward jokes will be there. The **datagrid widget** will though! The [datagrid widget](http://help.wufoo.com/articles/en_US/SurveyMonkeyArticleType/Report-Builder#datagridSettings) will essentially show you each entry in a big list, which is nice if you want to see the names of everyone coming to your wedding.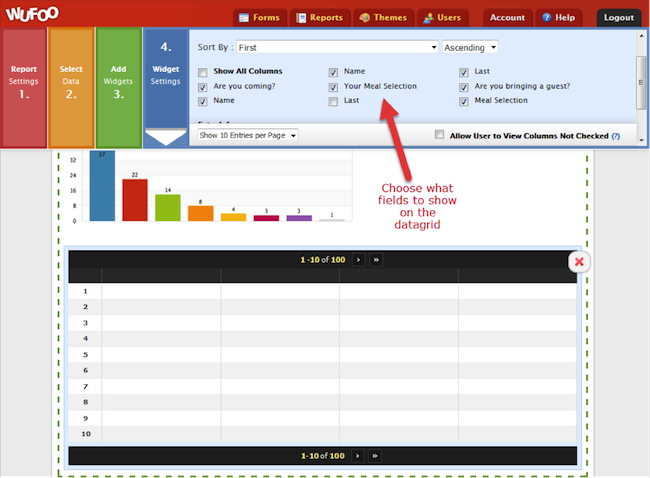 Now that we have all of that together, let's have a look at the report. Remember that you can use your themes in the report as well so you can make it look as fancy as you want.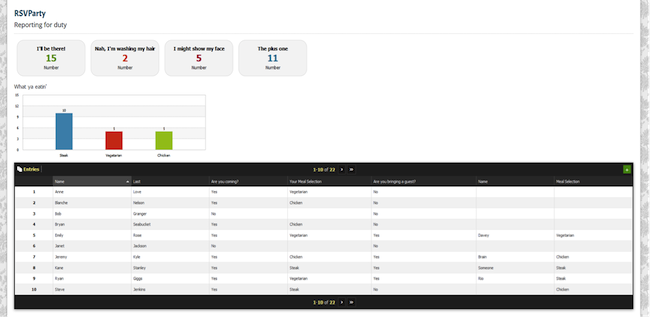 Doesn't that look nice? Apparently my wedding is pretty small and I'll need to have a word with the two people that are washing their hair that night, but there you have it.
If you're getting married, relieve a bit of stress by sending out your RSVP's through Wufoo. You'll want to marry us when you're done.
Questions for Kane? Marriage proposals optional. 😉