> We love welcoming old friends back onto the blog. Way back in the day, ok actually just a few years ago, we featured one of the most powerful players in the cloud-based CRM space–Solve.
> Well, guess what–they're back once more. This time to share a super specific use case but one showcasing CRM and Wufoo features that can be used by all types of businesses. Mike McNulty of the Marketing team is here to run through you some quick and easy steps.
Take it away, Mike!
Maintaining a complete communication history with your clients is necessary to building trust and deepening that crucial relationship. This is especially the case when it comes to the realtors we work with. Their clients are constantly scheduling, rescheduling and need responses fast.
Admidst all this daily chaos of plannig, it's important to lean on systems that can jump in and automate your repetitive work while still keeping track of it all. So, Realty teams should be particularly happy to hear about Wufoo's latest features, starring that mainstay of email etiquette–the bcc.
Why it works
Realtors use Wufoo forms on their website to collect prospective home buyer or seller info and save it in their CRM. When the prospect completes the form, Wufoo can immediately reply back for you, with a personalized email to begin qualifying the client.
This makes it easy for Realty teams to become uber-responsive while automatically capturing details on their new web-leads. But while Wufoo has taken the initial reply off your plate, it's important to keep track of what's being sent, to whom and from where.
How it works
Wufoo's new bcc feature gives our clients the option to discreetly copy that email to their CRM and automatically link it to that client's newly minted record.
Realtors should take full advantage by BCC'ing a copy of their Wufoo email to their Solve workgroup email address or any other CRM dropbox, where the email will be shared with the team. So if that client calls, any team member will be able to quickly glance at their record and reply as though they wrote it themself.
Maintaining a complete communication history of clients may be hard, especially if you are a busy Realtor, but Wufoo is doing their part to make it easy.
Here's a peek at what it looks like in action: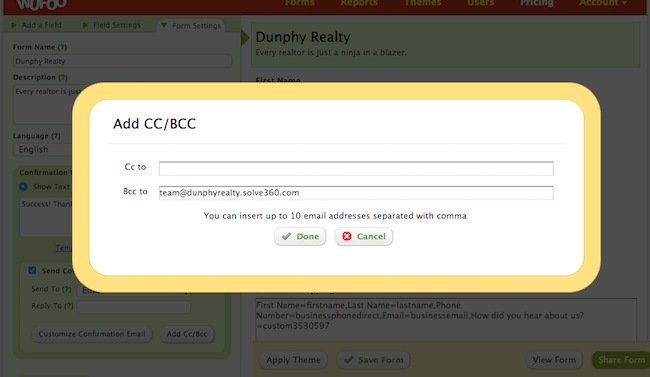 Don't hesitate to reach out below in the Comments section with any questions!
Learn more on how to setup Wufoo and Solve together.