To help prevent the spread of COVID-19, many small businesses that normally center on in-person classes and meetups have switched to virtual offerings. From neighborhood gyms and personal trainers to independent bookstores, these folks are navigating how to provide the same great experience they did pre-coronavirus, but in an online format. 
If this sounds familiar, and like something you could use some guidance on, we've got your back. You can use Wufoo forms to organize your shift to virtual classes, get a handle on customer's expectations, and gain a little more control in these uncertain times. 
While there are lots of businesses that might be turning to online classes and meetups, let's walk through a couple of example scenarios:
Scenario 1: Gyms, personal trainers, community fitness classes
Let's say you're in the fitness business. Flattening the curve doesn't go well with feeling the burn, so you're moving your in-person and group workouts online. You're trying to figure out how to take a normally hands-on experience and make it valuable virtually.
Scenario 2: Writing workshops, book clubs, author chats
Let's say you're a professional word nerd, focused on providing your community with literary experiences. Usually that involves in-person book discussions, workshops, and Q&As with writers, but the pandemic has changed things. You're wondering how to take these events online and keep the same bibliophile spirit.
Ready to take those classes virtual? Here's how Wufoo can help:
Use a survey to find out what people want
With a survey, you can learn more about your customers' expectations, including when they would like to attend your class and what they're most interested in learning.
For example, a bookstore could use a survey to ask customers what the next read should be for its virtual book club. Or, it could survey people about what writing topic they want to learn more about—say, how to build a plot—and develop an online workshop around that.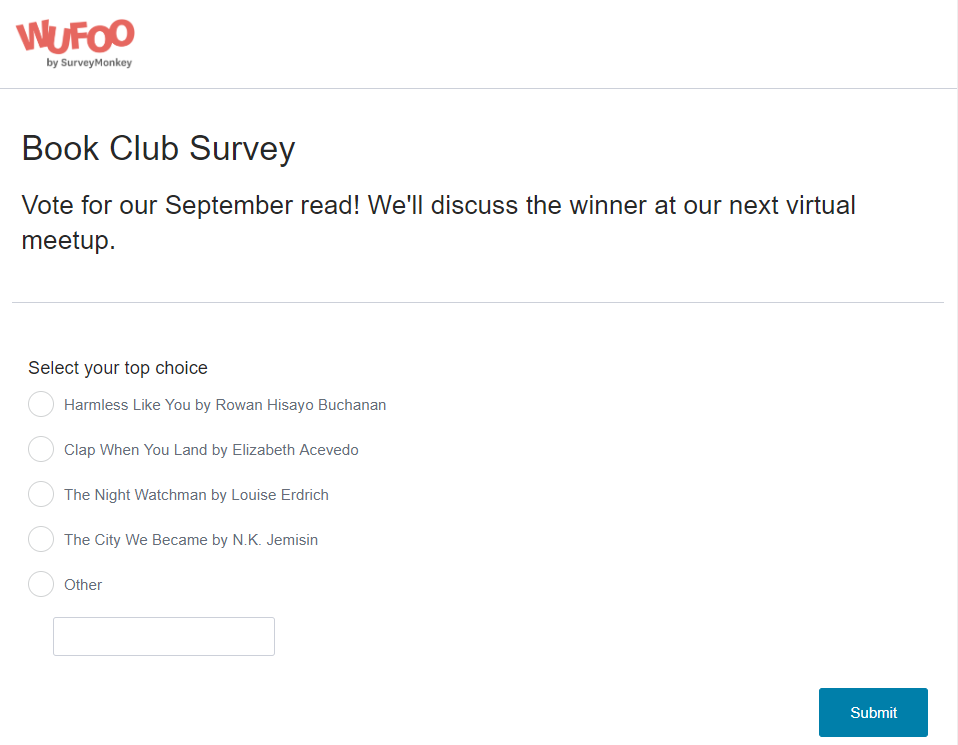 On the other hand, a fitness instructor could ask their clients about what day/time would be most convenient for virtual classes. They could also use the survey as an opportunity to ask clients about their at-home workout setup. (Do they own a kettlebell or weights? Do they have a limited amount of space to exercise?)
Even if you've already started hosting virtual classes, your business can use a survey to check in with customers and look for ways to improve. Ask the folks who attended your class if they have feedback on how it was run or if there are any specific topics they'd like you to cover in the future.
Collect signups with a registration form—don't forget the integrations! 
Perhaps you use registration forms when you normally conduct in-person classes. Registration forms for virtual sessions are similarly handy, but they can go a step further when combined with Wufoo's integrations. 
For example, a personal trainer could use our Google Calendar Zapier integration to instantly set up a calendar event when their client registers for a session. For an indie bookstore that's hosting a webinar Q&A with an author, integrating Zoom with a registration form will help automatically register people for the event. 
Both businesses could also integrate their registration form with their email provider, like Gmail, to send registrants a confirmation email as soon as they sign up. 
Limit class size with max quantities
Do you want to try the virtual version of holding an intimate class? You can use Wufoo's max quantities feature to limit how many times a specific answer choice can be selected, so only a certain number of people can sign up for a class. When people view your form, they'll see how many spots remain in each class.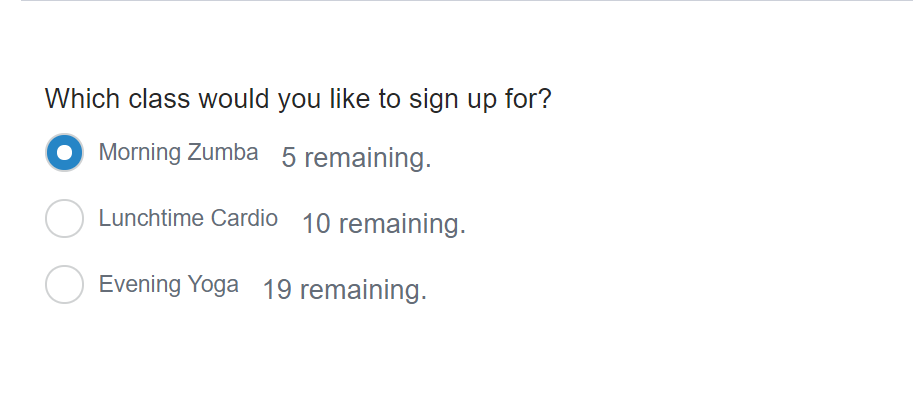 Limiting the number of participants can help virtual classes maintain a friendly vibe. A workout instructor, for example, may have an easier time advising participants on their form or technique if they can clearly see everyone on one screen. Meanwhile, participants in a virtual writing workshop may feel more comfortable speaking up in a small group setting.
And remember, you can continue to use max quantities when you're ready to return to in-person classes. It will ensure that you're following maximum occupancy protocols and help you track exactly who will be gathered in the same physical space.
Easily collect payments
So how do you make sure you get paid for your online classes? You can use our payment integrations, such as Stripe or PayPal, to seamlessly collect payments with your Wufoo form.
For a bookstore hosting a book club, this is a nifty way for customers to purchase the book they'll be discussing when they register for the event. Payment integrations can also be used for recurring payments, which is great for personal trainers who want their clients to be able to commit to monthly bootcamps or memberships.
If your business isn't used to online classes, start with these ideas and let Wufoo help you ease into the virtual world!